Nektar annunciano la disponibilità di Impatto iX 49 e iX 61, controllori con una torsione
Nektar's gorgeous new Impact iX 49 and iX 61 are powerful keyboards with DAW control and comfortable iPad connectivity, plus they include Presonus Studio One Artist and are attractively priced.
Nektar Inc. Burbank / California 4 Novembre 2014 (ictw) Nektar annuncia la disponibilità immediata delle tastiere controller Impatto iX49 iX61 e . Nektar prodotti sono sinonimo di integrazione DAW e la iX49 Impact e Impact iX61 non fanno eccezione. Il loro aspetto ingannevolmente minimalista nasconde potenti funzionalità nemmeno trovato il controller più complete.

Le tastiere Impatto iX offrono funzionalità standard tastiera controller USB e Nektar integrazione DAW con non meno di 11 DAW. Le tastiere full-size sono dotate di pitch bend, modulation wheel e un jack per interruttore a pedale per il collegamento di un pedale di sustain.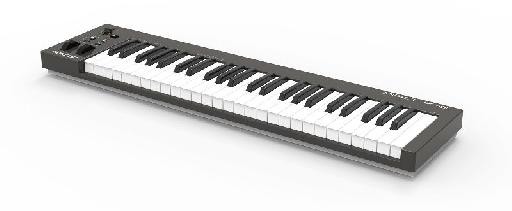 Essere classe USB compatibile con le tastiere può essere collegato facilmente al computer o iPad, non richiede driver. In questo modo è possibile iniziare a comporre utilizzando il software MIDI esistenti o la dotazione Presonus Studio One Artist DAW immediatamente.
L'integrazione unica Nektar DAW
Integrazione DAW di Nektar rende l'installazione semplice e dritto in avanti. La crescente lista di DAW supportate da Nektar sono: Bitwig Studio, Cubase, Digital Performer, FL Studio, GarageBand, Logic, Nuendo, Reaper, Reason, Sonar e Studio One.
iX Nozioni di base Controller
A prima vista, il iX Impact è un controller tastiera USB standard con una tastiera 49 o 61 note full-size, pitch bend, modulation wheel e pedale. Pulsanti di ottava sono disponibili in qualsiasi momento per spostare la tastiera in su o in giù -3/4 ottave con indicatori LED multicolore che mostrano lo stato esatto. Recepire pulsanti consentono di spostare la tastiera / - 12 semitoni e un fader assegnabile consente di controllare qualsiasi parametro MIDI. Ma vi è di più per la iX impatto che soddisfa l'occhio.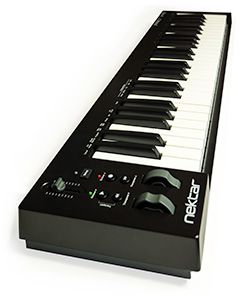 Un sacco di funzioni a destra sul pulsante
L'acclamato integrazione Nektar DAW è messa con attenzione per offrire sempre la migliore esperienza con l'hardware Nektar. E dover raggiungere per il mouse sempre non aiuta la creatività anche se le necessità globali sono essenziali. Nektar quindi aggiunto alcune delle caratteristiche più importanti per la iX impatto, tra cui Transpose assegnazione del pulsante per la pista o cambiare patch, controllo del volume per la traccia selezionata e una modalità di trasporto speciale per Octave e pulsanti che permettono di controllare le funzioni Play, Stop, Record Recepire e Rewind. Impatto iX zecche tutte le caselle giuste.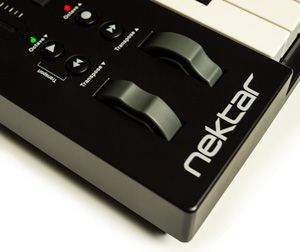 Primo piano dei controlli sulla Nektar Impact iX 61.
Transpose è estremamente utile, ma situazioni diverse richiedono funzionalità diverse. Quindi è bello essere in grado di cambiare il canale MIDI o inviare messaggi di MIDI Program troppo. I pulsanti 2 Transpose sono rapidamente configurati per una di queste funzioni con le impostazioni memorizzate sul potere ciclismo. Meglio ancora, premendo una combinazione di tasti cambia il Octave e Transpose tasti funzione per l'invio di funzioni di trasporto MMC per attivare avvio, arresto e registrare direttamente dalla tastiera.
* Funzione attualmente implementato per Bitwig Studio, Cubase,
CONNETTORI
Tastiere Impatto iX sono di classe USB compatibile e quindi non richiedono un driver per funzionare. Quindi, l'installazione e il collegamento è semplice come collegare la tastiera a una porta USB del computer.
La tastiera Impact iX anche funziona istantaneamente con iPad tramite il programma opzionale USB Camera Connection Kit iPad. A "Presa di ingresso da 1/4 consente di aggiungere un pedale interruttore a pedale per il sustain o l'invio di messaggi MIDI.
DAW incluso - STUDIO ONE ARTIST
Studio One Artist è una potente piattaforma di registrazione e produzione che è incredibilmente facile da imparare, offre tracce illimitate e plug-in e funzioni normalmente non si trovano in DAW entry-level.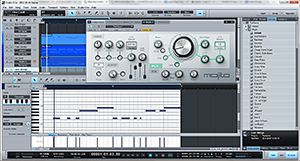 PreSonus Studio One Artist è incluso in queste tastiere controller!
Strumenti di editing potenti sono accessibili senza la necessità di guadare attraverso i menu. Caricamento e salvataggio dei clip audio, i file MIDI, effetti, e VI avviene semplicemente con il drag-and-drop. Questo vale anche per il caricamento dello strumento, di effetti plug-in o loop di batteria.
Per il mix verso il basso delle tracce più di 20 effetti nativi di alta qualità sono disponibili. Meglio di tutti, Studio One Artista è incluso con la tastiera USB Impact iX!
SPECIFICHE
Velocità 49/61 nota sensibile tastiera full size

Pitch Bend e ruote di modulazione

Pulsanti di ottava

Pulsanti Transpose

Modalità di trasporto passa Ottave e pulsanti Transpose per inviare messaggi MIDI MMC (compatibili con Pro Tools)

Pedale jack di ingresso interruttore

Alimentato via USB, Class Compliant (nessun driver necessario)

Si collega a iPad (tramite kit adattatore USB, non incluso)

Include Presonus Studio One Artist

Integrazione Nektar DAW
Navigazione di tracce DAW

Patch cambio di strumento

Controllo del volume della traccia

Controllo del trasporto (Play / Stop / Record / Rewind / Forward)

Nektar integrazione DAW per 11 DAW, tra cui Bitwig Studio, Cubase, Digital Performer, FL Studio, GarageBand, Logic, Nuendo, Reaper, Reason, Sonar e Studio One.

Prezzi e disponibilità :
iX49 e iX 61 sono disponibili presso i rivenditori di musica tutto il mondo per:
iX49: USD 109.99 / Euro 99,99 / GBP79.99 con un prezzo consigliato al pubblico previsto di USD 99.99 / Euro89.99 / GBP 69.99
iX 61 USD 129.99 / Euro 109.99 / GBP89.99 con un prezzo consigliato al pubblico previsto di USD 119.99 / Euro 99,99 / GBP 79.99
Web: