RØDE tell us their new VideoMic X is the new standard in immersive audio recording for videographers. It looks the part and with acoustically matched condenser mics, it sounds the part too.
Sexta-feira 12 de setembro de 2014, a empresa de áudio Amsterdam Holanda australiano RDE Microfones está animado para anunciar um novo padrão de qualidade de transmissão, gravação de áudio imersiva para uso na câmera. The Stereo VideoMic X é ERDs microfone principal para o áudio de um único sistema, caracterizando acusticamente correspondida cápsulas true-condensador ea opção para a saída XLR equilibrada.
Projetado e fabricado na sede ERDs em Sydney, na Austrália, usando uma abordagem não poupou gastos para engenharia, RDE empregou apenas os componentes mais finos de nível audiófilo na concepção do X. VideoMic Stereo Com um par acusticamente combinados de externamente tendenciosas, verdadeiras cápsulas de condensador , o SVMX oferece o mais alto nível de desempenho de qualquer microfone estéreo de RDE. Estas cápsulas por sua vez, estão alojados de forma independente em integradas Rycote Lyre montagens de choque multi-eixo, protegendo os transdutores sensíveis de todas as colisões ou vibração, sem necessidade de suspender o corpo do microfone.
Seu corpo é construído em alumínio, garantindo um nível extremamente elevado de rejeição RF, mantendo-se leve (300 g / 10,58 oz). Componentes corporais críticas, como as cápsulas e sapato montagens são precisão usinadas para garantir as mais apertadas tolerâncias possíveis, minimizando assim qualquer ressonância acústica.
Para além de 3,5 mm Saída estéreo (através do cabo incluído RDE SC2) do SVMX tem a opção de saída por meio de um sinal equilibrado XLR mini, que podem ser usados ​​simultaneamente. Isto dá ao usuário uma saída de transmissão de qualidade para sistemas de câmaras profissionais e gravadores de áudio.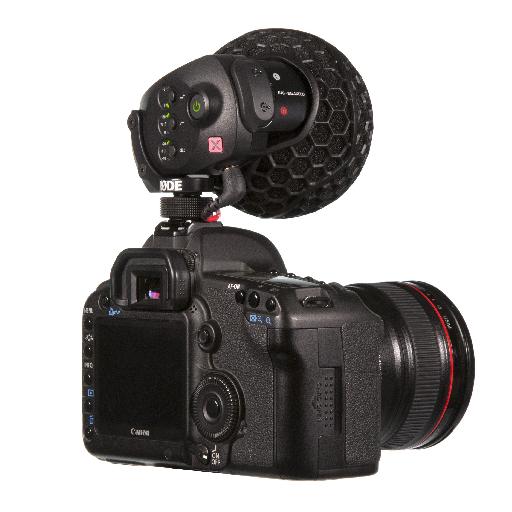 O painel traseiro do microfone apresenta uma variedade de ajustes para maximizar o desempenho SVMXs em quase todas as situações, incluindo um de três estágios filtro de alta freqüência (0/75/150 Hz), um controle de nível de três estágios (-10 / 0 / 20dB ) e um aumento de frequência inovador que é projetado para ajudar a escolher os detalhes de alta freqüência, como vozes, em um ambiente de gravação. O aumento também vai combater qualquer perda de alta freqüência experimentado com o uso de proteção contra o vento. Pela primeira vez em qualquer microfone RDE essas configurações são acessadas por meio de comutação digital press-botão, o que minimiza a possibilidade de configurações sejam alteradas acidentalmente. Para maior comodidade do SVMX manterá suas configurações quando o microfone está desligado.
O microfone pode ser alimentado por uma bateria de 9V interna ou pelo padrão de alimentação phantom P48 via XLR.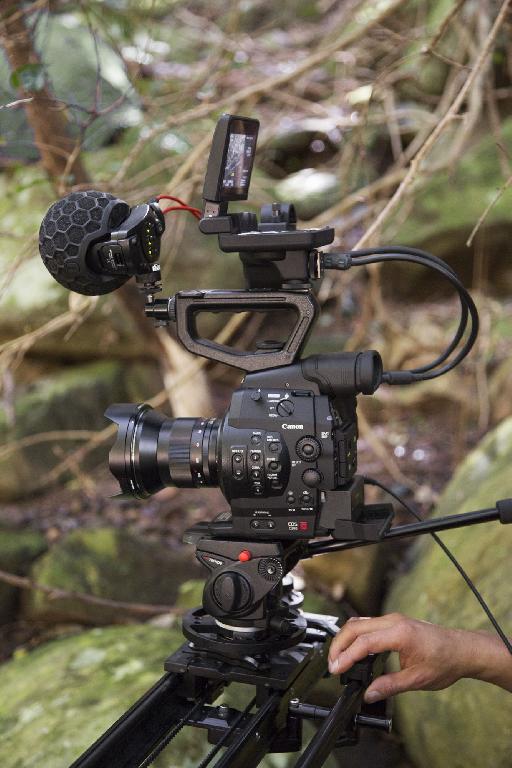 O Stereo VideoMic X não só aumenta o nível de áudio na câmera, ele estilhaça. Comentou Damien Wilson, ERDs Marketing Global
Como muitos outros microfones RDE, o Stereo VideoMic X é coberto por uma garantia de 10 anos após o registo on www.rodemic.com.
O Stereo VideoMic RDE X está sendo demonstrado na feira IBC em Amsterdã, no estande 8.D56 e transporte a nível mundial, em outubro de 2014 Ouça o momento agora em www.rodemic.com/svmx .