The December Issue of AskAudio Mag (print edition) is packed full of the impressive tutorials, reviews and interviews for the discerning digital musician. It is your last chance to grab your copy now!
1 week remains for you to opt-in or subscribe to receive the next issue of AskAudio Magazine!
AskAudio Mag will be available at Guitar Center and other leading music gear stores after the 10th December in North America, and you can also subscribe to the magazine directly from our website. And of course, all Library Pass holders at macProVideo.com get the magazine for FREE! If you're a Library Pass holder, login to your account and ensure you've opted-in to receive the mag.
Highlights of Dec/Jan Issue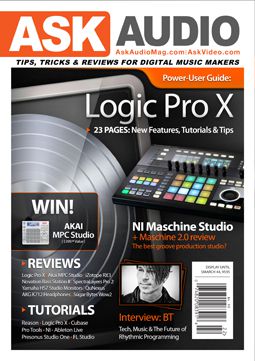 Focus On: Logic Pro X (6 Pro Tutorials)

Tutorials: Over 40 pages to help you master your DAW

Reviews: Maschine Studio, & including gear from Novation, iZotope, Akai Professional, Sony, AKG, Yamaha, SugarBytes

Interviews: BT & Josh Aker

Features: Synthesis Survival Guide & Essential Free Plugins for EDM Producers

Contest: WIN Akai MPC Studio
Learn more about this issue here:
http://subscribe.askaudiomag.com/issue/askaudio-vol01-issue-3.php

Subscribe to this issue by Thursday 28th November to ensure you get yours sent to you (anywhere in the world!):
http://subscribe.askaudiomag.com/subscriptions