If you haven't yet decided on a New Year's resolution for 2015, consider beefing up your music production chops the easy way thanks to AskVideo's New Year video tutorial sale.
I've been thinking recently about how much more accessible music making software (and hardware) is than ever before. Not only are DAWs more capable and cheaper than ever, but microphones, audio interfaces, MIDI controllers and DJ gear is also more advanced and easy to get hold of too. There are fewer excuses than ever to create music.
You Need More Than Gear
Of course, when it comes to recording, arranging, mixing and mastering, just getting the "best" gear won't help you nearly as much as the know-how of how to use it. Sometimes we put too much faith in acquiring new gear thinking it'll solve our mixing problems, make us better musicians and producers, or even write our songs for us! Sadly, that's not the case just yet (2015's new gear releases may paint a different picture ;)
Understanding your software, plug-ins, recording and mixing hardware should never be an after thought. Learning the principles concepts of audio or advanced mixing techniques should be something we invest as much time in as satisfying our lust for new, shiny gear.
Your Resolution
With that in mind, if you haven't already done so, it might be an idea to make a related new year's resolution about going deeper when learning music production for 2015.
Our sister company, AskVideo.com is running a huge 50% discount sale until the end of this year. The video courses there are nothing short of stunning both in terms of depth and range of topics covered.
Learn From Pros, For Less
You can save money and further your education before 2015 begins. Until January 1st (2015), you can save 50% off the cover price of all HD Download courses using the coupon code below:
https://www.askvideo.com/cart/coupon/14blowout50

I'd personally recommend getting an online subscription to the entire library for just $25 a month. It's really a no-brainer as they release 2-3 courses every week and last time we counted you'd need over 6 months to sit and watch every single hour of every tutorial video on the site!!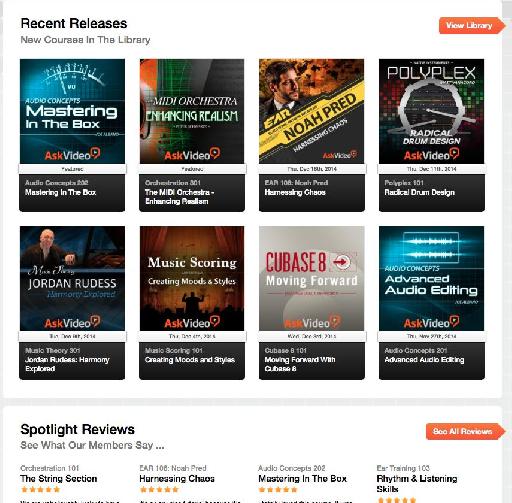 Some recently released courses at AskVideo.com.
So, whether you're looking for Logic Pro, Ableton, Bitwig, Cubase, Pro Tools, Reason, Native Instruments, mixing, recording, synthesis, guitar or other topics, do check out AskVideo and make 2015 a year where making music becomes easier because you've got access to the best resource on music technology on-hand.
About AskVideo
Interested in finding out more about AskVideo (from the same company that bring you macProVideo)?
Here's a video roundup of what's been happening at their Vancouver offices in 2014 where you get to meet the CEO and some of the team:
Save 50% off the cover price of all HD Download courses using the coupon code below: