Here's 2 things that may blow your mind about Positive Grid's new Mastering system, Final Touch. 1. It's an iPad app (yes! Mastering on iPad...) 2. It's less than $20. Mastering just got affordable.
Die Kombination von sieben leistungsfähige Mastering-Prozessoren in einem integrierten App, bietet es eine ausgewogene, poliert und professionellen Sound, der das Überschwingen Reaktion der klassischen analogen Hardware aufweisen.

San Diego, CA (25. März 2014) Positive Grid, führender Innovator in der Musik-Technologie und Hersteller von Nr. 1 verkauften mobilen Apps BIAS und JamUp stolz die Veröffentlichung von Final Touch ankündigen - komplette Mastering-System für iPad, einem professionellen Mastering-Suite, die verbindet nuancierte Techniken der Mastering mit positiven Gitter Expertise auf mobilen Design, bietet die höchste Mastering Kontrolle, Präzision und Flexibilität möglich auf einem iPad.

Final Touch ermöglicht es Musikern, Produzenten und Ingenieure, um die Tonaufnahme mit den branchenweit Standards zu meistern: Maximierer, Pre-und Post-Equalizer, Multiband-Dynamik, Räumlichkeit, Reverb und Dithering Kontrollen sind alle nur ein Fingertipp entfernt, sagt Positive Grid Marketing Manager Jaime Ruchman. Und jetzt werden sie in der Lage, ihre Mastering-Sessions buchstäblich überall weiter, mit der gleichen Klangqualität als erstklassig professionellen Mastering-Studio, die Produktivität zu steigern, um seine maximale.
Final Touch vereint sieben wesentliche Mastering-Tools in einem integrierten System, die Pre-und Post Linear Phase EQ-Module bestehen aus acht unabhängigen Bands, die jeweils eine Auswahl von fünf verschiedenen Arten von parametrischen Filter: Hallo-Pass, Low-Shelf, Peak, Hallo- Regal-und Low-Pass. Die Dynamik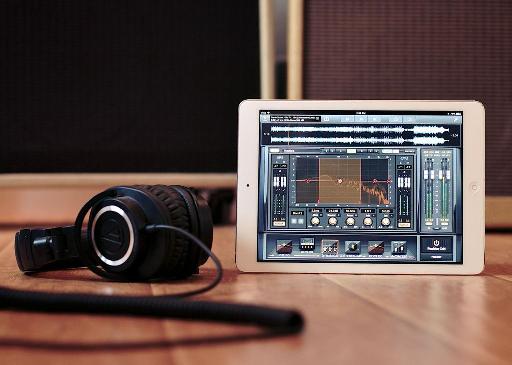 Sobald Ihr Meister ist perfekt gewählt, sind alles was man braucht, um sie per E-Mail, Dropbox, iTunes und Soundcloud teilen ein paar Hähne.

"Eine große Mastering-App" - Rafa Sardina, 12 Zeit Grammy preisgekrönten Produzenten und Ingenieur, der unter anderem Lady Gaga, Michael Jackson, Beyonce und mehr.

"Solide, präzise und zugänglich." - Deutsch Villacorta, Mastering-Ingenieur und Inhaber der Dynamic Wave Studios, der unter anderem Ozzy Osbourne, The Rolling Stones, Rage Against The Machine und mehr.

"Schließlich wird die professionelle Mastering-App für iPad habe ich gewartet Mit einem klaren und intuitiven Benutzeroberfläche, optimierte Arbeitsabläufe, starke Effekte und voller Cloud-Unterstützung diese App macht professionelle mobile Mastering Realität - Andrea Pejrolo, stellvertretender Vorsitzender der Abteilung Produktion am Berklee College of Music.

"Ich bin wirklich graben den offenen oberen Ende der EQ-Sektion und wie das Kleben Maximizer wird diese Mischung zusammen. Dies ist eine flexible, sehr cool Audio-App für den modernen Musiker auf dem Sprung." - Enrique Gonzalez Muller, Grammy preisgekrönten Produzenten und Ingenieur, der unter anderem Nine Inch Nails, Dave Matthews Band, Tina Turner, und vieles mehr.

Key Features:
Komplettes professionelles Mastering System angetrieben durch Positive Grids High-End-Signalverarbeitungsalgorithmen

Linear Phase Pre-und Post-Equalizer, die jeweils acht Bands und fünf Filtertypen

Multiband Dynamics mit vier unabhängigen Bands Kompressor / Limiter

Stereo Imager passt die Breite und Balance Ihrer mixs Klang

Reverb bietet state-of-the-Art-Room, Hall-und Platten Algorithmen

Maximizer transparent begrenzt Spitzen Mix lauter zu machen

Dithering und Noise-Shaping bewahrt Ihre mixs Tiefe und Nuance

Stereo-und Mid-Seitenbearbeitung

Hochauflösende, mehrfarbig mit genauen Messanzeigen

Jedes Modul kann unabhängig umgangen werden

Bypass-Schalter für einzelne EQ-Bänder

Links, rechts, Mitte und Seitenkanäle können unabhängig voneinander solo oder umgangen werden

Waveform-Überblick über Ihre Mischung mit ziehbar Wiedergabe-Cursor

100 Werks-Presets und unbegrenzte User-Presets

Globale und Modul-basierte Presets

Drag & Drop-Module, um ihre Reihenfolge in den Signalpfad neu anordnen

Pristine, hochauflösenden Klang (mit doppelter Genauigkeit, 64-Bit-Berechnung)

Unübertroffene Audiodatenintegrität: keine Rundung oder Verkürzung, außer wenn Berechnungen durchgeführt werden

Share via E-Mail, Dropbox, iTunes, Soundcloud und FTP

Optimierte Projektmanagement: browse mehrere Projekte mit einem einfachen Tippen

Workflow für mobile und Desktop-Datenübertragungen optimiert

Unterstützt Inter-App Audio und Audiobus Routing-System (arbeitet mit vielen anderen Audio-Anwendungen)

Unterstützt iPad 2, iPad Mini und neuere iPad-Geräte

Konzipiert für iOS 7

Final Touch Einzelhandel für $ 19,99 und steht zum Download im iTunes App Store ab sofort verfügbar. Konzipiert für iOS7 die App erfordert ein iPad 2 oder neuer zu bedienen.

Für weitere Informationen, besuchen Sie www.positivegrid.com