Here's 2 things that may blow your mind about Positive Grid's new Mastering system, Final Touch. 1. It's an iPad app (yes! Mastering on iPad...) 2. It's less than $20. Mastering just got affordable.
La combinaison de sept processeurs de mastering puissants dans une application intégrée, il offre un son équilibré, poli et professionnel qui présentent la réponse de dépassement de matériel analogique classique.

San Diego, CA (25 Mars, 2014) Positive Grid, chef de file novateur de la technologie de la musique et fabricant de numéro 1 des ventes d'applications mobiles BIAS et JamUp, annonce fièrement la sortie de Final Touch - Système complet Mastering pour l'iPad, une suite de mastering professionnel qui combine techniques nuancées de la maîtrise avec Positive Grilles expertise sur les terminaux mobiles, offrant le contrôle le plus élevé de maîtrise, précision et flexibilité possible sur un iPad.

Final Touch permet aux musiciens, producteurs et ingénieurs de maîtriser enregistrement audio avec les normes de lindustrie: Maximizer, pré et post égaliseur, dynamique multibandes, l'image stéréo, la réverbération et les contrôles de dithering sont tout simplement un doigt robinet loin, dit positif Grille Marketing Manager Jaime Ruchman. Et maintenant, ils seront en mesure de poursuivre leurs séances de mastering littéralement partout, avec la même qualité de son que d'un top notch professionnel studio de mastering, amélioration de la productivité à son maximum.
Final Touch combine sept outils de mastering essentiels dans un système intégré, les modules d'égalisation de phase linéaire pré et post composent de huit bandes indépendantes, chacune offrant un choix de cinq types différents de filtres paramétriques: Salut-Pass, Low-Shelf, de pointe, Hi- plateau et passe-bas. La dynamique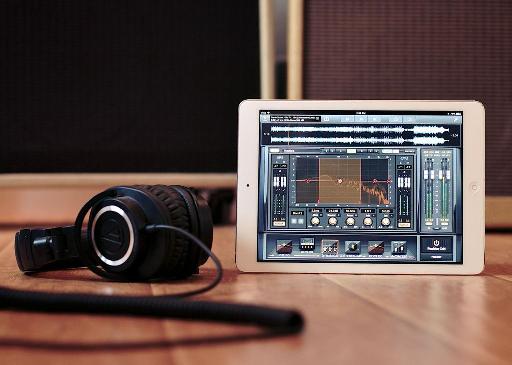 Une fois que votre maître est parfaitement composé, quelques robinets sont tout ce qu'il faut pour les partager par courriel, Dropbox, iTunes et SoundCloud.

"Une grande application de mastering" - Rafa Sardina, 12 Grammy primé producteur et ingénieur, dont les crédits incluent Lady Gaga, Michael Jackson, Beyonce, et plus encore.

"Solide, précis et accessible." - Allemand Villacorta, ingénieur de mastering et propriétaire de dynamique d'onde Studios, dont les crédits incluent Ozzy Osbourne, The Rolling Stones, Rage Against The Machine, et plus encore.

"Enfin l'application de mastering professionnel pour iPad j'ai attendu pour Avec une interface claire et intuitive, flux de travail rationalisé, des effets puissants, et le plein soutien de nuage cette application rend portable professionnel maîtriser une réalité - Andrea Pejrolo, président adjoint de la Direction de la production au Berklee College of Music.

«Je suis vraiment creuser l'extrémité supérieure ouverte de la section d'égalisation et comment le Maximizer est collage ce mélange ensemble. Ceci est une application audio flexible, très cool pour les musiciens modernes sur la route." - Enrique Gonzalez Muller, GRAMMY primé producteur et ingénieur, dont les crédits incluent Nine Inch Nails, Dave Matthews Band, Tina Turner, et plus encore.

Caractéristiques principales:
Système complet de mastering professionnel alimenté par Positive Grilles haut de gamme d'algorithmes de traitement du signal

Linear Phase Equalizer Pré et Post, chacun offrant huit bandes et cinq types de filtres

Multiband Dynamics avec quatre groupes indépendants de compression / limitation

L'image stéréo de régler la largeur et l'équilibre de votre sonore mixs

Reverb offre Chambre état-of-the-art, Hall et algorithmes de plaques

Maximizer limite transparente pics de faire votre mix plus fort

Le tramage et de configuration de bruit préserve la profondeur mixs et nuance

Stéréo et mi-côté traitement

Haute résolution, mesure multi-coloré avec des lectures précises

Chaque module peut être court-circuité de façon indépendante

Les commutateurs de dérivation pour les bandes d'égalisation individuels

Gauche, droite, milieu et secondaires canaux peut être contourné en solo ou indépendamment

aperçu de la forme d'onde de votre mix, avec déplaçable curseur de lecture

100 presets d'usine et presets utilisateur illimités

Presets de base et module

Faites glisser et déposez les modules de réorganiser l'ordre dans le trajet du signal

Pristine, haute résolution sonore (double précision, calcul 64-bit)

L'intégrité des données audio inégalée: aucun arrondi ou troncature sauf lorsque les calculs sont effectués

Partager par e-mail, Dropbox, iTunes, SoundCloud et FTP

Gestion de projet simplifiée: parcourir plusieurs projets avec un simple robinet

Flux de travail optimisé pour les transferts mobiles et de données de bureau

Supporte Inter App Audio et Audiobus système de routage (fonctionne avec beaucoup d'autres applications audio)

Prise en charge de l'iPad 2, iPad mini et nouveaux dispositifs iPad

Conçu pour iOS 7

Final Touch se vend au prix de 19,99 $ et est disponible immédiatement en téléchargement sur l'iTunes App Store. Conçu pour iOS7, l'application nécessite un iPad 2 ou plus récent pour fonctionner.

Pour plus de détails, visitez www.positivegrid.com