Here's 2 things that may blow your mind about Positive Grid's new Mastering system, Final Touch. 1. It's an iPad app (yes! Mastering on iPad...) 2. It's less than $20. Mastering just got affordable.
Combinando sete processadores de masterização poderosos em um aplicativo integrado, que oferece um som equilibrado, polido e profissional que apresentar a resposta superação de hardware analógico clássico.

San Diego, CA (25 de março de 2014) Grade positiva, inovadora líder em tecnologia musical e fabricante de # 1 vendendo aplicativos móveis BIAS e JamUp, o prazer de anunciar o lançamento de Toque Final - Sistema completo de Mastering para iPad, uma suite de masterização profissional que combina técnicas de nuances de dominar com Grids positiva experiência no design móvel, oferecendo o mais alto controle de masterização, precisão e flexibilidade possível em um iPad.

Toque Final permite que músicos, produtores e engenheiros de dominar a gravação de áudio com as normas industrys: Maximizer, pré e pós-equalizador, dinâmica multibanda, imagem estéreo, reverb e controles de pontilhamento são todos apenas um dedo toque de distância, diz Positivo Grade gerente de marketing Jaime Ruchman. E agora eles serão capazes de continuar suas sessões de masterização, literalmente, em qualquer lugar, com a mesma qualidade de som de um estúdio de masterização profissional top de linha, aumentando a produtividade ao máximo.
Final Touch combina sete ferramentas de masterização essenciais em um único sistema integrado, os módulos EQ fase linear Pré e Pós consistem em oito bandas independentes, cada um oferecendo uma escolha de cinco tipos diferentes de filtros paramétricos: Hi-Pass, Low-Shelf, pico, Alta- Prateleira e Low-Pass. A Dinâmica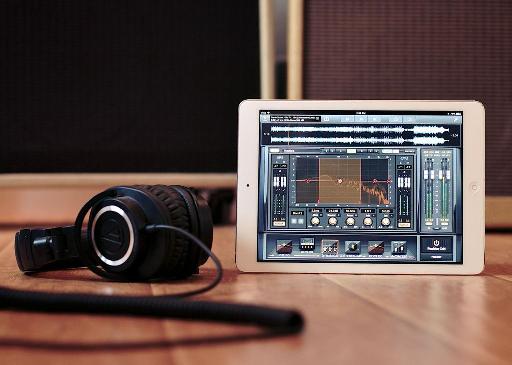 Uma vez que seu mestre está perfeitamente marcado, um par de torneiras são tudo o que preciso para compartilhá-lo via e-mail, Dropbox, iTunes e SoundCloud.

"Um ótimo aplicativo de masterização" - Rafa Sardina, 12-time Grammy premiado produtor e engenheiro, cujos créditos incluem Lady Gaga, Michael Jackson, Beyoncé, e muito mais.

"Solid, precisa e acessível." - Alemão Villacorta, dominando engenheiro e proprietário da Dinâmica Aceno Studios, cujos créditos incluem Ozzy Osbourne, The Rolling Stones, Rage Against The Machine, e muito mais.

"Finalmente, o aplicativo para iPad masterização profissional eu estava esperando Com uma interface clara e intuitiva, fluxo de trabalho simplificado, efeitos poderosos, e apoio nuvem cheia este aplicativo torna móvel profissional dominar uma realidade - Andrea Pejrolo, Assistente presidente do Departamento de Produção na Berklee College of Music.

"Realmente estou buscando a extremidade superior aberta da seção EQ e como o Maximizer está colando esta mistura juntos. Este é um aplicativo de áudio flexível, muito legal para os músicos modernos em movimento." - Enrique Gonzalez Muller, Grammy premiado produtor e engenheiro, cujos créditos incluem Nine Inch Nails, Dave Matthews Band, Tina Turner, e muito mais.

Principais Características:
Sistema completo de masterização profissional alimentado por Grades positiva high-end algoritmos de processamento de sinal

Linear fase pré e pós equalizadores, cada um oferecendo oito bandas e cinco tipos de filtro

Multiband Dynamics, com quatro bandas independentes de compressão / limitação

Imager Stereo ajusta a largura eo equilíbrio de seu estúdio mixs

Reverb fornece quarto state-of-the-art, Hall e algoritmos de Placa

Maximizer limita transparente picos para fazer seu mix mais alto

Dithering e Noise-Shaping preserva sua profundidade e nuance mixs

Stereo e mid-side processamento

De alta resolução, medição multi-colorida com leituras precisas

Cada módulo pode ser ignorada de forma independente

Interruptores de desvio para as bandas de EQ individuais

Esquerda, direita, meio e laterais canais podem ser isolados ou ignorados de forma independente

Visão geral da forma de onda do seu mix, com cursor de reprodução draggable

100 presets de fábrica e presets de usuário ilimitadas

Presets globais e baseados em módulo

Arrastar e soltar os módulos para reorganizar a ordem no caminho do sinal

Pristine, som de alta resolução (precisão dupla, cálculo de 64-bit)

Integridade em dados de áudio inigualável: nenhum arredondamento ou truncamento, exceto quando os cálculos são realizados

Compartilhe por email, Dropbox, iTunes, SoundCloud e FTP

Gerenciamento de projeto simplificado: navegar em vários projetos com um simples toque

Fluxo de trabalho otimizado para transferências de dados móveis e de desktop

Suporta Inter App áudio e sistema de roteamento Audiobus (funciona com muitos outros aplicativos de áudio)

Suporta iPad 2, iPad mini e novos dispositivos para iPads

Projetado para iOS 7

Toque Final vendido por US $ 19,99 e está imediatamente disponível para download na iTunes App Store. Projetado para iOS7, o aplicativo requer um iPad 2 ou mais recente para operar.

Para mais detalhes, visite www.positivegrid.com