WIN a Telefunken Microphone in the latest AskVideo SongCraft Remix Contest! Simply log-in/sign-up for FREE, download stems, remix & submit before end of September 21st, 2014.
THIS CONTEST IS NOW CLOSED. YOU CAN STILL LISTEN TO THE ENTRIES BELOW. RESULTS WILL BE ANNOUNCED SOON. STAY TUNED!
AskVideo.com & macProVideo.com and Telefunken have teamed up to announce our 6th SongCraft Remix Contest featuring Turin Brakes!

Whether you're back to school or re-emerging from your summer vacation, or both'¦ it's time to get remixing! This time the Dubway crew are back with the exclusive song "International" by Turin Brakes, written and produced from start to finish in the new "SongCraft Presents: Songwriting with Turn Brakes" video course.

And the prizes for this contest? We've partnered with world-famous microphone manufacturer, Telefunken, who are offering the lucky winner their M82 Dynamic Microphone worth $399 USD)!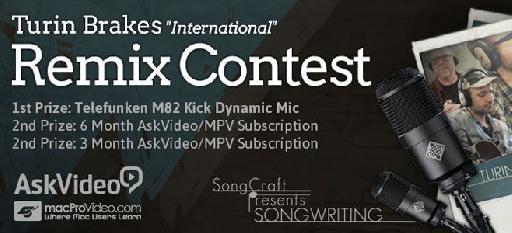 What kind of remix should you create? The choice is yours!! You can go as crazy as you like. It's all about how it sounds and how well it's mixed that matters.

Prizes
Prizes have been provided by Telefunken & AskVideo / macProVideo.
1st place: Telefunken M82 dynamic mic + a 1 Year Online Subscription to macProVideo.com / AskVideo.com

2nd place : 6 Month Online Subscription to macProVideo.com

3rd place : 3 Month Online Subscription to macProVideo.com.

Whether you win or not, here is your chance to share your musical excellence with the world!
HURRY! Contest ends 11:59pm PST, September 21st, 2014. Results will be announced in this article shortly after! Good luck!
How To Enter
1. Download the stems and get remixing!
2. Upload your finished remixes using the link below. (You'll need a free SoundCloud account):
3. Listen to and vote for your favorite remix entries in the player below.
... and the Turin Brakes themselves will select the top 3 winners. Winners will be announced soon after September 21st, 2014!
About The SongCraft Tutorial
You never know what's going to happen when you book a top indie band like Turin Brakes to compose and produce a song '"in-front of the cameras'" in a single day! It's a daunting challenge. However, like all the other courses in our entertaining "SongCraft Presents" Series, Ben Arthur and the band, along with the whole Dubway team, really came up with the musical goods!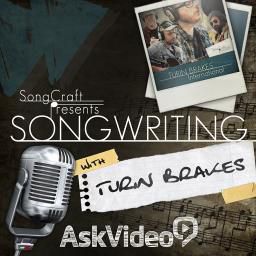 So yet again we filled our guerrilla, SxSW recording studio with all kinds of high-end mics, audio interfaces, instruments and cool software to get ready to rock. The band arrives... Cameras roll... Introductions are made and everybody gets down to the songwriting business at hand!
This 'docutorial' is both an exploration of gun-to-the-head creativity and an audio recording marathon all wrapped into one. You get to witness a song idea being born and nurtured from its initial spark of inspiration to a completely realized song. Then, all along the way, you go to school on pro recording and production techniques as Mike Crehore and Al Houghton do their engineering and production magic both in Austin and back at the 'real' studio for overdubs and mixing in New York City.
So sit back and see Turin Brakes and songwriter/host Ben Arthur as they face the ultimate, musical challenge of writing and producing a one-day song... right before your eyes!
https://www.askvideo.com/course/songcraft-presents-songwriting-with-turin-brakes

About The Telefunken M82 Dynamic Microphone ($399 USD)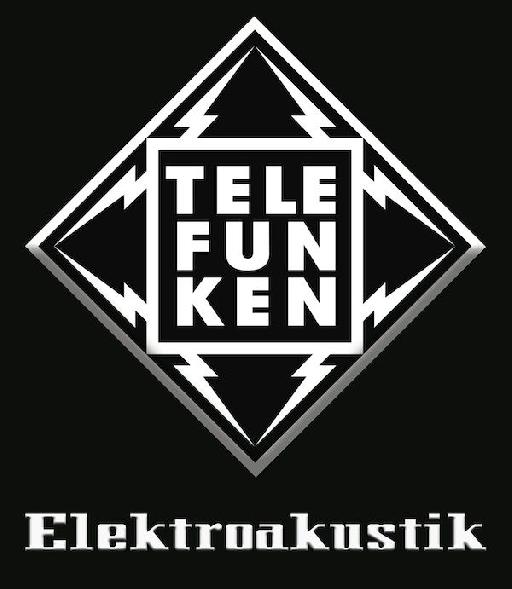 The TELEFUNKEN Elektroakustik M82 is a new, large diaphragm dynamic microphone that borrows its look from the classic U47's body and headgrille shape. Hand-assembled in CT, USA, the M82 is a robust, end-address microphone features two EQ switches: KICK EQ and HIGH BOOST. These switches function independently of each other, which yields four unique settings.
About macProVideo.com & AskVideo.com

macProVideo.com
is a high-tech, online video education community specializing in everything music from recording, mixing and music theory to expert training on world's leading audio software including Logic Pro, Pro Tools, Ableton Live, Native Instruments, Reason, Cubase, and more! Our entire library is available online, 24/7 so you learn what you want, when you want.
macProVideo.com.
What would you like to learn today?
Terms And Conditions
Entries must be submitted to the SoundCloud Dropbox above. You'll need a free SoundCloud account to participate. We advise that submitted tracks should be set to 'public'. If you wish, the download option can be disabled.
The closing date for entries is 11:59pm, PST on September 21st, 2014. We reserve the right to alter the stated competition dates and the announcement date of the winning entries.
Winners will be selected by Turin Brakes and/or Dubway Studio team. The judges decision is final.
No cash alternatives can be offered for prize winners.
All trademarks and logos are protected. All rights of the producer and the owner of the recorded work are reserved.
Entrants must warrant that their entries are original work and do not infringe intellectual property and privacy of a third party. You are free to use sounds that were created by you and/or royalty free loops. The submitting party bears full responsibility for their use of any 'uncleared' content. 'Uncleared' content is defined as a sample, loop or audio file which you didn't create, or which you do not own the copyright of.
Entrants agree that their entries can be used, without additional rights being requested, in any associated SongCraft series video course created by macProVideo.com, AskVideo.com and any of their partners for online and download distribution.
Shipping costs will be paid for by macProVideo and Dubway Studios. Any local tax or customs charges must be paid for by the prize winner.
All entrants to this contest will be deemed to have accepted the rules and terms and conditions.
OK! We're done with the legal stuff'¦ Good luck creating inspiring remixes!