RIchard Lainhart was an award-winning composer, author, filmmaker and trainer. He passed away on 30 December, 2011 leaving behind a wonderful legacy of art and creation that has touched many lives.
On 30th December 2011 Richard Lainhart, musician, trainer, writer and film maker, died from a complication after surgery. All of us here at macProVideo offer our heartfelt condolences to his close friends and family... and I'd like to pay tribute to a truly multi-talented artist and popular author.
We met (over email and Skype) in December 2010 after being introduced by Steve H and soon into our conversation I knew he was a writer I wanted to work closely with.
One year on and Richard has had over 75 articles published on The Hub, covering After Effects, Photoshop, Logic, Sound Design, and so much more. He was a prolific writer and one who cared deeply about his audience. He put a tremendous amount of love and attention into each and every tutorial. And I always felt that writing for The Hub was something he enjoyed very much.
I fondly remember talking to him about the deer and birds that would visit his back garden and the scene of the snow covered trees after a recent storm. When he talked about his music performances I felt that same warm and passionate glow come through.
The Richard I had the privilege to know was understated, caring, generous, and someone I feel grateful to have shared some time with... and I'd like to celebrate his life through his own words on The Hub... below are 5 of my favorite articles by Richard from 2011.
Thank you, Richard.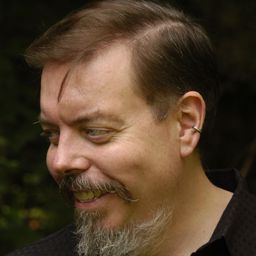 Richard Lainhart
Richard's friend and neighbor Jordan Rudess, keyboardist with Dream Theater (and macProVideo instructor!) asked him a couple of years back to help him out: shooting some promo images of him. However, some minor adjustments were needed in post production and Richard came to the rescue...
Using Logic Pro's built-in software instruments and controlling them with an external USB controller is pretty straightforward, and many people work in Logic this way exclusively. But if you have external MIDI hardware you wish to use then you'll need to know how to set it up on your Mac and in Logic Pro.
Richard Lainhart breaks open Logic Pro's ES2 and shows how to recreate one of the synths from the Dizzee Rascal hit, 'Dance Wiv Me' featuring Calvin Harris.
Displacement Mapping might sound like a concept from a Sci-Fi novel, but in After Effects you can use it to create interesting distortion techniques right now! Richard Lainhart maps out the basics.
Moog releasing Animoog for iPad has created a lot of buzz amongst iPad-wielding musicians. Richard Lainhart delves in deeply, as only experienced synthesists can, to discover how special this app is.
http://www.downloadplatform.com/richard_lainhart
http://www.vimeo.com/rlainhart
http://www.youtube.com/rlainhart
http://richardlainhart.bandcamp.com/
http://www.macprovideo.com/hub/author/richard-lainhart

http://www.macprovideo.com/about/trainers/richardlainhart

Richard's wife, Caroline Meyers, has posted a message for Richard's friends on FaceBook here:
http://www.facebook.com/rlainhart/posts/2620039735193