Digital Audio Workstations (DAWs) are the hub for 99% of all modern musicians and producers. It's where our ideas, feelings and collaborations start to take form. So which is the most popular DAW?
Bereits im September 2015 führten wir die Mutter aller Musikinstrumente Wettbewerben, mit einem kolossalen $ 33,000 wert von Hard- und Softwarepreise, die anderen Studio-Setups grün vor Neid werden. Im Rahmen des Wettbewerbs haben wir Sie gebeten, eine Übersicht über Ihre Musik-Produktion Gewohnheiten zu vervollständigen. Eine Frage war über Ihre primäre bevorzugten DAW. Fast 25.000 Musiker und Produzenten gaben ihre Antwort. Hier
The Best DAW?
Es
Vielleicht eine weitere relevante Frage ist, welche DAW ist die beliebteste und hat die größte Nutzerbasis. Also, von rund 25k Musiker und Produzenten, die unsere Ask.Audio Umfrage im September 2015 beantwortet, lassen
[ad_unit]
And The Most Popular DAW (as Voted For By You) Is…
Denken Sie daran, dass nur eine DAW könnte aus unserer Umfrage-Liste gewählt werden. So viele von uns, die zwei oder mehr DAWs verwendet wurden gezwungen, wählen ihre
Allerdings ist diese noch immer eine interessante Lektüre, vor allem, da die meisten DAW-Entwickler sind zögerlich, um die Anzahl der Verkäufe und Nutzer zu veröffentlichen. Diese Ergebnisse werden als Prozentsatz aller Antworten auf die Umfrage gezeigt.
Oh und Gewinner? Wie Sie unten sehen können, war Ableton Live bei weitem die überragende Gewinner mit mehr als 23%, die unglaubliche bedenkt es wurde zum ersten Mal im Jahr 2001, und herzlichen Glückwunsch an alle Top-5 (und alle 11), so dass wir zu erfassen, zu organisieren freigegeben ist, komponieren, zu mischen, Master und produzieren Audio und Musik.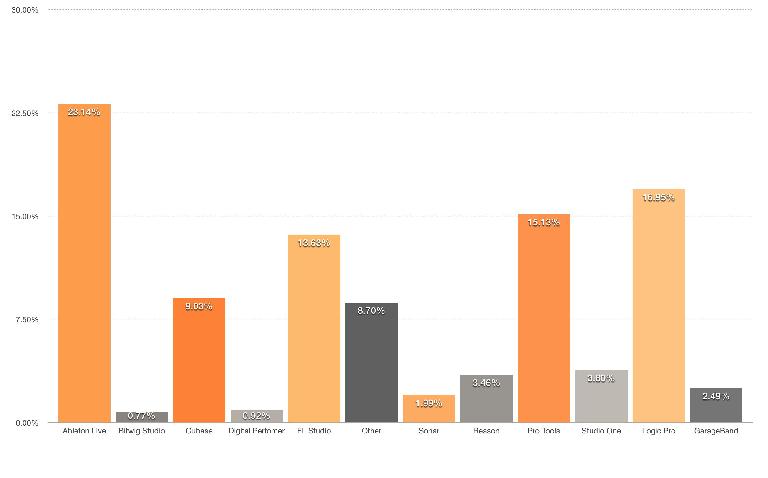 (Klicken Sie auf das Bild, um eine größere Version zu sehen) Top 11 DAWs 2015 (für die auf Ask.Audio gewählt)
# 1. Ableton Live 23.14%

# 2. Logic Pro 16,95%

#3. Pro Tools 15,13%

# 4. FL Studio13.63%

# 5. Cubase 9.03%

# 6. Studio One 3,80%

# 7.

# 8. Garageband 2,49%

# 9. Sonar 1,99%

# 10. Digital Performer 0.92%

# 11. Bitwig Studio 0.77%

Andere 8,70%
Denn wir lieben Sie, hier ist eine interessante Infografik mit Schwerpunkt auf der nach oben 5. Sie können die PDF-Version hier herunterladen.
Etw. werden