Digital Audio Workstations (DAWs) are the hub for 99% of all modern musicians and producers. It's where our ideas, feelings and collaborations start to take form. So which is the most popular DAW?
Ya en septiembre de 2015 nos encontramos con la madre de todos los concursos de artes de la música, con la friolera de $ 33.000 en premios de hardware y software que hicieron otras configuraciones de estudio verdes de envidia. Como parte del concurso le pedimos que complete una encuesta sobre sus hábitos de producción musical. Una pregunta fue acerca de su DAW preferido primaria. Casi 25.000 músicos y productores dieron su respuesta. Aquí
The Best DAW?
Ello
Quizás una pregunta más relevante es que DAW es el más popular y tiene la mayor base de usuarios. Así, de los aproximadamente 25k músicos y productores que respondieron a nuestra encuesta Ask.Audio en septiembre de 2015, permiten
[ad_unit]
And The Most Popular DAW (as Voted For By You) Is…
Tenga en cuenta, que sólo una aplicación de audio podría ser elegido de nuestra lista de encuesta. Así que muchos de nosotros que utilizan dos o más aplicaciones musicales se vieron obligados a elegir su
Sin embargo, esto todavía es una lectura interesante, sobre todo porque la mayoría de los desarrolladores DAW no se atreven a publicar el número de ventas y usuarios. Estos resultados se muestran como un porcentaje de todas las respuestas de la encuesta.
Ah, y ganador? Como se puede ver a continuación, Ableton Live fue de lejos el ganador fuera de control, con más del 23%, lo que es increíble teniendo en cuenta que fue lanzado por primera vez en 2001. Y felicitaciones a todos los 5 primeros (y todo 11) para que nos permite grabar, organizar, componer, mezclar, masterizar y producir audio y música.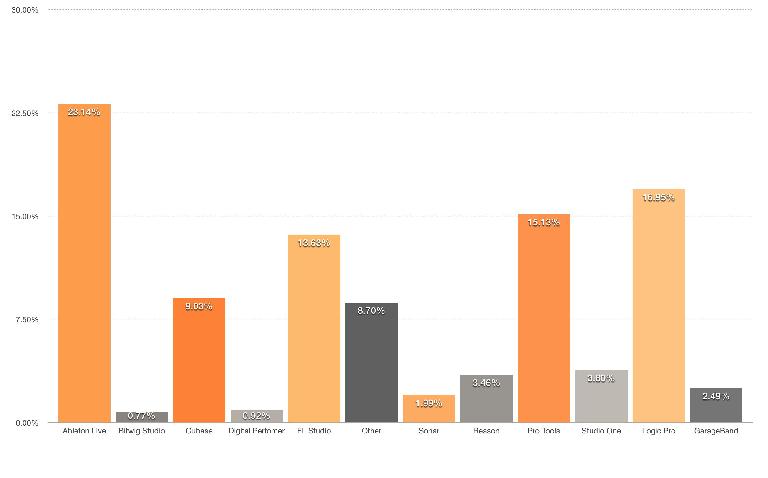 (Haga clic en la imagen para ver una versión más grande) Top 11 aplicaciones musicales 2015 (votado por el Ask.Audio)
# 1. Ableton Live 23,14%

# 2. Logic Pro 16,95%

# 3. Pro Tools 15.13%

# 4. FL Studio13.63%

# 5. Cubase 9,03%

# 6. Studio One 3.80%

# 7.

# 8. GarageBand 2,49%

# 9. Sonar 1.99%

# 10. Digital Performer 0.92%

# 11. Bitwig Estudio 0,77%

Otros 8,70%
Porque los amamos, aquí está una infografía interesante centrarse en el top 5. Usted puede descargar la versión en PDF aquí.
Convertirse en un