What product blows Neil Zaza's mind? What product is the Game Changer for Neil Zaza? It's Tone Shifter 3 Smart Sound Interface, the world's first smart sound interface combines MIDI controller. 
Auch wenn wir die Chance bekommen, Dr. Zuo treffen und versuchen, den neuen Ton Shifter 3 auf der NAMM persönlich nicht, haben wir noch einen Blick zu nehmen (aus der Ferne) dieser "smart Sound-Interface / MIDI-Controller" fasziniert genug ist. Hier ist, was Tone Shifter berichten über ihre neue Sound-Interface in ihren eigenen Worten ... es ist auf Kickstarter, so dass Sie den Vorteil dieser Frühbucher nehmen kann immer noch bietet.
Durch einfaches zu iDevice, MAC oder Windows-PC verbunden ist, können Sie alle Top-Level-Gitarren-Effekte-Software verwenden. Da diese Smart Sound-Interface MIDI-Controller kombiniert hat, kann Gitarristen Töne wechseln die Fußschalter mit null Latenz verwenden.
Wie Millionen von Gitarristen mobilen Musik-Apps verwenden, wollen alle von ihnen eine Sound-Interface, das sowohl bei der praktischen Umsetzung und auf der Bühne eingesetzt werden können, für die ganze iDevice (iPhone, iPad, Mac) sowie MAC und Windows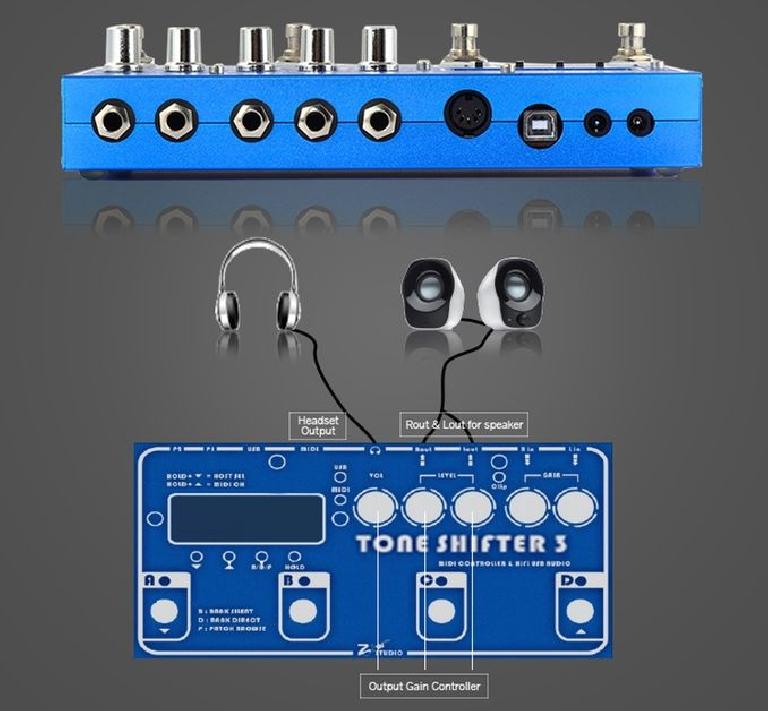 Tone Shifter 3 mit 2-IN / 4-OUT: unabhängige L
Was
Tone Shifter 3 intelligente Sound-Interface kann Gerät mit Strom versorgt. Im weiteren kann das speziell entwickelte Leistungseingänge Jack PW1 / PW2 um fast Adapter von 7 V angeschlossen werden, unabhängig von AC oder DC 18V, / -poles. Das ist auch eine feste Garantie für die Zuverlässigkeit. Sie können
Tone Shifter 3 Smart Sound-Interface Highlights sind:
Kompatibel mit Tausenden von Musik-Apps einschließlich JamUp, BAIS FX, AmpKit, ToneStack Go, Guitar Rig, Amplitube, Revalver, Overloud TH, WAVE GTR, POD Farm, Nuendo, Sonar, Cubase und so weiter.

Arbeit als MIDI-Controller Multieffekte, Gitarrenverstärkern und Keyboards mit MIDI-IN-Schnittstelle wie KPA, AXE, POD, TC, Eventide und so weiter.

sowohl R

Hallo-Fi-Kopfhörerausgang und R / L unabhängige Ausgangs mit Gain-Regler für Monitor oder Stufen-Mischer.

Angetrieben durch iDevice (iPhone, iPad, Mac) / Windows-PC oder einem Adapter in den Händen
Tone Shifter 3 Smart Sound-Schnittstelle gestartet zunächst in Kickstarter.com jetzt und dann wird auf der ganzen Welt verkauft werden. Straßenpreis beträgt $ 249 / $ 220 für verschiedene Zubehörteile im Paket. Wenn Sie zu diesem Gerät interessiert haben, können Sie es durch das Vorbestellen von Kickstarter.com und das Early Bird Special genießen.
Hinweis: Es gibt 26 Tage ist zu gehen, zum Zeitpunkt des Schreibens und Tone Shifter 3 ist bereits mehr als 60% finanziert.
Web: