What product blows Neil Zaza's mind? What product is the Game Changer for Neil Zaza? It's Tone Shifter 3 Smart Sound Interface, the world's first smart sound interface combines MIDI controller. 
Bien que nous ne sommes pas personnellement eu la chance de rencontrer le Dr Zuo et essayer le nouveau Tone Shifter 3 au NAMM, nous avons été intrigué assez pour prendre un autre regard (de loin) de ce "contrôleur / MIDI à puce d'interface sonore". Voici ce que Tone Shifter nous dire au sujet de leur nouvelle interface sonore dans leurs propres mots ... il est sur Kickstarter, afin que vous puissiez profiter de lève-tôt offres encore.
Simplement connecté à iDevice, MAC ou PC Windows, vous pouvez utiliser tous les logiciels de haut niveau des effets de guitare. Comme cette interface audio smart a combiné contrôleur MIDI, guitaristes peuvent passer des tons à l'aide des commutateurs au pied avec une latence zéro.
Comme des millions de guitaristes utilisent des applications de musique mobile, tous veulent une interface sonore qui peut être utilisé à la fois dans la pratique et sur la scène, adapté à tous les iDevice (iPhone, iPad, Mac) ainsi que MAC et Windows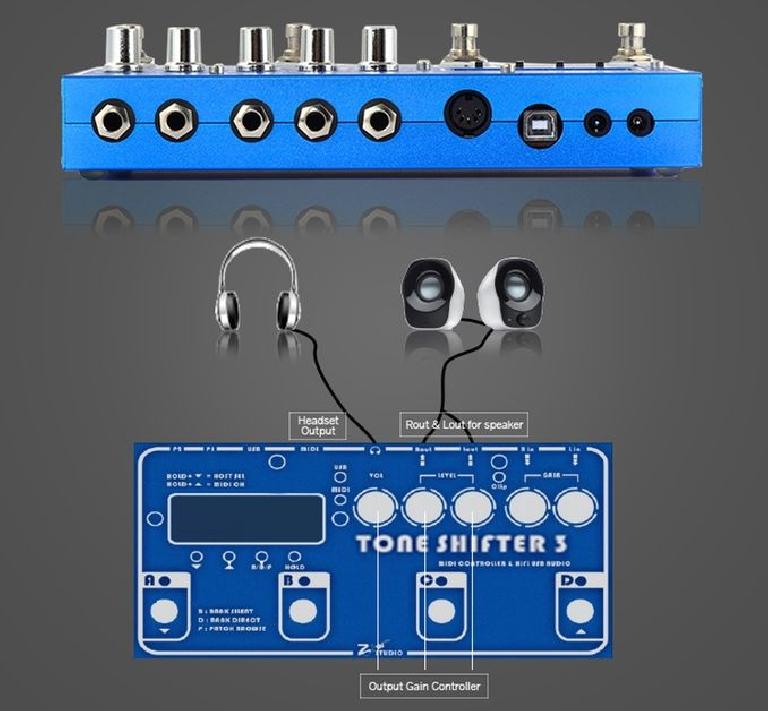 Tone Shifter 3 a 2-IN / OUT 4: indépendante L
Quelle
Tone Shifter interface 3 de sonorisation smart peut être dispositif alimenté. En plus, le spécial conçu entrées d'alimentation Jack PW1 / PW2 peut être branché de près adaptateur de 7V à 18V indépendamment de CA ou CC, / -poles. Ceci est aussi une garantie ferme de la fiabilité. Vous pouvez
Faits saillants Tone Shifter 3 puce Sound Interface comprennent:
Fonctionne avec des milliers d'applications de musique, y compris JamUp, BAIS FX, AmpKit, ToneStack Go, Guitar Rig, Amplitube, Revalver, Overloud TH, WAVE GTR, POD Farm, Nuendo, Sonar, Cubase et ainsi de suite.

Travail en tant que contrôleur MIDI à multi-effets, des amplis de guitare et les claviers avec interface MIDI-IN telles que APC, AXE, POD, TC, Eventide et ainsi de suite.

Les deux R

Salut-Fi sortie casque et R / L sortie indépendante avec réglage de gain pour le moniteur ou le stade mélangeur.

Propulsé par iDevice (iPhone, iPad, Mac) / Windows PC ou tout adaptateur dans les mains
Tone Shifter 3 puce Sound Interface a lancé d'abord dans Kickstarter.com en ce moment et puis sera vendu partout dans le monde. prix public est de 249 $ / 220 $ pour différents accessoires dans le paquet. Si vous avez intéressé à propos de cet appareil, vous pouvez pré-commandé à travers Kickstarter.com et profiter de la spéciale de lève-tôt.
Remarque: Il y a 26 jours pour aller au moment de la rédaction et de la tonalité Shifter 3 est déjà plus de 60% ​​financé.
Web: