What product blows Neil Zaza's mind? What product is the Game Changer for Neil Zaza? It's Tone Shifter 3 Smart Sound Interface, the world's first smart sound interface combines MIDI controller. 
Anche se non abbiamo personalmente avuto l'opportunità di incontrare il Dr. Zuo e provare il nuovo tono Shifter 3 al NAMM, siamo stati incuriositi abbastanza per prendere un altro sguardo (da lontano) di questo "controllore / MIDI interfaccia audio intelligente". Ecco cosa Tone Shifter ci raccontano la loro nuova interfaccia audio con le loro parole ... è su Kickstarter, in modo da poter usufruire di early-bird offre ancora.
Semplicemente collegato a iDevice, Mac o PC Windows, è possibile utilizzare tutti i top-level software di effetti per chitarra. Poiché questa interfaccia audio intelligente ha combinato controller MIDI, i chitarristi possono passare i toni mediante gli interruttori a pedale con latenza zero.
Come milioni di chitarristi utilizzano applicazioni musicali mobili, tutti vogliono un'interfaccia audio che può essere utilizzato sia nella pratica e sul palco, adatto a tutta la iDevice (iPhone, iPad, Mac), così come MAC e Windows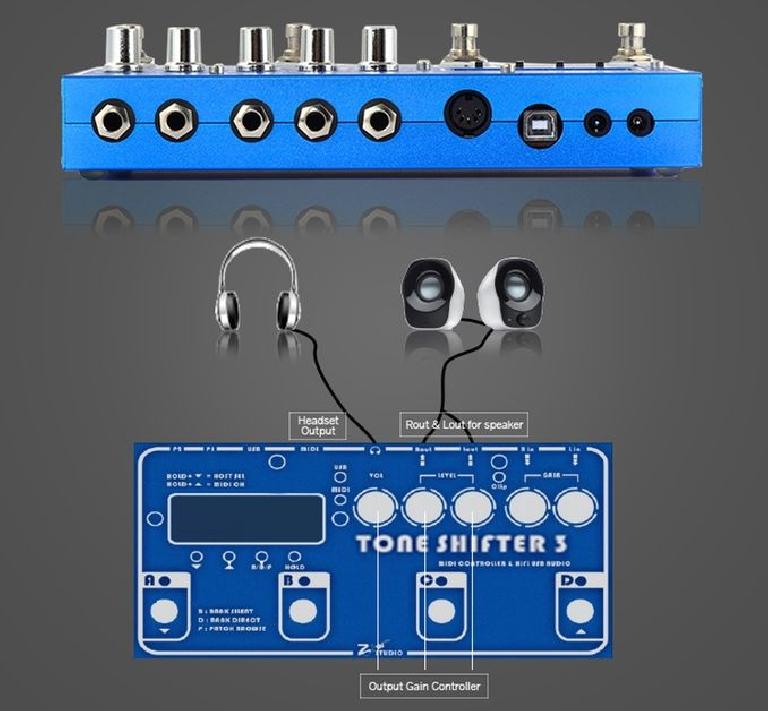 Tono Shifter 3 ha 2-IN / 4-OUT: L indipendente
Che cosa
Tono Shifter interfaccia 3 Smart suono può essere dispositivo alimentato. In aggiunta, la speciale progettato ingressi di alimentazione Jack PW1 / PW2 può essere collegato da quasi adattatore da 7V a 18V indipendentemente AC o DC, / -poles. Questo è anche una garanzia assoluta dell'affidabilità . Puoi
Mette in evidenza il tono Shifter 3 Smart Sound Interface includono:
Funziona con migliaia di applicazioni musicali tra cui JamUp, BAIS FX, AmpKit, ToneStack Go, Guitar Rig, Amplitube, ReValver, Overloud TH, WAVE GTR, POD Farm, Nuendo, Sonar, Cubase e così via.

Il lavoro come controller MIDI a multi-effetti, amplificatori per chitarra e tastiere con interfaccia MIDI-IN, come KPA, AXE, POD, TC, Eventide e così via.

Sia R

Hi-Fi uscita cuffia e R / L Uscita indipendente con controllo di guadagno per il monitor o la fase mixer.

Realizzato da iDevice (iPhone, iPad, Mac) / Windows PC o qualsiasi adattatore in mani
Tono Shifter 3 Smart Sound Interface ha lanciato prima in Kickstarter.com in questo momento e quindi sarà venduto in tutto il mondo. prezzo al pubblico è di $ 249 / $ 220 per diversi accessori nella confezione. Se hai interessati su questo dispositivo, è possibile pre-ordinato attraverso Kickstarter.com e godersi la speciale early bird.
Nota: Ci sono 26 giorni per andare al momento della scrittura e Tone Shifter 3 è già oltre il 60% finanziato.
Web: