What product blows Neil Zaza's mind? What product is the Game Changer for Neil Zaza? It's Tone Shifter 3 Smart Sound Interface, the world's first smart sound interface combines MIDI controller. 
Embora nós não pessoalmente, ter a chance de conhecer o Dr. Zuo e experimentar o novo tom Shifter 3 na NAMM, fomos intrigado o suficiente para ter um outro olhar (de longe) deste "controller / MIDI inteligente interface de som". Aqui está o que Shifter Tone nos dizer sobre sua nova interface de som em suas próprias palavras ... é no Kickstarter, para que você possa tirar proveito de início pássaros oferece ainda.
Por simplesmente conectado a iDevice, MAC ou PC com Windows, você pode usar todo o software de efeitos de guitarra de nível superior. Como esta interface de som inteligente combinou controlador MIDI, guitarristas pode alternar tons usando os pedais com latência zero.
Como milhões de guitarristas estão usando aplicativos de música móvel, todos eles querem uma interface de som que pode ser usado tanto na prática e no palco, apropriado para todo o iDevice (iPhone, iPad, Mac), bem como MAC e Windows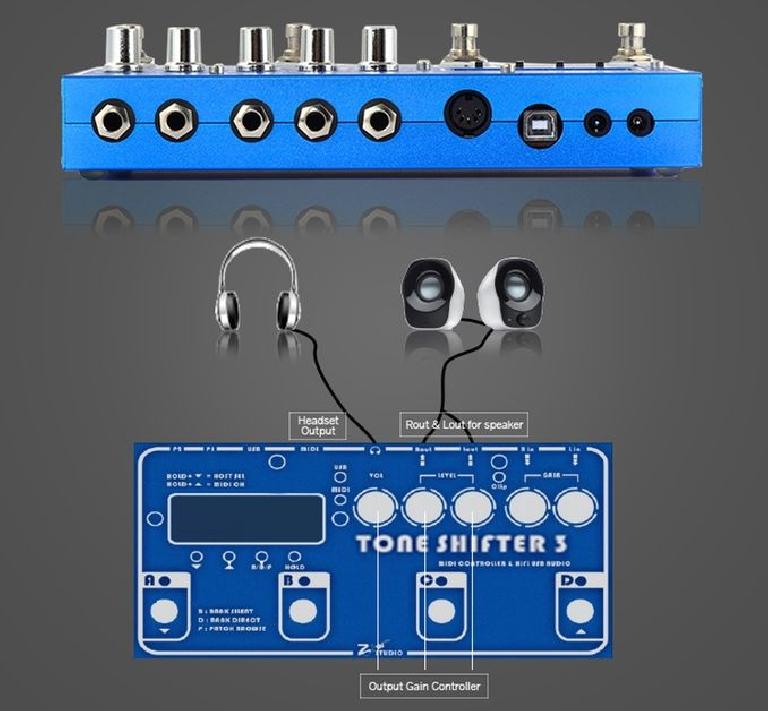 Tone Shifter 3 tem 2-IN / OUT 4: L independente
o que
Shifter tom interface de 3 som inteligente pode ser alimentado dispositivo. Em adicional, o especial projetado entradas de energia Jack PW1 / PW2 pode ser conectado em quase adaptador de 7V a 18V independentemente da AC ou DC, / -poles. Essa é também uma garantia firme da confiabilidade. Você pode
Shifter Tom 3 Smart Sound interface destaques incluem:
Trabalha com milhares de aplicativos de música, incluindo JamUp, BAIS FX, AmpKit, ToneStack Go, Guitar Rig, Amplitube, ReValver, Overloud TH, WAVE GTR, POD Farm, Nuendo, Sonar, Cubase e assim por diante.

Trabalho como controlador MIDI para multi-efeitos, amplificadores de guitarra e teclados com interface MIDI-IN como KPA, AXE, POD, TC, Eventide e assim por diante.

ambos os R

Oi-Fi saída de fone de ouvido e R / L de saída independente com controle de ganho para o monitor ou estágio misturador.

Alimentado por iDevice (iPhone, iPad, Mac) / Windows PC ou qualquer placa nas mãos
Tone Shifter 3 Smart Sound interface lançou em primeiro lugar no Kickstarter.com agora e, em seguida, serão vendidos em todo o mundo. rua preço é de US $ 249 / US $ 220 para acessórios diferentes no pacote. Se você tem interesse sobre este dispositivo, você pode pré-ordenada-lo através Kickstarter.com e aproveitar o início pássaros especial.
Nota: Há 26 dias para ir no momento da escrita e Tone Shifter 3 já está mais de 60% ​​financiado.
Rede: