Find out if you've won a Telefunken Microphone in the latest AskVideo Turin Brakes SongCraft Remix Contest! Yep, the winners have been announced. Good luck and thanks for entering.
After a very successful remix contest featuring the Turin Brakes song, "International" made during the SongCraft video course, we're finally ready to announce the winners…as chosen by Turin Brakes and the Dubways crew.
Congratulations to all of you who entered… the overall quality of remixes were excellent and here's the reaction video from the SongCraft guys followed by the results!
Gewinner
Prizes have been provided by Telefunken & AskVideo / macProVideo.
1st Prize: Fabio Martorana - Telefunken M82 dynamic mic + a 1 Year Online Subscription to macProVideo.com / AskVideo.com
2nd Prize: jokoo - 6 Month Online Subscription to macProVideo.com
3rd Prize: Fat Mavis - 3 Month Online Subscription to macProVideo.com
Whether you won or not, a big congratulations for entering from Turin Brakes, SongCraft, AskVideo and us too!

Prize winners: please contact us via our Support area to claim your prizes!
Ãœber das Songwriting Tutorial
Man weiß nie, was passieren wird, wenn Sie ein Top-Indie-Band wie Turin Brakes zu buchen, um zu komponieren und produzieren eine Songin-vor der camerasin einen einzigen Tag! Seine eine gewaltige Herausforderung. Jedoch, wie alle anderen Kurse in unserem unterhaltsamen "Songwriting Presents"-Serie, kam wirklich Ben Arthur und die Band, zusammen mit der ganzen Dubway Team, mit den musikalischen Güter!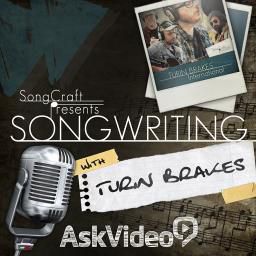 Doch so wieder haben wir unsere Guerilla, SxSW Tonstudio gefüllt mit allen Arten von High-End-Mikrofone, Audio-Interfaces, Instrumente und coole Software bereit zu rocken zu bekommen. Die Band ankommt Kameras Rolle Einführungen gemacht werden, und jeder macht sich an das Songwriting Unternehmen bei der Hand!
Dies ist sowohl eine docutorial Erforschung der Pistole-to-the-Kopf Kreativität und ein Audio-Aufnahme-Marathon alle in einem. Sie erhalten, um einen Song Idee geboren und von seiner anfänglichen Funken der Inspiration zu einer völlig realisiert Song genährt zu bezeugen. Dann, auf dem Weg zur Schule auf Pro Aufnahme und Produktionstechniken gehen Sie wie Mike Crehore und Al Houghton machen ihre Technik und Produktion Magie sowohl in Austin und zurück in die reale Studio für Overdubs und Mischen in New York City.
Lehnen Sie sich zurück und sehen, Turin Brakes und Songwriter / Host Ben Arthur, als sie den ultimativen, musikalischen Herausforderung des Schreibens und Herstellung einer Ein-Tages-Song direkt vor Ihren Augen ins Gesicht!
https://www.askvideo.com/course/songcraft-Geschenke-Songwriting-mit-Turin-Bremsen

Ãœber die Ãœber macProVideo.com

macProVideo.com

is a high-tech, online video education community specializing in everything music from recording, mixing and music theory to expert training on world's leading audio software including Logic Pro, Pro Tools, Ableton Live, Native Instruments, Reason, Cubase, and more! Our entire library is available online, 24/7 so you learn what you want, when you want.

macProVideo.com.

What would you like to learn today?