Find out if you've won a Telefunken Microphone in the latest AskVideo Turin Brakes SongCraft Remix Contest! Yep, the winners have been announced. Good luck and thanks for entering.
After a very successful remix contest featuring the Turin Brakes song, "International" made during the SongCraft video course, we're finally ready to announce the winners…as chosen by Turin Brakes and the Dubways crew.
Congratulations to all of you who entered… the overall quality of remixes were excellent and here's the reaction video from the SongCraft guys followed by the results!
Ganadores
Prizes have been provided by Telefunken & AskVideo / macProVideo.
1st Prize: Fabio Martorana - Telefunken M82 dynamic mic + a 1 Year Online Subscription to macProVideo.com / AskVideo.com
2nd Prize: jokoo - 6 Month Online Subscription to macProVideo.com
3rd Prize: Fat Mavis - 3 Month Online Subscription to macProVideo.com
Whether you won or not, a big congratulations for entering from Turin Brakes, SongCraft, AskVideo and us too!

Prize winners: please contact us via our Support area to claim your prizes!
Sobre el songcraft Tutorial
Nunca se sabe qué va a pasar cuando usted reserva una banda superior indie como Turin Brakes para componer y producir un Songin-frente a la camerasin un solo día! Es un desafío de enormes proporciones. Sin embargo, como todos los otros cursos en nuestra entretenida "songcraft Presents" Series, Ben Arthur y la banda, junto con todo el equipo Dubway, realmente vino para arriba con los géneros musicales!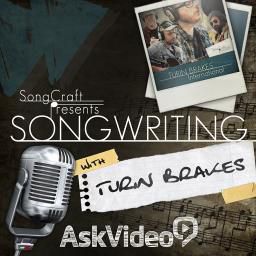 Así que una vez más nos llenamos nuestra guerrilla, estudio de grabación SXSW con todo tipo de micrófonos de alta gama, interfaces de audio, instrumentos y software fresco para estar listo para el rock. La banda llega Presentaciones rollo Cámaras se hacen y todo el mundo se pone a la tarea de escribir canciones a la mano!
Esta docutorial es tanto una exploración de la creatividad de pistola a la cabeza y un maratón de grabación de audio todo en uno. Tienes la oportunidad de ser testigo de una idea de la canción de haber nacido y nutrido desde su chispa inicial de la inspiración para una canción completamente realizado. Luego, a lo largo del camino, usted va a la escuela en pro técnicas de grabación y producción en Mike Crehore y Al Houghton hacen su ingeniería y producción magia tanto en Austin y de vuelta en el estudio real para overdubs y mezcla en la ciudad de Nueva York.
Así que sentarse y ver Turin Brakes y compositor / anfitrión Ben Arthur ya que se enfrentan el último desafío, musical de escribir y producir una canción de un día delante de sus ojos!
https://www.askvideo.com/course/songcraft-presenta-escribir canciones-con-Turín-frenos

Acerca de La Acerca macProVideo.com

macProVideo.com

is a high-tech, online video education community specializing in everything music from recording, mixing and music theory to expert training on world's leading audio software including Logic Pro, Pro Tools, Ableton Live, Native Instruments, Reason, Cubase, and more! Our entire library is available online, 24/7 so you learn what you want, when you want.

macProVideo.com.

What would you like to learn today?