Find out if you've won a Telefunken Microphone in the latest AskVideo Turin Brakes SongCraft Remix Contest! Yep, the winners have been announced. Good luck and thanks for entering.
After a very successful remix contest featuring the Turin Brakes song, "International" made during the SongCraft video course, we're finally ready to announce the winners…as chosen by Turin Brakes and the Dubways crew.
Congratulations to all of you who entered… the overall quality of remixes were excellent and here's the reaction video from the SongCraft guys followed by the results!
Gagnants
Prizes have been provided by Telefunken & AskVideo / macProVideo.
1st Prize: Fabio Martorana - Telefunken M82 dynamic mic + a 1 Year Online Subscription to macProVideo.com / AskVideo.com
2nd Prize: jokoo - 6 Month Online Subscription to macProVideo.com
3rd Prize: Fat Mavis - 3 Month Online Subscription to macProVideo.com
Whether you won or not, a big congratulations for entering from Turin Brakes, SongCraft, AskVideo and us too!

Prize winners: please contact us via our Support area to claim your prizes!
A propos du didacticiel songcraft
Vous ne savez jamais ce qui se passe à se produire lorsque vous réservez un groupe indie haut comme Turin Brakes pour composer et produire un Songin-devant de la camerasin une seule journée! C'est un défi de taille. Cependant, comme tous les autres cours dans notre divertissant "songcraft Presents" série, Ben Arthur et la bande, avec toute l'équipe Dubway, vraiment venu avec les marchandises musicales!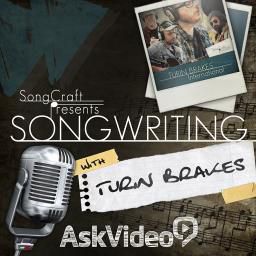 Donc, encore une fois, nous avons rempli notre guérilla, SxSW studio d'enregistrement avec toutes sortes de micros haut de gamme, interfaces audio, instruments et logiciels fraîche pour obtenir prêt pour le rock. Le groupe arrive Caméras Présentations rouleaux sont faits et tout le monde se met à l'entreprise d'écriture à portée de main!
Cette docutorial est à la fois une exploration de la créativité pistolet à la tête et un marathon d'enregistrement audio tout enveloppé dans un. Vous obtenez d'assister à une idée de chanson en train de naître et nourri de son étincelle initiale d'inspiration pour une chanson complètement réalisé. Puis, tout le long du chemin, vous allez à l'école sur les techniques de production et d'enregistrement pro comme Mike Crehore et Al Houghton font de leur ingénierie et la production de magie à la fois à Austin et de retour à la vraie studio et mixé à New York.
Alors asseyez-vous et voir Turin Brakes et compositeur / animateur Ben Arthur comme ils sont confrontés au final, défi musical de l'écriture et la production d'une chanson d'une journée devant vos yeux!
https://www.askvideo.com/course/songcraft-cadeaux-songwriting-avec-Turin-freins

À propos de l' À propos de macProVideo.com

macProVideo.com

is a high-tech, online video education community specializing in everything music from recording, mixing and music theory to expert training on world's leading audio software including Logic Pro, Pro Tools, Ableton Live, Native Instruments, Reason, Cubase, and more! Our entire library is available online, 24/7 so you learn what you want, when you want.

macProVideo.com.

What would you like to learn today?