Find out if you've won a Telefunken Microphone in the latest AskVideo Turin Brakes SongCraft Remix Contest! Yep, the winners have been announced. Good luck and thanks for entering.
After a very successful remix contest featuring the Turin Brakes song, "International" made during the SongCraft video course, we're finally ready to announce the winners…as chosen by Turin Brakes and the Dubways crew.
Congratulations to all of you who entered… the overall quality of remixes were excellent and here's the reaction video from the SongCraft guys followed by the results!
Vencedores
Prizes have been provided by Telefunken & AskVideo / macProVideo.
1st Prize: Fabio Martorana - Telefunken M82 dynamic mic + a 1 Year Online Subscription to macProVideo.com / AskVideo.com
2nd Prize: jokoo - 6 Month Online Subscription to macProVideo.com
3rd Prize: Fat Mavis - 3 Month Online Subscription to macProVideo.com
Whether you won or not, a big congratulations for entering from Turin Brakes, SongCraft, AskVideo and us too!

Prize winners: please contact us via our Support area to claim your prizes!
Sobre o Tutorial songcraft
Você nunca sabe o que vai acontecer quando você reservar uma banda indie de topo como Turin Brakes para compor e produzir um songin-frente da camerasin um único dia! É um desafio assustador. No entanto, como todos os outros cursos em nosso divertido "songcraft Presents" Series, Ben Arthur e da banda, juntamente com toda a equipe Dubway, realmente veio com os gêneros musicais!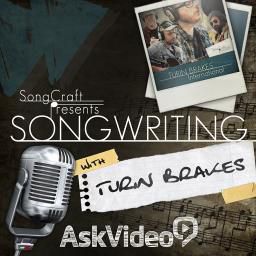 Ainda assim outra vez enchemos nossa guerrilha, SxSW estúdio de gravação com todos os tipos de microfones high-end, interfaces de áudio, instrumentos e software legal para ficar pronto para o rock. A banda chega Introduções ligar as câmeras são feitas e todo mundo fica para baixo ao negócio de composição na mão!
Este docutorial é tanto uma exploração da criatividade arma-to-the-cabeça e uma maratona de gravação de áudio, tudo embrulhado em um. Você começa a assistir a uma idéia de música que está sendo carregado e alimentado a partir de sua centelha inicial de inspiração para uma canção completamente realizado. Depois, ao longo do caminho, você vai à escola em pro técnicas de gravação e produção como Mike Crehore e Al Houghton fazer sua engenharia e produção de magia, tanto em Austin e de volta ao estúdio real para overdubs e mixagem em Nova York.
Então, sentar e ver Turin Brakes e compositor / host Ben Arthur como eles enfrentam o maior desafio, musical de escrever e produzir uma música de um dia bem diante dos seus olhos!
https://www.askvideo.com/course/songcraft-presentes de composição-com-Turim-freios

Sobre o Sobre macProVideo.com

macProVideo.com

is a high-tech, online video education community specializing in everything music from recording, mixing and music theory to expert training on world's leading audio software including Logic Pro, Pro Tools, Ableton Live, Native Instruments, Reason, Cubase, and more! Our entire library is available online, 24/7 so you learn what you want, when you want.

macProVideo.com.

What would you like to learn today?