So we've got pad, key, knob, button & fader-based MIDI controllers. But, have you ever thought of using 3D cubes to control your soft synths? Percussa's AudioCubes can do more than you might expect.
No vídeo abaixo, Mark Mosher usa MIDIBridge v3 por percussa usar seus Audiocubes para manipular os controles e mesmo roteamento de cabo em u-he brilhante ACE sintetizador analógico virtual.
Nós não sabemos se isso faz Audiocubes a forma mais intuitiva para controlar seus sintetizadores de software, mas certamente parece que o mais tangível, inovadora e, francamente, futurista, maneira de fazê-lo por enquanto.
Do site do percussa:
Mark Mosher beta testado a atualização de software v3 MIDIBridge e foi o primeiro usuário de energia AudioCube para tirar proveito dos recursos de topologia na atualização. Confira um vídeo super legal abaixo deste trabalho pioneiro, onde o novo pares MIDIBridge com ACE sintetizador de U-HE para wireless super rápida remendar :-)
Como você sabe, o nosso modo de topologia permite o envio de informações de disparo de nota MIDI como dados de distância bem MIDI (CCs), ao mesmo tempo para uma rede de até 15 Audiocubes simultaneamente.
No vídeo, você pode ver como Mark é capaz de corrigir ACE sintetizador analógico virtual do U-HE on-the-fly usando o Audiocubes. A localização e orientação dos cubos determina quais módulos são remendado juntos. Distância entre cubos muda profundidade de modulação.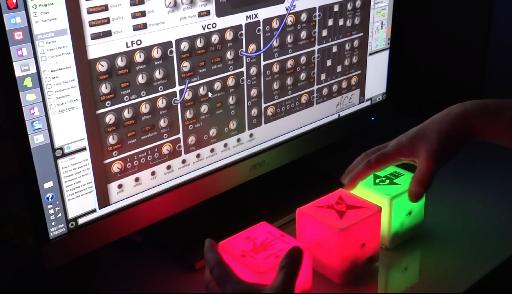 Na segunda parte do vídeo ele usa distância entre cubos de mudar as conexões de patch. Os valores de CC do sinal de distância entre os cubos altera as conexões remendo. No rato necessária e muito mais rápido do que remendar o uso de cabos reais :-)
Mark Mosher: "Este vídeo mostra alguns dos meus testes iniciais e idéias para alavancar esses recursos, emparelhando com Audiocubes ACE Claro que estas são etapas do bebê para o que é possível e essas mesmas técnicas podem ser aplicadas a outros instrumentos - e até mesmo instrumentos de hardware via. MIDI ou MIDI-to-CV ".
Web: Percussa Audiocubes