Working on profile images or portraits pictures? This tutorial by David Smith shows who to use level adjustments on targeted adjustment layers to for eye-grabbing results.
Calques de réglage sont parmi les outils les plus utiles et puissants édition dans Photoshop vaste arsenal de trucs formidables. Cette technique permettra sans aucun doute d'améliorer les images que vous utilisez au cours du temps. C'est celui que je revenir encore et encore. Parfois, pour simplement corriger un problème, d'autres fois pour aider à créer un look et parfois un peu des deux.
Étape 1 - Ouvrir une image qui nécessite quelques travaux
Cette image est une belle image, mais le look forte exposition a eu un impact sur le visage du modèle plus que je veux. Je tiens à donner au visage un peu plus de définition par l'abaissement de l'exposition. Dans le même temps je veux porter l'exposition de vêtements du modèle un peu, mais pas autant. Le fond je laisserai blanchi comme j'aime l'effet.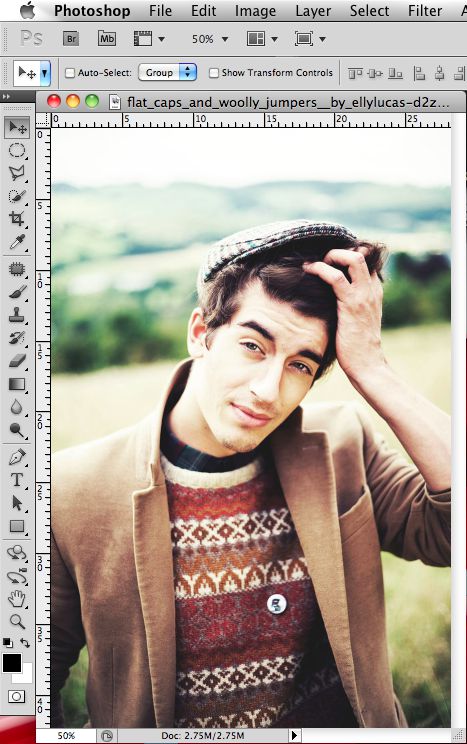 Etape 2 - Appliquer une couche d'ajustement des niveaux
Dans le groupe Panneaux ouvrez l'onglet Ajustements appelé.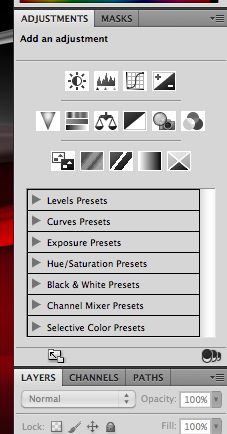 Cliquez sur le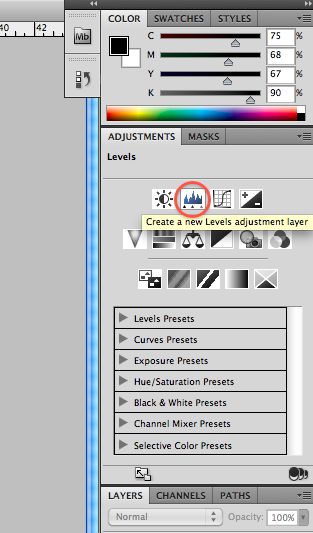 Étape 3 - Augmentation niveaux de noir
Le panneau Réglages contient maintenant l'éditeur de niveaux.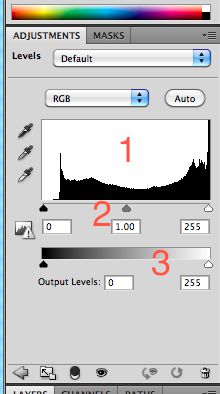 L'éditeur de niveaux est constitué de 3 éléments clés:
The Histogram: Shows you a graph plotting the levels of your image.



Levels Markers: These show the position on the Black (0) and White (255) pixels on the graph.



Output Levels: The output levels set the Blackness of Black and the Whiteness of White for your image, especially useful when images are over or under exposed.
En utilisant les niveaux Marqueurs j'ai mis le point noir jusqu'à 46 afin d'augmenter la quantité de lumière à l'extrémité noire de l'échelle, en ajoutant plus de contraste.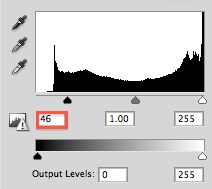 Étape 4 - diminuer les niveaux de blanc
En utilisant les niveaux de sortie j'ai diminué l'intensité du blanc à 218 afin d'apporter plus de détails dans les hautes lumières.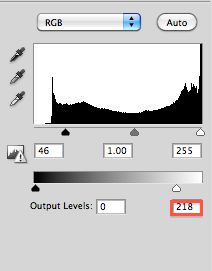 L'image ressemble maintenant à ceci: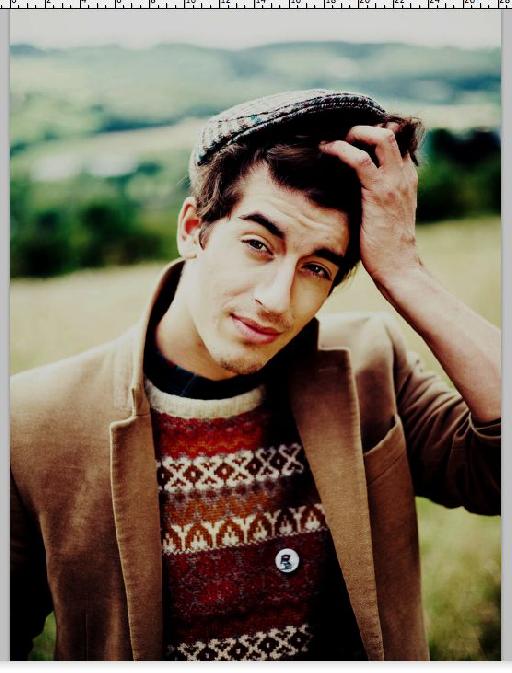 Étape 5 - Mise en place du masque de réglage
Maintenant, ouvrez le panneau Infos pratiques: vous y verrez un nouveau calque de réglage est assis sur le dessus de la couche de fond.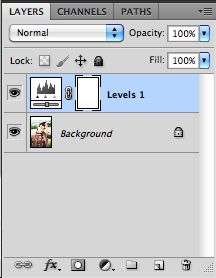 Tous les changements qui ont été faites pour les niveaux ont été réalisés sur ce calque de réglage plutôt que l'image originale.
Astuce: Cliquez sur l'icône des yeux les calques de réglage pour désactiver les réglages et voir l'image revenir à l'original.
L'objet qui contient tous les ajustements des niveaux est le masque de fusion associé à la couche d'ajustement. Sélectionnez ce masque en cliquant sur la vignette blanche comme ceci:

Avec le masque sélectionné, nous sommes prêts à commencer à personnaliser le masque afin de cacher certaines sections de notre image modifiée.
Étape 6 - Mise en place d'un pinceau pour modifier le masque
Pour commencer nous avons besoin de définir le premier plan et des couleurs de fond en noir et blanc (ou vice-versa) puisque ce sont les deux couleurs nécessaires pour modifier le masque. Utilisez le bouton par défaut en noir et blanc sur la barre d'outils, c'est le moyen le plus rapide.

Choisissez une brosse à peindre avec. La taille n'est pas importante en ce moment que je préfère utiliser les [et] pour modifier la taille du pinceau que je travaille. C'est beaucoup plus facile de travailler sur ce format dont vous avez besoin de cette façon.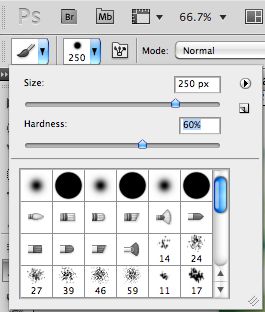 Je suis toutefois aller pour régler la dureté du pinceau à 60% que le contour progressif cela s'appliquera à l'Masque va créer une belle, difficile à repérer mélange entre l'originale et l'image ajustée.
L'opacité du pinceau a aussi un rôle à jouer ici comme une brosse 100% opaque casser des trous dans le masque. Je préfère une approche plus graduelle alors j'ai mis mon opacité du pinceau à 25% au lieu.

Étape 7 - Personnalisation du masque
Le masque dans la couche d'ajustement est blanc, donc je vais peindre sur ce masque de noir afin de commencer à créer des trous pour révéler l'image inédite sur la couche inférieure (en utilisant un pinceau blanc va faire l'inverse).
Astuce: si votre couleur de premier plan est le blanc appuyez sur X pour basculer entre eux.
Utilisation du [
Parce que l'opacité de la BROSSE est de 25%, chaque passage s'assombrit progressivement le masque,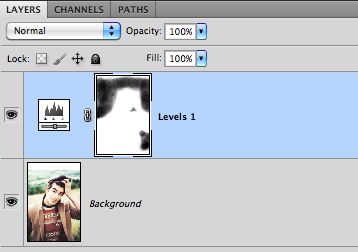 Maintenant, je vais essayer d'ajouter plus de noir au masque autour de vêtements du modèle, mais avec moins d'intensité pour le moment. Cela permet de levage des vêtements à partir des niveaux de fond tout en mettant l'accent sur le visage. Ne pas oublier de changer la taille du pinceau que vous peignez (en utilisant [et])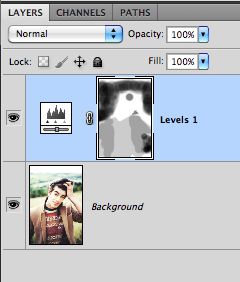 L'image résultante (à gauche) est un beau mélange entre le tir d'exposition élevés ancien et mon coup d'exposition édités que je suis beaucoup plus heureux avec. Comparez cela avec l'original sur la droite: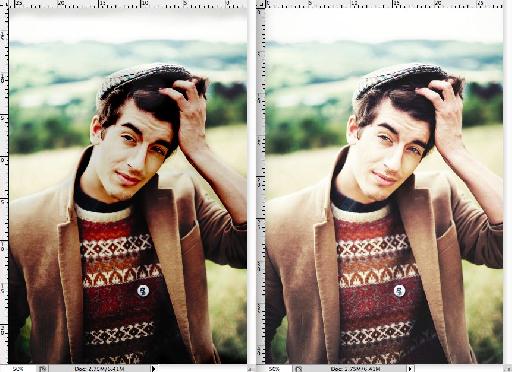 Couches Maîtriser réglage non destructif et la personnalisation de leurs masques est une compétence très utile dans Photoshop, donc continuer à pratiquer!
Vous voulez tirer le meilleur parti de Photoshop? Découvrez la gamme complète de macProVideo.com vidéos tutoriel Photoshop .