Working on profile images or portraits pictures? This tutorial by David Smith shows who to use level adjustments on targeted adjustment layers to for eye-grabbing results.
Camadas de ajuste estão entre as ferramentas mais úteis e poderosas de edição em Photoshop do extenso arsenal de coisas grandes. Esta técnica irá indubitavelmente melhorar as imagens que você usa ao longo do tempo. É que eu volte a repetir-se. Às vezes, simplesmente para corrigir um problema, outras vezes para ajudar a criar um olhar e às vezes um pouco de ambos.
Passo 1 - Abra uma imagem que requer algum trabalho
Esta imagem é uma imagem bonita, no entanto o olhar alta exposição tem impactado no rosto do modelo é mais do que eu quero. Eu gostaria de dar a cara um pouco mais de definição, diminuindo a exposição. Ao mesmo tempo eu quero trazer a exposição de roupas da modelo um pouco para baixo, mas não tanto. O fundo vou deixar branqueada como eu gosto do efeito.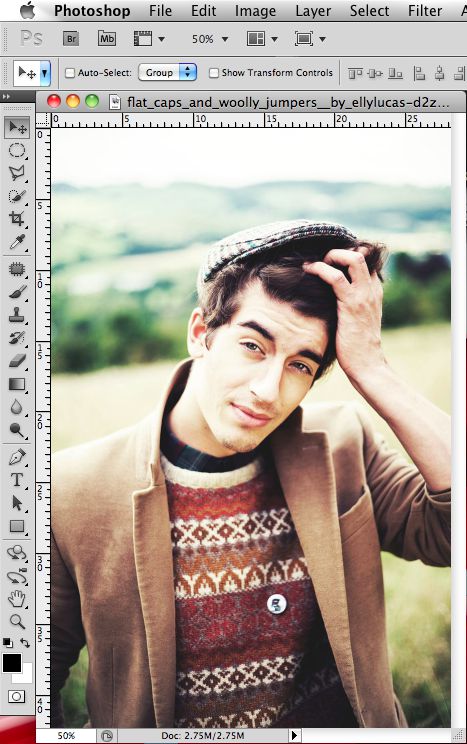 Passo 2 - Aplique uma camada de ajuste Levels
No Grupo de Painéis abra a aba chamada Ajustes.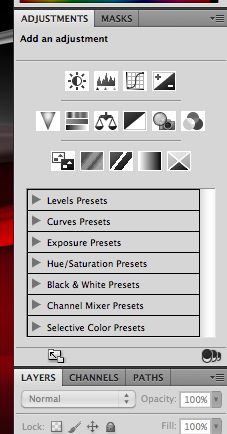 Clique na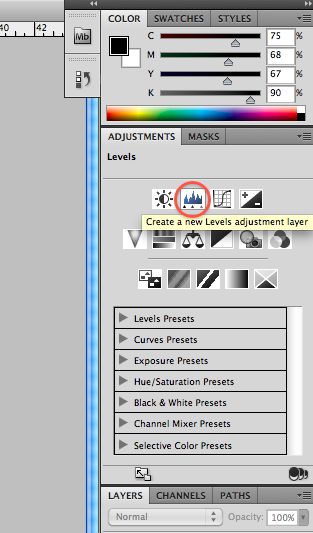 Passo 3 - Aumentar os níveis de preto
Painel Ajustes agora irá conter o Editor de Níveis.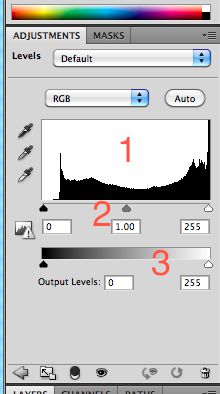 O editor de níveis é composto de três itens principais:
The Histogram: Shows you a graph plotting the levels of your image.



Levels Markers: These show the position on the Black (0) and White (255) pixels on the graph.



Output Levels: The output levels set the Blackness of Black and the Whiteness of White for your image, especially useful when images are over or under exposed.
Usando os níveis Markers eu definir o ponto de preto até 46, a fim de aumentar a quantidade de luz no fim Preto da escala, a adição de mais contraste.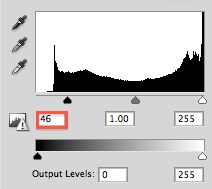 Passo 4 - diminuir os níveis Branco
Usando os níveis de saída Eu diminuiu a intensidade do branco a 218, a fim de trazer mais detalhes na destaques.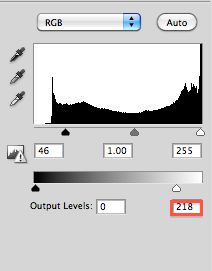 A imagem agora se parece com isso: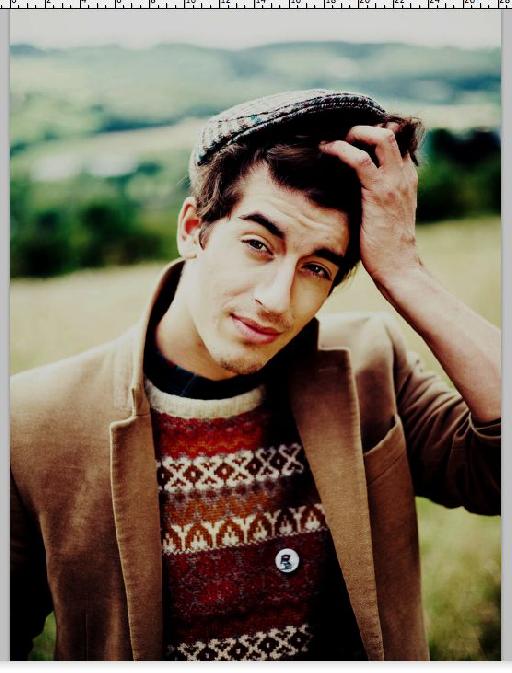 Passo 5 - Configuração da máscara de ajuste
Agora abra o Painel de Camadas: lá você verá uma nova camada de ajuste está sentado em cima da camada de fundo.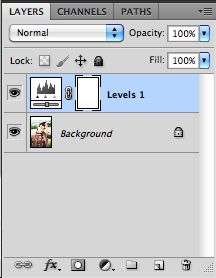 Todas as mudanças que foram feitas para os níveis têm sido feitos nesta camada do ajuste em vez da imagem original.
Dica: Clique no ícone do olho Ajuste Layers para desabilitar a ajustes e ver a imagem voltar ao original.
O objeto que contém todos os ajustes Levels é o Layer Mask associados com a Camada de Ajuste. Selecione esta máscara, clicando sobre a miniatura branco parecido com isto:

Com a máscara selecionada estamos prontos para começar a personalizar a máscara para esconder algumas seções da nossa imagem editada.
Passo 6 - Configurando um pincel para editar a máscara
Para começar, precisamos definir o primeiro plano e cores para preto e branco (ou vice-versa), como estas são as duas cores necessárias para editar a máscara. Use o botão padrão preto e branco na barra de ferramentas, é a maneira mais rápida.

Escolha um pincel para pintar com. O tamanho não é importante agora, como eu gosto de usar a teclas [e] para editar o tamanho do pincel como eu trabalho. É muito mais fácil descobrir o que tamanho que você precisa dessa maneira.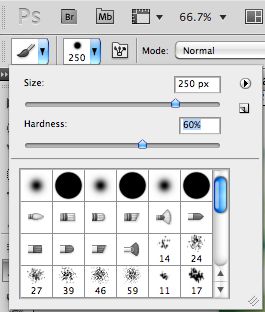 Mas estou indo para definir a dureza da escova a 60% como o limite de penas isso se aplica a máscara vai criar um agradável, difícil de detectar mistura entre o original e as imagens ajustadas.
A opacidade do pincel também tem um papel a desempenhar aqui como uma escova de 100% opaco irá esmagar buracos na máscara. Eu prefiro uma abordagem mais gradual assim que eu definir o meu opacidade do pincel para 25% em seu lugar.

Passo 7 - Personalização da Máscara
The Mask na camada do ajuste é branco, Então eu vou pintar para que a máscara com preto, a fim de começar a criar buracos para revelar a imagem não editada na camada abaixo (usando um pincel branco vai fazer o contrário).
Dica: se a sua cor de primeiro plano é definido como branco, pressione X para alternar entre elas.
Usando o [
Porque a opacidade do brushe é de 25%, cada passagem escurece a Máscara de forma gradual,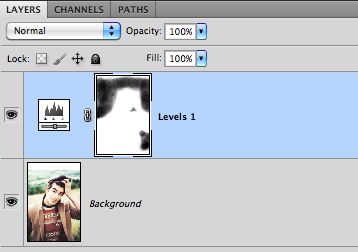 Agora vou tentar adicionar mais preto com a máscara em torno do modelo de roupa, apenas com menor intensidade neste momento. Isso ajuda a levantar a roupa dos níveis de segundo plano enquanto continua a dar ênfase à face. Não se esqueça de mudar o tamanho do pincel ao pintar (usando [e])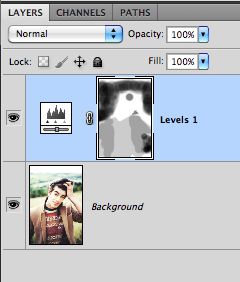 A imagem resultante (à esquerda) é uma mistura agradável entre o tiro exposição de idade alta e meu tiro exposição editada que eu sou muito mais feliz com. Compare isso com o original à direita: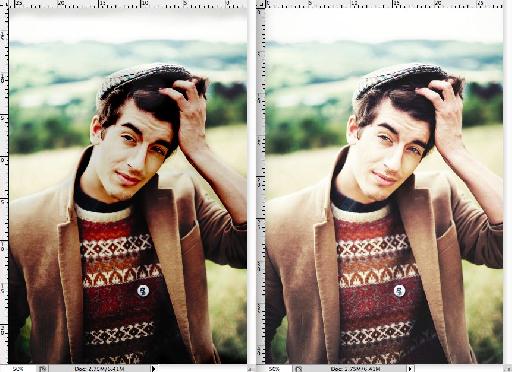 Camadas Mastering não-destrutivo de Ajuste e customização de suas máscaras é uma habilidade muito útil no Photoshop, de modo a manter a praticar!
Quer tirar o máximo proveito do Photoshop? Confira a gama completa de macProVideo.com videos tutorial Photoshop .