Can Photoshop CS5's Content Aware Fill Help My Photography Stay Authentic? The truth of my photography lies in my intention, that is, how I intend my photograph to look and what it says to it's viewer
Can Photoshop CS5's Content Aware Fill Help My Photography Stay Authentic?
The truth of my photography lies in my intention, that is, how I intend my photograph to look and what it says to it's viewer. As soon as I pick up my camera I have begun to manipulate my image. The subject catches my eye and I set out to capture it. The edits begin before I click the shutter and thanks to Photoshop's amazing retouching tools, long after too. Whether you want to create photography for a client or simply want to get some family snaps ready for print, Photoshop CS5's revolutionary retouch feature, Content Aware Fill, will prove invaluable. Let me show you how to get the best from this feature in an easy 2 part process, and also what to try when the results are not quite pixel perfect.
In this example we need to remove an object from a photograph. I took this picture outside the Fashion Museum in Bath, here in the UK. Bath is famous for its striking architecture, healing waters and the novels of Jane Austin. The current exhibition is called Photographing Fashion: British Style in the 1960's.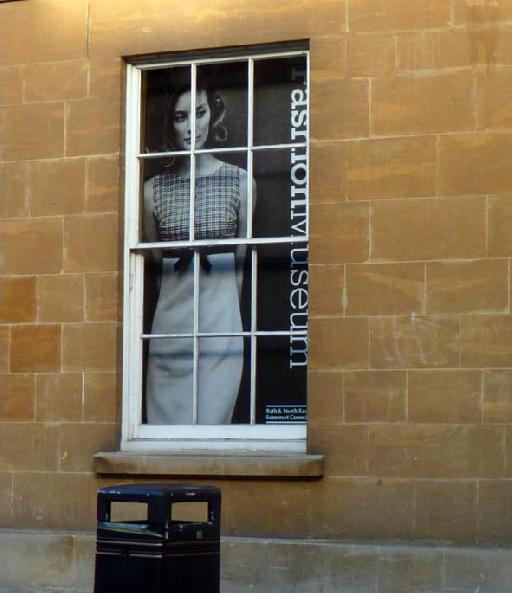 I found this image compelling. The model is larger than life and seems to be looking at us for a change. It was my intention to capture the street setting and the impact of the model. The Litter bin right in front may be helping keep the streets of Bath tidy but it sure is messing up my photograph!
For a task like this the Content Aware Fill feature is my first choice, it's fast and can produce striking results.... and of course, it can be used along-side Photoshop's other healing tools. Click on the image above to access a larger version and take a screenshot if you want to work along. My workflow is a simple 2 part process.
Part 1 - Making a Selection...
Open the image in Photoshop CS5. I like to work in full screen mode so I can drag the Lasso tool around the outside of the image without de-selecting Photoshop! We want to create a set up which supports making a good selection, because when working with the Content Aware Fill feature our selection is key to it's effectiveness.

Create a new layer with the image in it by selecting the background layer and pressing Command+J (Mac) or Control+J (PC). Double-click on the text label Layer 1 and rename it, I've called mine "remove Litter bin". This means you have an in-document copy of your image to get wild with.
Choose the Zoom tool from the Tool Bar or type "Z". Make sure Scrubby Zoom is selected in the Zoom Tool's Option menu. This is a really useful zoom feature new to Photoshop CS5.

Use the
Scrubby Zoom
by dragging left and right in you image until your zoom level feels comfortable to make your selection from. Reposition your image by holding down the
Space Bar
to select the
Hand Tool
and drag.
To make my selection I have used the Lasso tool. Select it from the Tool Bar or type "L".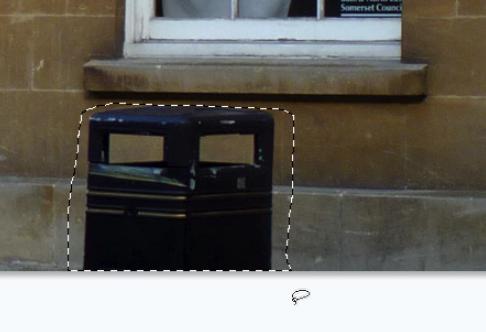 Make a loose selection around the Litter bin, leaving some space between it's boundary and the background. The
Content Aware Fill feature
is an "intelligent" technology which means it creates a new fill using information from your selection, by giving it a
taste
of your desired background you can guide Photoshop's assumptions about what you want.
OK so we have our selection, let's see what Photoshop thinks we want!
Part 2 - Applying the Content Aware Fill...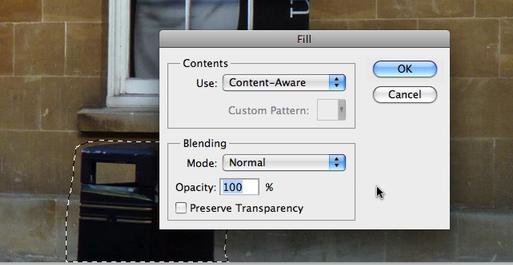 Simply click
Shift+Delete
to bring up the
Fill dialogue box
. Make sure that the
Content Aware
option is selected from the "
Use
" pull down menu. Click
OK
. Other ways to open this window are:
Edit > Fill...
,
Shift+F5
, and if you are working on a background layer pressing the Delete key will open the fill dialogue directly.
This is my result...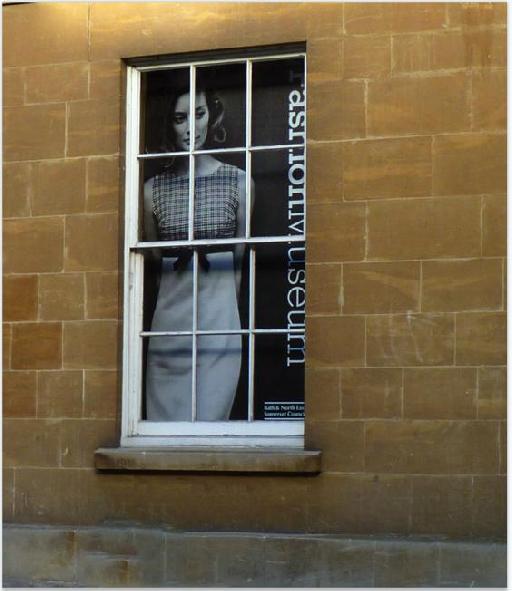 I'm pretty pleased with this. The new Fill blends well with the irregular texture of the the old Bath stone brickwork and my eye is drawn back up to the model.
If I look closely I can see some repeating patterns along the bottom tiles. Repeating patterns are something to always look out for. I could make a crop at this point and finish up here, however, I'd like you to get a feel for two other of Photoshop's retouching tools and see how well they compliment the Content Aware Fill.
The Clone Stamp tool and the Spot Healing Brush tool will tidy up this retouch.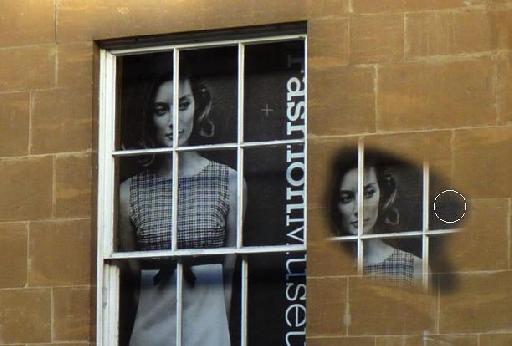 First of all I'll use the Clone Stamp tool by selecting it from the tool bar or pressing "S".
Unlike the Content Aware Fill feature the Clone stamp tool employs 1:1 image replication with no creative pixel additions. It is like a real world stamp but it is dynamic. It allows you to paint part of an image onto another part of that image. It can feel quite magical.
If you are following along, hold down Option (Mac), Alt (PC) and click in the image to sample it. This will be your starting point. I clicked around the model's left eye to begin replicating her face onto the stone wall to illustrate how this works.
Now start painting on the stone with the Clone Stamp tool, you will get the idea. I said painting not stamping, as this tool uses a brush setting from its Options Menu Bar. I have used quite a large brush, it's shown here as the circle at it's destination area on the right. The cross hair on the left (inside the top-right of the window) shows the target area you are sampling from. Pressing the left square bracket on the keyboard will decrease the brush size and the right square bracket will increase it. Inside the brush circle you will see a preview of what you are cloning. This is really useful. Now repeat-click Command+Shift+Z (Shift+Ctrl+Z on a PC) to step back to a version of the image without these stamp adjustments.
Try cloning areas of the brickwork along the bottom of the wall to create a realistic texture. Try simulating the vertical and horizontal line of the brick's edges.

In order to remove repeating patterns like these small white dots on the grey brickwork, I like to use the
Spot Healing Brush
tool in Content Aware Mode. Like
Content Aware Fill
this tool tries to intelligently replace areas of an image. It doesn't employ 1:1 replication like the stamp tool but blends its replacement pixels into place. It is extremely useful for small areas. Getting the brush size just right can make a real difference.
Type "J" for the Spot Healing Brush tool and select Content Aware in it's Option menu. Try to remove these dots, experimenting with different brush sizes.
My finished result...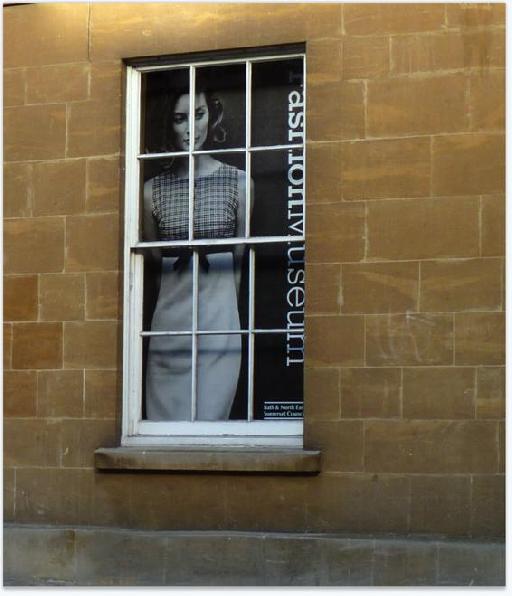 Taking the time to understand these tools now will save your a lot of time later, because, when understood, they are truly amazing. I would recommend MacProVideo's excellent title Photoshop 105. Retouching & Image Adjustment to explore these features further.
Just remember...
You can use the Content Aware Fill feature over and over again. Either Undo and start from scratch or just build up the effect.
Changing your selection will effect the result.
You can make multiple selections at the same time if you want to edit more than one item.
If your picture has many different types of texture in the background it may be helpful to break the task down into smaller selections of just one or two textures.
These tools work best together!
You may freely use all photos in this post whilst following along with this tutorial. These photos are not for commercial use. All rights reserved.