Can Photoshop CS5's Content Aware Fill Help My Photography Stay Authentic? The truth of my photography lies in my intention, that is, how I intend my photograph to look and what it says to it's viewer
Puede contenido de Photoshop CS5 Aware Fill Ayuda Mi fotografía estancia auténtica?
La verdad de mi fotografía está en mi intención, es decir, cómo tengo la intención de mi fotografía a buscar y lo que dice que es espectador. Tan pronto como recoger mi cámara me han empezado a manipular mi imagen. El tema me llama la atención y me puse a su captura. Las modificaciones antes de empezar pulsa el obturador, y gracias a increíbles herramientas de retoque de Photoshop, mucho después de que también. Si desea crear la fotografía de un cliente o, simplemente, quiere conseguir algunos de la familia se ajusta listos para imprimir, característica revolucionaria retoque Photoshop CS5, el relleno de contenido Aware, será de gran valor. Te voy a enseñar cómo sacar el máximo partido de esta característica en un proceso de dos parte fácil, y también lo que puede utilizar cuando los resultados no son perfectos, muy pixel.
En este ejemplo tenemos que eliminar un objeto de una fotografía. Tomé esta foto fuera del Museo de la Moda de Bath, en el Reino Unido. Bath es famosa por su espectacular arquitectura, sus aguas termales y las novelas de Jane Austin. La exposición actual se llama Fotografiando Moda: Estilo británico en la década de 1960.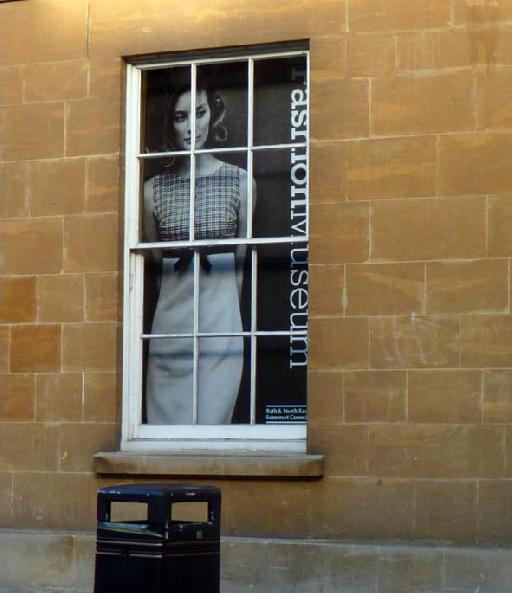 Encontré esta imagen convincente. El modelo es más grande que la vida y parece ser que nos mira para un cambio. Mi intención era capturar la configuración de la calle y el impacto de la modelo. La papelera justo en frente se puede ayudar a mantener las calles de Bath ordenado, pero seguro que es echar a perder mi foto!
Para una tarea como esta la característica de contenido Aware Fill es mi primera opción, es rápido y puede producir resultados sorprendentes .... y, por supuesto, se puede utilizar otras herramientas a lo largo del lado del Photoshop de curación. Haga clic en la imagen para acceder a una versión más grande y una captura de pantalla si quieres trabajar a lo largo. Mi flujo de trabajo es un simple proceso de dos partes.
Parte 1 - Hacer una selección ...
Abra la imagen en Photoshop CS5. Me gusta trabajar en modo de pantalla completa para que pueda arrastrar la herramienta Lazo alrededor del exterior de la imagen sin de-selección de Photoshop! Queremos crear una puesta a punto que soporta hacer una buena selección, porque cuando se trabaja con la

Crear una nueva capa con la imagen en el mismo mediante la selección de la capa de fondo y pulsar Comando J (Mac) o Control J (PC). Haga doble clic sobre la capa de una etiqueta de texto y cambiarle el nombre, he llamado a la mía "eliminar Papelera". Esto significa que tiene una copia en el documento de la imagen para obtener salvaje con.
Elija la herramienta Zoom en la barra de herramientas o el tipo "Z". Asegúrese de zoom maleza se selecciona en el menú de opciones de la herramienta de Zoom. Esta es una función de zoom muy útil nuevo Photoshop CS5.

Use the
Scrubby Zoom
by dragging left and right in you image until your zoom level feels comfortable to make your selection from. Reposition your image by holding down the
Space Bar
to select the
Hand Tool
and drag.
Para hacer la selección que he utilizado la herramienta Lasso. Seleccione la opción de la barra de herramientas o tipo "L".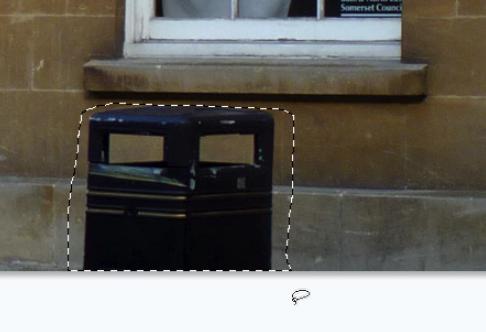 Make a loose selection around the Litter bin, leaving some space between it's boundary and the background. The
Content Aware Fill feature
is an "intelligent" technology which means it creates a new fill using information from your selection, by giving it a
taste
of your desired background you can guide Photoshop's assumptions about what you want.
Aceptar lo que tenemos nuestra selección, vamos a ver qué piensa Photoshop que queremos!
Parte 2 - Aplicar el contenido Aware Fill ...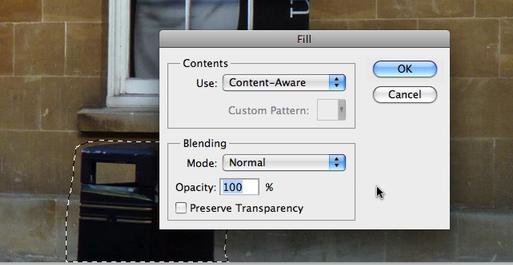 Simply click
Shift+Delete
to bring up the
Fill dialogue box
. Make sure that the
Content Aware
option is selected from the "
Use
" pull down menu. Click
OK
. Other ways to open this window are:
Edit > Fill...
,
Shift+F5
, and if you are working on a background layer pressing the Delete key will open the fill dialogue directly.
Este es mi resultado ...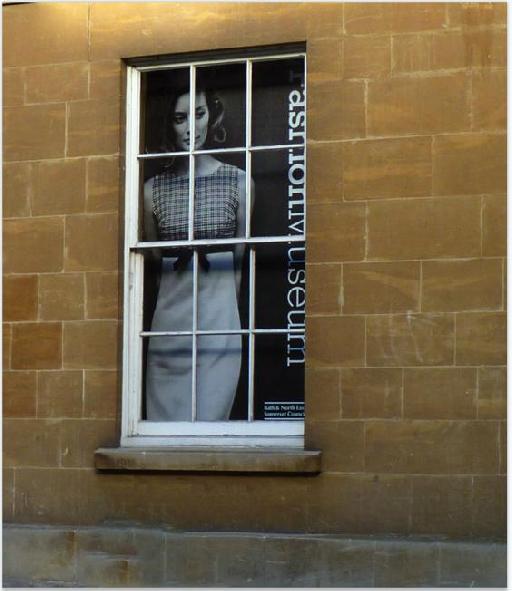 Estoy bastante contento con este. El nuevo relleno se mezcla bien con la textura irregular de la antigua fábrica de ladrillo de la piedra de Bath y mis ojos se dibuja una copia de seguridad con el modelo.
Si mira de cerca puedo ver algunos patrones que se repiten a lo largo de los azulejos del fondo. Patrones que se repiten son algo a lo que siempre en cuenta. Yo podría hacer un cultivo en este punto y terminar aquí, sin embargo, me gustaría que para tener una idea de otras herramientas de retoque de Photoshop, dos y ver qué tan bien se complementan el relleno Consciente de contenido.
La herramienta Tampón de clonar y la herramienta Pincel corrector puntual a poner en orden este retoque.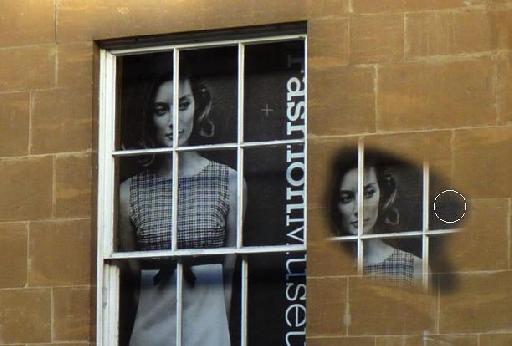 First of all I'll use the Clone Stamp tool by selecting it from the tool bar or pressing "S".
Unlike the Content Aware Fill feature the Clone stamp tool employs 1:1 image replication with no creative pixel additions. It is like a real world stamp but it is dynamic. It allows you to paint part of an image onto another part of that image. It can feel quite magical.
Si usted está siguiendo a lo largo, mantenga pulsada la tecla Opción (Mac), Alt (PC) y haga clic en la imagen para la muestra. Este será su punto de partida. He hecho clic alrededor del ojo izquierdo de la modelo para comenzar a reproducir la cara en la pared de piedra para ilustrar cómo funciona esto.
Ahora comienza a pintar sobre la piedra con la herramienta Tampón de clonar, se entiende la idea. Me dijo que la pintura no estampación, ya que esta herramienta utiliza un cepillo de configuración de su barra de menú de opciones. He usado un pincel grande, es mostrado aquí como el círculo en el área de destino es de la derecha. La cruz a la izquierda (dentro de la parte superior derecha de la ventana) muestra el área de destino que toma muestras de. Al pulsar el corchete izquierdo en el teclado se reducirá el tamaño del pincel y el corchete derecho va a aumentar. Dentro del círculo cepillo verá una vista previa de lo que se encuentra la clonación. Esto es realmente útil. Ahora repita, haga clic en Mayúsculas Comando Z (Shift Ctrl Z en un PC) para retroceder a una versión de la imagen sin marca de estos ajustes.
Trate las áreas de clonación de la fábrica de ladrillo a lo largo de la parte inferior de la pared para crear una textura realista. Trate de simulación de la línea vertical y horizontal de los bordes del ladrillo.

In order to remove repeating patterns like these small white dots on the grey brickwork, I like to use the
Spot Healing Brush
tool in Content Aware Mode. Like
Content Aware Fill
this tool tries to intelligently replace areas of an image. It doesn't employ 1:1 replication like the stamp tool but blends its replacement pixels into place. It is extremely useful for small areas. Getting the brush size just right can make a real difference.
Tipo "J" de la herramienta Pincel y seleccione Contenido Consciente de menú de opciones es. Trate de eliminar estos puntos, experimentando con diferentes tamaños de pincel.
Mi resultado final ...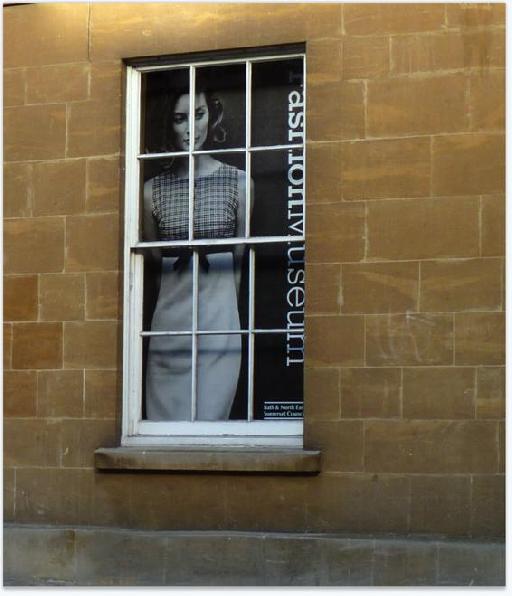 Tomarse el tiempo para entender estas herramientas le ahorrará mucho tiempo después, debido a que, cuando se entiende, que son realmente sorprendentes. Yo recomendaría excelente título MacProVideo de Photoshop 105. Retoque
Sólo recuerde ...
You can use the Content Aware Fill feature over and over again. Either Undo and start from scratch or just build up the effect.
Changing your selection will effect the result.
You can make multiple selections at the same time if you want to edit more than one item.
If your picture has many different types of texture in the background it may be helpful to break the task down into smaller selections of just one or two textures.
These tools work best together!
You may freely use all photos in this post whilst following along with this tutorial. These photos are not for commercial use. All rights reserved.