Can Photoshop CS5's Content Aware Fill Help My Photography Stay Authentic? The truth of my photography lies in my intention, that is, how I intend my photograph to look and what it says to it's viewer
Peut contenu Photoshop CS5 est conscient Remplissez Aide Mon Photographie séjour authentique?
La vérité de ma photographie réside dans mon intention, qui est, comment je compte ma photo à regarder et ce qu'il dit à ce spectateur. Dès que je prends ma caméra, j'ai commencé à manipuler mon image. Le sujet attire mon attention et je me mis à le capturer. Les modifications commencer avant que je clique sur le déclencheur et grâce à Photoshop incroyable outils de retouche, longtemps après aussi. Que vous voulez créer la photographie pour un client ou tout simplement pour obtenir quelques photos de famille prête à l'impression, la fonction de retouche de Photoshop CS5 révolutionnaire, Remplissez Content Aware, sera un atout inestimable. Laissez-moi vous montrer comment obtenir le meilleur de cette fonctionnalité dans un facile traiter une partie 2, et aussi ce que d'essayer quand les résultats ne sont pas tout pixel parfait.
Dans cet exemple nous avons besoin de supprimer un objet sur une photographie. J'ai pris cette photo en dehors de la Fashion Museum à Bath, ici au Royaume Uni. Bath est célèbre pour son architecture saisissante, les eaux de guérison et les romans de Jane Austin. L'exposition actuelle est appelé Photographier Mode: Style britannique dans les années 1960.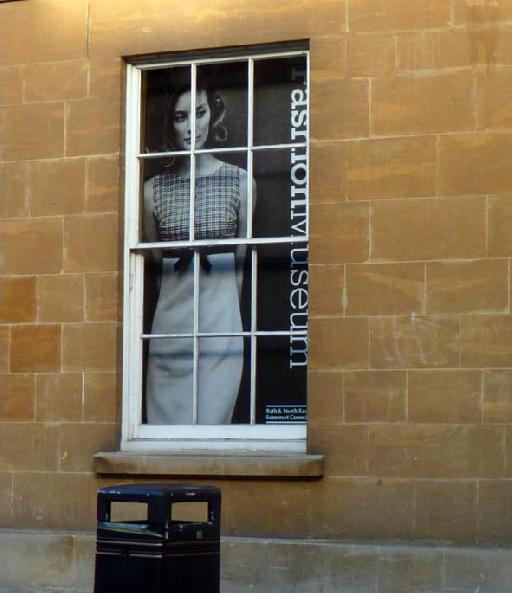 J'ai trouvé cette image convaincante. Le modèle est plus grand que la vie et semble nous regarder pour un changement. C'était mon intention de saisir le réglage de la rue et l'impact du modèle. La Corbeille juste en face peut être aider à garder les rues de Bath bien rangé, mais il est sûr gâcher ma photo!
Pour une tâche comme celle-ci la fonction de remplissage contenu Aware est mon premier choix, c'est rapide et peut produire des résultats étonnants .... et bien sûr, il peut être utilisé des outils aux côtés de Photoshop d'autres médecines. Cliquez sur l'image ci-dessus pour accéder à une version plus grande et prendre un screenshot si vous voulez travailler le long. Mon workflow est un processus simple de 2 partie.
Partie 1 - Faire une sélection ...
Ouvrez l'image dans Photoshop CS5. J'aime travailler en mode plein écran pour que je puisse faire glisser l'outil Lasso autour de l'extérieur de l'image sans dé-sélectionner Photoshop! Nous voulons créer un jeu qui supporte jusqu'à faire une bonne sélection, parce que quand on travaille avec les

Créez un nouveau calque avec l'image en en sélectionnant le calque de fond et en appuyant sur ​​Commande J (Mac) ou Control J (PC). Double-cliquez sur la couche d'étiquette de texte 1 et le renommer, j'ai appelé le mien "supprimer Corbeille». Cela signifie que vous avez une copie en document de votre image pour obtenir sauvages avec.
Choisissez l'outil Zoom de la barre d'outils ou de type «Z». Assurez-vous que Zoom Scrubby est sélectionné dans le menu Option de l'outil Zoom. Ceci est une fonction de zoom vraiment utile à la nouvelle de Photoshop CS5.

Use the
Scrubby Zoom
by dragging left and right in you image until your zoom level feels comfortable to make your selection from. Reposition your image by holding down the
Space Bar
to select the
Hand Tool
and drag.
Pour faire ma sélection, j'ai utilisé l'outil Lasso. Sélectionnez-le dans la barre d'outils ou de type «L».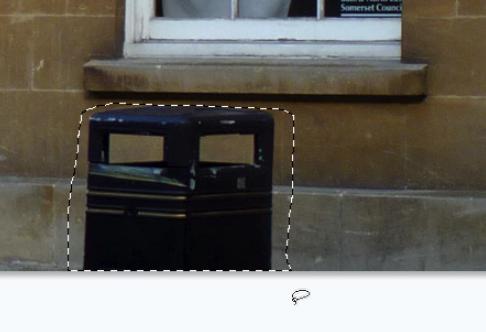 Make a loose selection around the Litter bin, leaving some space between it's boundary and the background. The
Content Aware Fill feature
is an "intelligent" technology which means it creates a new fill using information from your selection, by giving it a
taste
of your desired background you can guide Photoshop's assumptions about what you want.
OK nous avons donc notre sélection, nous allons voir ce que Photoshop pense que nous voulons!
Partie 2 - Application du contenu Conscient Remplissez ...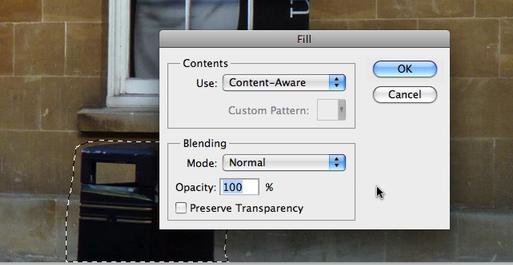 Simply click
Shift+Delete
to bring up the
Fill dialogue box
. Make sure that the
Content Aware
option is selected from the "
Use
" pull down menu. Click
OK
. Other ways to open this window are:
Edit > Fill...
,
Shift+F5
, and if you are working on a background layer pressing the Delete key will open the fill dialogue directly.
Ceci est mon résultat ...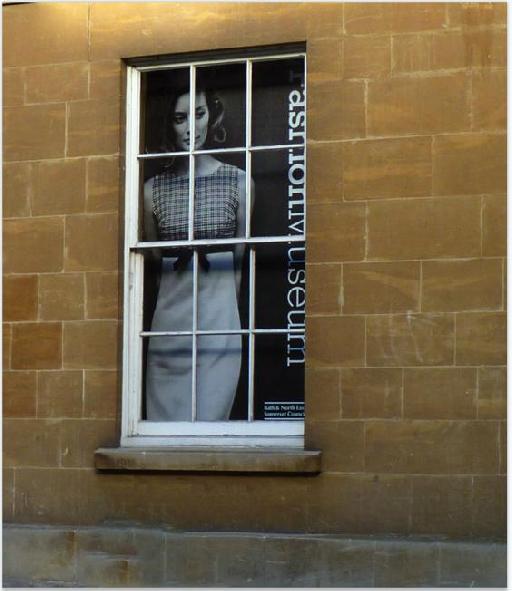 Je suis assez satisfait de cela. Le nouveau remblai se marie bien avec la texture irrégulière de la maçonnerie du bain de vieilles pierres et mon œil est attiré de sauvegarder le modèle.
Si je regarde de près, je peux voir certains motifs répétitifs le long des tuiles en bas. Motifs répétitifs sont quelque chose de toujours regarder dehors pour. Je pourrais faire une récolte à ce stade et finir ici, cependant, je voudrais vous faire obtenir un sentir pour deux autres des outils de retouche de Photoshop et de voir comment ils complètent l'Remplissez Content Aware.
L'outil Tampon de duplication et l'outil Correcteur de tons directs seront ranger cette retouche.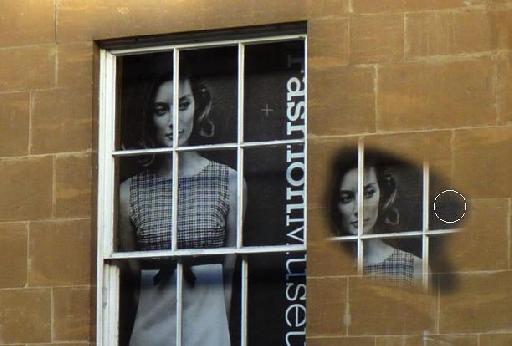 First of all I'll use the Clone Stamp tool by selecting it from the tool bar or pressing "S".
Unlike the Content Aware Fill feature the Clone stamp tool employs 1:1 image replication with no creative pixel additions. It is like a real world stamp but it is dynamic. It allows you to paint part of an image onto another part of that image. It can feel quite magical.
Si vous suivez le long, maintenez la touche Option (Mac), Alt (PC) et cliquez dans l'image pour l'échantillon. Ce sera votre point de départ. J'ai cliqué sur l'oeil gauche du modèle pour commencer à répliquer son visage sur le mur de pierre pour illustrer comment cela fonctionne.
Maintenant commence à peindre sur la pierre avec l'outil Tampon de duplication, vous voyez l'idée. J'ai dit la peinture n'est pas d'emboutissage, comme cet outil utilise un paramètre brosse de sa barre de menu Options. J'ai utilisé tout un gros pinceau, il est montré ici comme le cercle à la zone de destination c'est sur la droite. La croix sur la gauche (à l'intérieur du haut à droite de la fenêtre) montre la zone cible que vous êtes d'échantillonnage à partir. En appuyant sur le crochet à gauche sur le clavier va diminuer la taille du pinceau et le crochet droite de l'augmenter. A l'intérieur du cercle de pinceau que vous verrez un aperçu de ce que vous êtes le clonage. Ceci est vraiment utile. Maintenant Maj commande Répéter-cliquez sur Z (Ctrl + Maj + Z sur un PC) à l'étape de retour à une version de l'image sans ces ajustements de timbre.
Essayez les domaines du clonage de la maçonnerie le long du bas du mur pour créer une texture réaliste. Essayez de simuler la ligne verticale et horizontale des bords de la brique.

In order to remove repeating patterns like these small white dots on the grey brickwork, I like to use the
Spot Healing Brush
tool in Content Aware Mode. Like
Content Aware Fill
this tool tries to intelligently replace areas of an image. It doesn't employ 1:1 replication like the stamp tool but blends its replacement pixels into place. It is extremely useful for small areas. Getting the brush size just right can make a real difference.
Tapez «J» pour l'outil Correcteur de tons et de sélectionner le contenu Conscient dans le menu Option c'est. Essayez d'enlever ces points, des expériences avec différentes tailles de pinceau.
Mon résultat final ...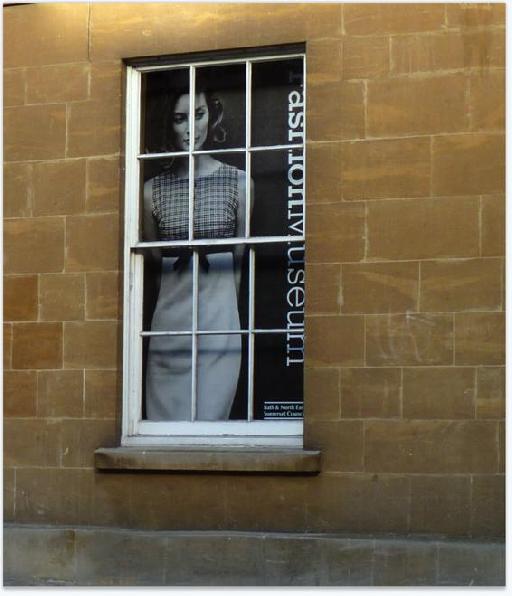 Prendre le temps de comprendre ces outils va maintenant enregistrer vos beaucoup de temps plus tard, parce que, quand compris, ils sont vraiment étonnants. Je recommanderais excellent titre MacProVideo de Photoshop 105. Retouche
Rappelez-vous ...
You can use the Content Aware Fill feature over and over again. Either Undo and start from scratch or just build up the effect.
Changing your selection will effect the result.
You can make multiple selections at the same time if you want to edit more than one item.
If your picture has many different types of texture in the background it may be helpful to break the task down into smaller selections of just one or two textures.
These tools work best together!
You may freely use all photos in this post whilst following along with this tutorial. These photos are not for commercial use. All rights reserved.