카메라는 ì ˆëŒ€ 거짓말을하지 않는 것 : í¬í† ìƒµ CS5에서 ì»¨í…ì¸  인식 채우기를
Can Photoshop CS5's Content Aware Fill Help My Photography Stay Authentic? The truth of my photography lies in my intention, that is, how I intend my photograph to look and what it says to it's viewer
í¬í† ìƒµ CS5의 ì»¨í…ì¸  ë'´ 사진이 본격 ìœ ì§€ 기입 ​​인식 수 있습니까?
ë'´ 사진의 진리 편에 ì"  사람은 ë'´ 의도 속에, 즉, 어떻게 보는 ë'´ 사진을 의ë"í•˜ê³  그것의 시청자들에게하시는 말씀을. 마자 ë'´ 카메라를 데리러로 ë'´ 이미지를 조작하기 시작했다. ì£¼ì œê°€ ë'´ ì‹œì" ì" 잡는다 ê·¸ë¦¬ê³  그것을 캡처로 ì"¤ì •í•©ë‹ˆë‹¤. ë'´ê°€ 오래도 후 셔터와 í¬í† ìƒµì˜ 놀라운 ë³´ì • 도구 덕분에, 클릭하기 ì "에 시작 ìˆ˜ì •í•©ë‹ˆë‹¤. ë‹¹ì‹ ì´ 클라이언트에 대한 사진을 만ë"¤ë ¤í•˜ê±°ë'˜ 일부 가족 인쇄, í¬í† ìƒµ CS5의 í˜ì‹ ì ì¸ ë³´ì • 기능, ì»¨í…ì¸  인식 작성 준비 스냅받을 것인지 여부를, 소중한 가치를 새삼 느끼게 ë  것이다. 결과는 완벽한 매우 픽셀 수 없을 ë•Œ 시도해야하는지 또한 쉽게이 부분 ê³¼ì •ì—ì"œì´ 기능에서 최상의 수익을 올릴 수있는 방법 좀 보여주지합니다.
이 ì˜ˆì œì—ì"œ 우리는 사진에서 개체를 ì'­ì œí•´ì•¼í•©ë‹ˆë‹¤. 여기 영국의, 목욕에있는 패션 박물관 밖에서 본 사진을했다. 목욕은 눈에 띄는 건축, ì¹˜ìœ  바다와 ì œì¸ 오스틴의 소설 ìœ ëª…í•©ë‹ˆë‹¤. 1960 년대에 영국 스타일 : 현재 ì "ì‹œëŠ" 패션을 ì´¬ì˜ë¼ê³ í•©ë‹ˆë‹¤.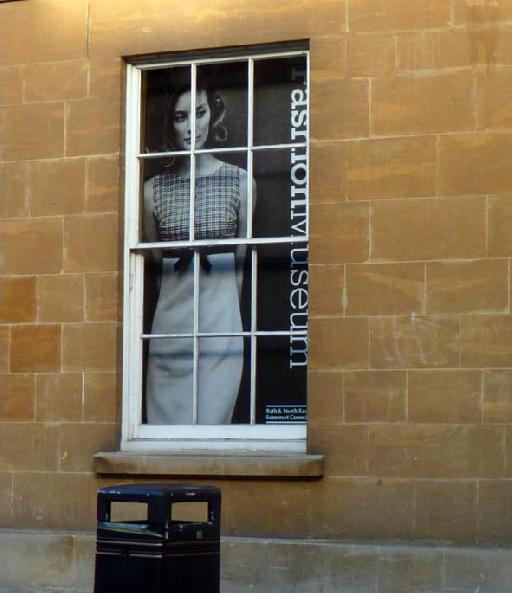 이 이미지가 ë§¤ë ¥ 발견했습니다. 모델은 생명보다 큰과 변화를위한 우리 찾는 것 같습니다. 그것은 거리의 ì"¤ì •ê³¼ 모델의 영향을 캡처하는 ë'´ 의도되었다. 바로 앞에 ì"°ë ˆê¸° 용기는 깔끔한 바스의 거리를 ìœ ì§€ 도움이 ë  수 있지만 그것은 확실히 그건 ë'´ 사진을 ë§ê°€ëœ¨ë¦¬ê³ ìžˆì–´!
이런 작업에 대한 ì½˜í…ì¸  인식 채우기 기능은 ë'´ 첫번째 ì" íƒì´ê³ , 그것은 ë¹ ë¥´ê³ ì´ê³  ì¸ìƒì ì¸ 결과를 생ì"±í•  수 있습니다 .... ë¬¼ë¡ , 그것은 함께 사이드 í¬í† ìƒµì˜ 다른 치료 도구를 ì'¬ìš©í•  수 있습니다. 더 큰 ë²"ì "ì" ì•¡ì"¸ìŠ¤í•˜ê³  함께 ì¼í•˜ê³  싶으면 화면을 ìº¡ì²˜í•˜ë ¤ë©´ 위의 이미지를 클릭하십시오. ë'´ 흐름은 간단한 두 부분 ê³¼ì •ìž…ë‹ˆë‹¤.
1 부 - ì" 택 만들기 ...
í¬í† ìƒµ CS5에서 이미지를 엽니다. ì œê°€ í¬í† ìƒµì" ë"œ - ì" 택하지 ì•Šê³  이미지의 외부 주위 올가미 도구를 드래그 수 있도록이 ì "ì²´ 화면 모드에서 ì¼í•˜ê³  싶어! ìž'ì—…í•  ë•Œ 때문에 우리는 좋은 ì" 택ì"í•˜ê³  지원하는 ì"¤ì •ê¹Œì§€ë¥¼ 만ë"¤ë ¤

ë°°ê²½ ë ˆì´ì–´ë¥¼ ì" íƒí•˜ê³  ëª…ë ¹ J (맥)하거나 Control J (PC)를 누르면 거기에 이미지를 새로운 ë ˆì´ì–´ë¥¼ 만듭니다. 텍스트 ë ˆì´ë¸" ë ˆì´ì–´ 1을 두 번 í´ë¦­í•˜ê³  이름을 ë°"ê¾¸ë ¤ë©´, ë'œ 내이 "ì"°ë ˆê¸° 용기를 ì œê±°í•©ë‹ˆë‹¤"ë¼ê³ í–ˆìŠµë‹ˆë‹¤. 이것은 ë‹¹ì‹ ì´ 야생 ì–»ìœ¼ë ¤ë©´ 이미지에서 - 문서 복사본을 ê°€ì§€ê³  의미합니다.
도구 모음에서 축소 도구를 ì" 택하거ë'˜ "Z"를 ìž…ë ¥í•©ë‹ˆë‹¤. 왜소한 확대가 축소 도구의 옵션 메뉴에서 ì" 택되어 있는지 확인하십시오. 이것은 í¬í† ìƒµ CS5 새로운 ì •ë§ ìœ ìš©í•œ 줌 기능입니다.

Use the
Scrubby Zoom
by dragging left and right in you image until your zoom level feels comfortable to make your selection from. Reposition your image by holding down the
Space Bar
to select the
Hand Tool
and drag.
ë'´ ì" 택ì"하기 위해 나는 올가미 도구를 사용했습니다. 도구 모음 또는 ìœ í˜• "L"에서 ì" 택합니다.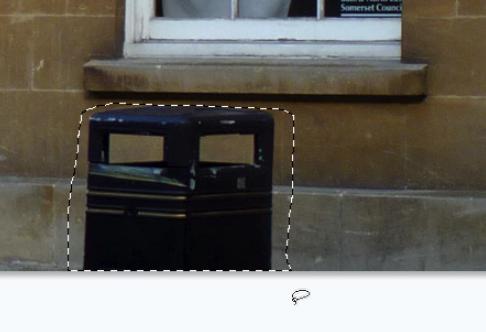 Make a loose selection around the Litter bin, leaving some space between it's boundary and the background. The
Content Aware Fill feature
is an "intelligent" technology which means it creates a new fill using information from your selection, by giving it a
taste
of your desired background you can guide Photoshop's assumptions about what you want.
우리 ì" 택ì" 확인하므로, í¬í† ìƒµì€ 우리가 원하는 생각하는지 보자!
ì œ 2 부 - 작성 내용을 ì•Œê³  ì ìš© 중 ...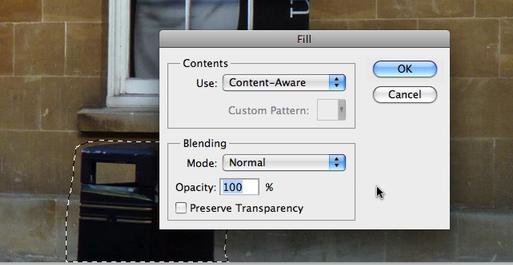 Simply click
Shift+Delete
to bring up the
Fill dialogue box
. Make sure that the
Content Aware
option is selected from the "
Use
" pull down menu. Click
OK
. Other ways to open this window are:
Edit > Fill...
,
Shift+F5
, and if you are working on a background layer pressing the Delete key will open the fill dialogue directly.
이건 내 결과입니다 ...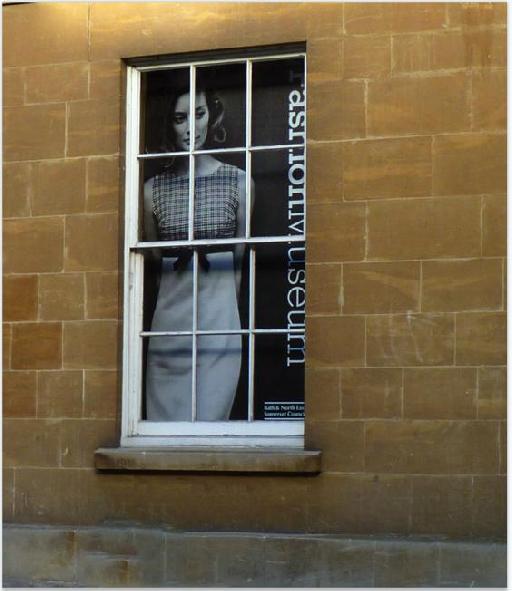 ë'œ ì •ë§ 이것 기쁩니다. 새로운 채우기는 이ì " 목욕 석재 brickwork ë'´ 눈 불규칙 질감과 잘 ê²°í•© 모델에 다시 그린 것입니다.
ë'´ê°€ 가까이 ë³´ë©´ ë'œ 바닥 타일 따라 몇 가지 반복 패턴을 ë³¼ 수 있습니다. 반복 패턴은 항상을 위해 ë³¼ 게 있습니다. 나는이 ì‹œì ì—ì"œ 작물을 만ë"¤ê³  여기에 끝ë'´ê³  수도 있지만, ë'œ ë‹¹ì‹ ì´ í¬í† ìƒµì˜ ë³´ì • 도구의 다른 두 느낌을받을들이 ì»¨í…ì¸  인식 채우기를 ì¹­ì°¬ 얼마나 ìž˜ë³´ê³  싶습니다.
í´ë¡  스탬프 도구 및 명소 치료 브러시 도구는이 ë³´ì •ì" ì •ëˆí•©ë‹ˆë‹¤.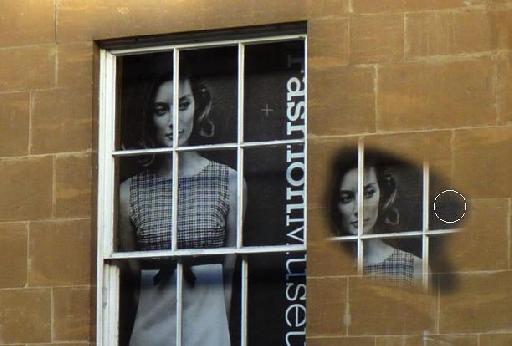 First of all I'll use the Clone Stamp tool by selecting it from the tool bar or pressing "S".
Unlike the Content Aware Fill feature the Clone stamp tool employs 1:1 image replication with no creative pixel additions. It is like a real world stamp but it is dynamic. It allows you to paint part of an image onto another part of that image. It can feel quite magical.
ë‹¹ì‹ ì´ 따라 다음과 같은 경우, 옵션 (맥), ALT (PC)를 ê¸¸ê²Œí•˜ê³  샘플로 이미지를 클릭하십시오. 이것은 ì¶œë°œì  것입니다. 어떻게이 작품을 설명하는 돌담에 그녀의 얼굴을 ë³µì œë¥¼ 시작하기 모델의 왼쪽 눈 주위 클릭.
ì´ì œ í´ë¡  스탬프 도구로 돌 위에 그림을 시작, ë‹¹ì‹ ì€ 아이디어를 얻을 것이다. 이 도구는 옵션 메뉴 모음에서 브러쉬 ì"¤ì •ì" 사용으로, 스탬프되지 않습니다 그림했다. 나는 꽤 큰 브러시를 사용했습니다, 그것은 오른쪽에의 대상 지역에있는 원으로 표시되어있어. 왼쪽에있는 십자가 머리카락 (윈도우의 오른쪽 상단 내부)는에서 샘플링되는 대상 영역을 보여줍니다. 키보드 왼쪽에 대괄호를 누르면 브러시 크기를 ê°ì†Œí•˜ê³  오른쪽 대괄호가 증가합니다. 브러시 원 안에 ë‹¹ì‹ ì´ ë³µì œ 무엇의 미리보기를 ë³¼ 수 있습니다. 이것은 ì •ë§ ìœ ìš©í•©ë‹ˆë‹¤. 지금 반복 단추로 누른 다음 ëª…ë ¹ Shift 키를 Z는 (a PC에서 Shift 키를 Ctrl 키를 Z)이 ìš°í'œ ì¡°ì •í•˜ì§€ ì•Šê³  이미지의 ë²"ì "으로 단계.
í˜"ì‹¤ì ì¸ 질감을 만듭니다 ë²½ 하단 brickwork의 ë³µì œ 영역을보십시오. 벽돌의 가장자리의 수직과 수평 라인을 ì‹œë®¬ë ˆì´ì…˜ë³´ì‹­ì‹œì˜¤.

In order to remove repeating patterns like these small white dots on the grey brickwork, I like to use the
Spot Healing Brush
tool in Content Aware Mode. Like
Content Aware Fill
this tool tries to intelligently replace areas of an image. It doesn't employ 1:1 replication like the stamp tool but blends its replacement pixels into place. It is extremely useful for small areas. Getting the brush size just right can make a real difference.
ìž…ë ¥ 명소 치료 브러시 도구 "J"와의 옵션 메뉴에서 내용을 ì•Œê³  ì" 택합니다. 다른 브러시 크기 실험, 이러한 ì ë"¤ì" ì œê±°í•˜ë ¤ê³ í•©ë‹ˆë‹¤.
내 완료 결과 ...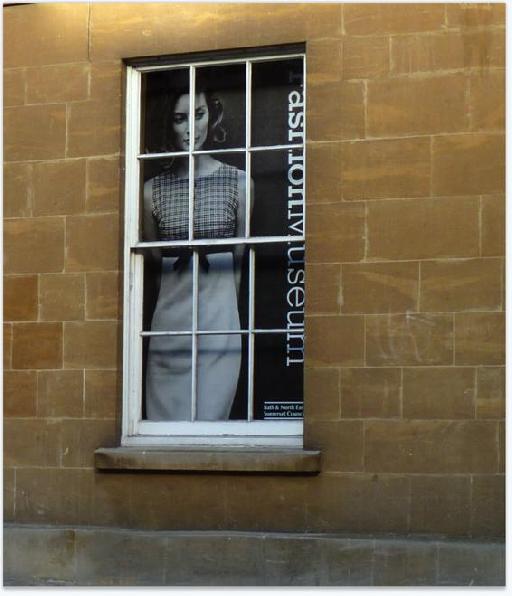 이해하면, 그들이 ì§"ì •ìœ¼ë¡œ ë†€ë¼ìš´ë˜ê³  있기 때문에 지금 이러한 도구를 이해하기 위해 시간을내어하면, 나중에 시간을 많이 ì €ìž¥ë©ë‹ˆë‹¤. 나는 MacProVideo의 훌륭한 ì œëª©ì" 권장 í¬í† ìƒµ 105. ë³´ì •
꼭 기억해 ...
You can use the Content Aware Fill feature over and over again. Either Undo and start from scratch or just build up the effect.
Changing your selection will effect the result.
You can make multiple selections at the same time if you want to edit more than one item.
If your picture has many different types of texture in the background it may be helpful to break the task down into smaller selections of just one or two textures.
These tools work best together!
You may freely use all photos in this post whilst following along with this tutorial. These photos are not for commercial use. All rights reserved.