Getting a handle on Adobe Camera Raw can lead to excellent looking pictures. Dan Moughamian takes you through the roundtrip workflow using Photoshop CS6 and ACR.
Una de las características más potentes de Photoshop es Adobe Camera Raw (ACR o). Nos permite maximizar los datos en bruto de fotos para crear la mejor imagen posible mirar. De forma predeterminada, cuando se abre un archivo de ACR en Photoshop, se abre como una capa de fondo
Paso 1 -
Uso del archivo
Paso 2 - Haga su ACR ediciones.
Uso del panel básico como punto de partida, optimizar la exposición general de contraste y la saturación. Puede recortar la imagen y, por lo que los theres una diferencia visual obvia de la original. Los cambios específicos que hacen que dependen de usted, y cualquier combinación de ajustes ACR va a trabajar para esta técnica.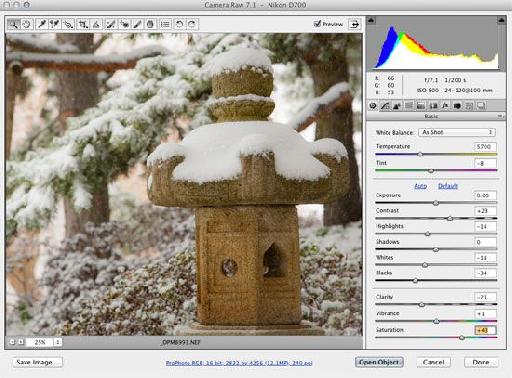 Paso 3 - Definir la configuración de Opciones de flujo de trabajo.
Haga clic en el enlace azul en la parte inferior de la ventana del ACR para ver las opciones para el control del espacio de color, profundidad de bits, tamaño, resolución y nitidez. Youll también notar en la parte inferior de la ventana Opciones de flujo de trabajo hay una abierta en Photoshop como objeto inteligente casilla. Una vez que hayas elegido los otros ajustes, haga clic en esta opción. Cuando estás hecho clic en Aceptar.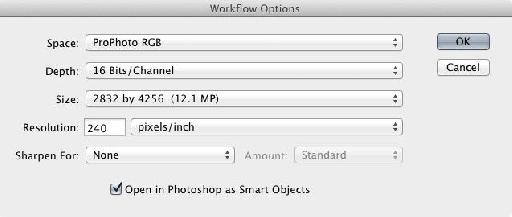 Paso 4 - Haga clic en Abrir objeto.
Cuando estés listo para abrir el archivo en Photoshop, haga clic en el botón Abrir objeto (abajo a la derecha parte de la ventana ACR). Photoshop comenzará a procesar los datos en bruto. Después de varios segundos, una versión renderizada de su archivo RAW (con cambios ACR) se abrirá en Photoshop. Sólo que en lugar de tener una capa de fondo, verá una capa de objetos inteligentes en el panel Capas, que lleva el mismo nombre que el archivo RAW.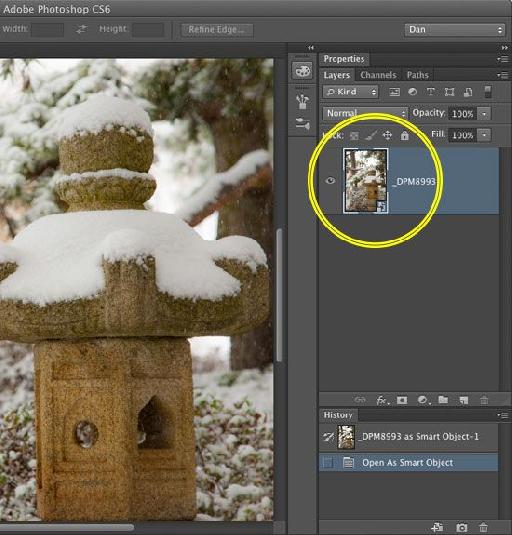 Paso 5 - Hacer más cambios en ACR.
A partir de este punto, si es necesario modificar la configuración youve aplicado en ACR, haz doble clic en la capa original objeto inteligente. Al hacerlo, Photoshop volverá a abrir el archivo en ACR, se muestra la configuración exacta que se establecieron durante sus ediciones inicial. Desde este punto se puede cambiar cualquiera de las opciones que usted tiene gusto.
Cuando usted está terminado, haga clic en el botón Aceptar. Photoshop volverá a procesar la imagen durante unos segundos y luego abrir el archivo de nuevo en el entorno de Photoshop, con un aspecto actualizado. Simple!