There are 101 ways to work with multiple images to build a collage in Photoshop. Richard Lainhart shows how to use layer masks and gradients to blend two unlikely images into one composition.
في هذه المقالة ، وانا ذاهب الى تبين واحدة من العديد من التقنيات الممكنة لمزج الصور معا لخلق الكولاج. ونحن في طريقنا للعمل مع صورتين هنا ، ولكن بالطبع يمكنك بسهولة توسيع هذه التقنيات إلى طبقات كما أن العديد من الصور كما تريد. دعونا نبدأ.
الخطوة 1 -- تجميع الصور الخاصة بك
انا ذاهب الى العمل مع صورتين هنا ، وكما ذكرت :
وجميل من الطريق غربية وحيدا...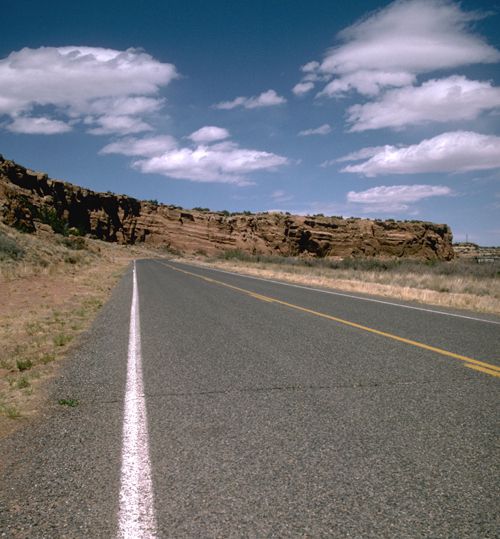 ... ولقطة من دافني قطتي ، وتبحث فاتن :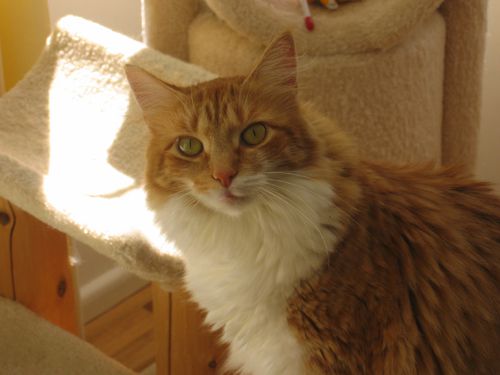 ما أريد القيام به هو مركب دافني على خلفية الغربية ، إلى حد ما في هذا السياق من ملصق الفيلم ، والمزج بين الاثنين معا بسلاسة لجعل الكولاج سلس.
الخطوة 2 -- مع مراعاة أحكام قناع المقدمة
اعتمادا على الصورة المصدر الخاص بك ، فإنه قد لا يكون من الضروري عزل موضوعك المقدمة من خلفيتها. ولكن في حالتي هو عليه ، لأنني أريد أن أرى فقط دافني في الرأس والصدر ، وليس الاشياء وراء ظهرها.
لذا ، انا ذاهب الى استخدام أداة الحبل المغناطيسي ورسم الخطوط العريضة فضفاضة حولها. كما أفعل أنا ، فإن اختيار لاسو المغناطيسي المفاجئة إلى حواف لها.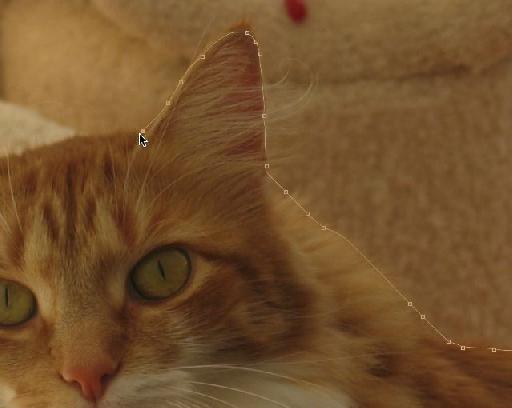 ليس لدينا ما يدعو للقلق دقيق جدا ، ونحن ذاهبون الى ريشة هذا الاختيار heavilywhich سنفعل المقبل.
الخطوة 3 -- قناع الريشة المقدمة
مع اختيار لا تزال نشطة ، انقر على زر 'حدد إدج في شريط الخيارات لفتح الحوار حدد الحافة. في هذا الحوار ، تعيين الريشة عالية (مدى ارتفاع سيتوقف على قرار من صورتك) بحيث تقوم بإنشاء حافة ناعمة جدا واضحة للاختيار.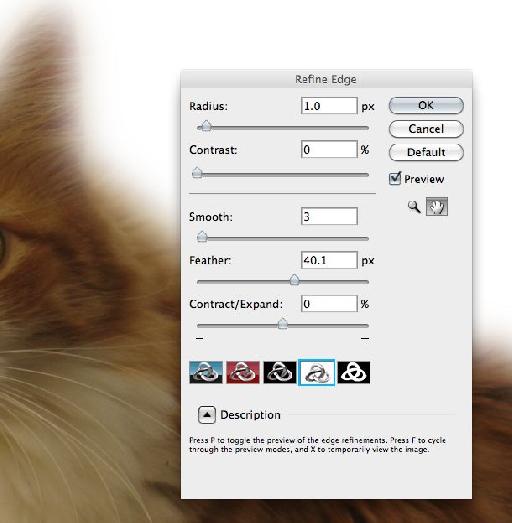 قبل الانتقال ، حفظ التحديد الخاص بك عن طريق اختيار حدد
الخطوة 4 -- نسخ الصورة المقدمة في الخلفية
المقبل ، مع الصورة المقدمة لازالت محددة ، نسخه ، وتقديم صورة الخلفية ثم إلى الأمام ، ولصق الصورة ملثمين في ذلك.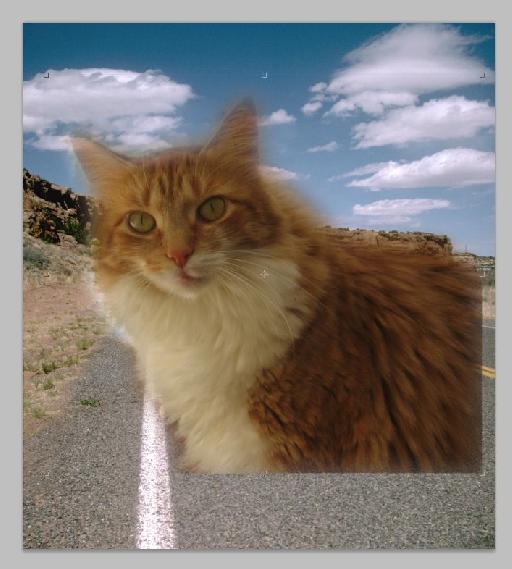 كما ترون ، وبالفعل دافني المخلوطة نوعا ما في الخلفية مع بهالة جذابة بسبب حافة الريش لها للغاية. ولكن من الواضح انها صورة اقتصاص ، ويهمني ان اشير الى مزيج لها أكثر سلاسة في المناظر الطبيعية على أية حال. سنقوم بذلك المقبل.
الخطوة 5 -- إنشاء قناع طبقة المقدمة
أولا ، استخدم أداة التحريك لإعادة صورتك الأمامي إلى المكان الذي تريده (لقد انتقلت لها أعلى ، وتركزت أكثر).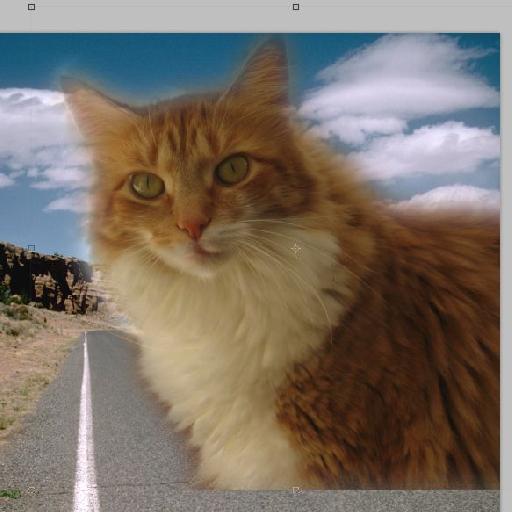 حدد المقبل طبقة الصدارة في لوحة الطبقات وانقر على زر "إضافة قناع طبقة.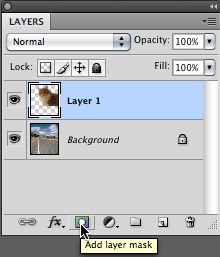 سترى قناع طبقة (المستطيل الأبيض) إضافة بجانب صورة الطبقة في لوحة.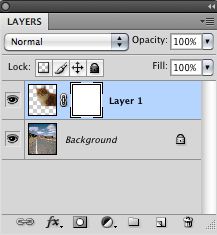 المقبل ، انقر على طبقة المصغرة قناع للتأكد من تحديده والاستيلاء على أداة التدرج من لوحة أداة. تأكد أن لديك سهل سوداء إلى بيضاء الانحدار الخطي المحدد في شريط الخيارات ، ثم اسحب مع التدرج في الصورة المقدمة الخاص بك من أسفل إلى أعلى. قد تضطر إلى محاولة بذلك عدة مرات للحصول على المزيج الصحيح ، والمواقف من اين البداية والنهاية سوف تؤثر على مركب النهائي بشكل ملحوظ. وهنا ما انتهى بي الأمر مع :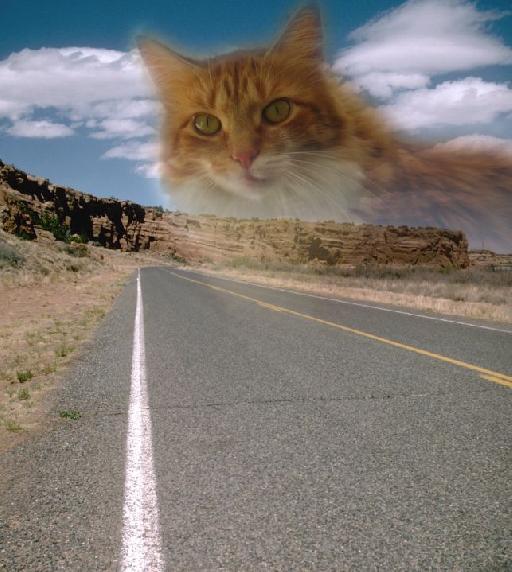 كما ترون ، فإن التدرج في قناع طبقة لطبقة مزيج تلك الطبقة في الخلفية ، استنادا إلى القيم الرمادية في الانحدار. وأكثر قتامة في الانحدار ، وأكثر شفافية الصورة.
كما ذكرت ، هناك العديد من الطرق لوحات الكولاج بسلاسة في Photoshop. كما هو الحال دائما ، وأنا أشجعكم على التجربة مع الإصدارات الخاصة بك من هذه التقنية وكذلك استكشاف الآخرين.