There are 101 ways to work with multiple images to build a collage in Photoshop. Richard Lainhart shows how to use layer masks and gradients to blend two unlikely images into one composition.
In diesem Artikel werde ich eine von vielen möglichen Techniken zum Mischen Fotos zusammen, um eine Collage erstellen zu zeigen. Wir werden mit zwei Bildern hier arbeiten, aber natürlich können Sie ganz einfach erweitern diese Techniken, um so viele Schichten von Bildern, wie Sie möchten. Lassen Sie uns anfangen.
Schritt 1 - Setzen Sie Ihre Bilder
Ich werde mit zwei Bildern hier zu arbeiten, wie ich bereits erwähnt:
Ein Stock Foto von einem einsamen Western Road ...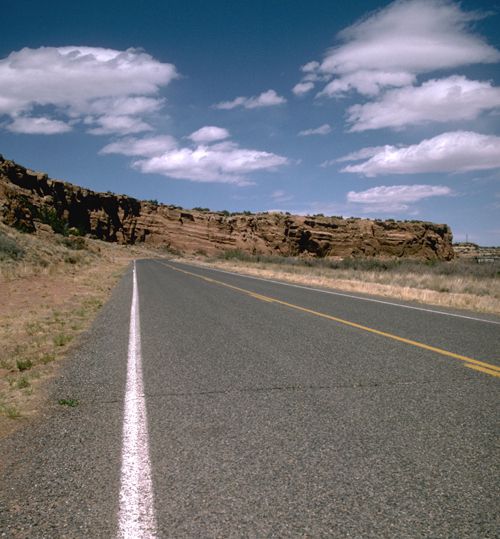 ... Und ein Schnappschuss von meiner Katze Daphne, suchen winsome: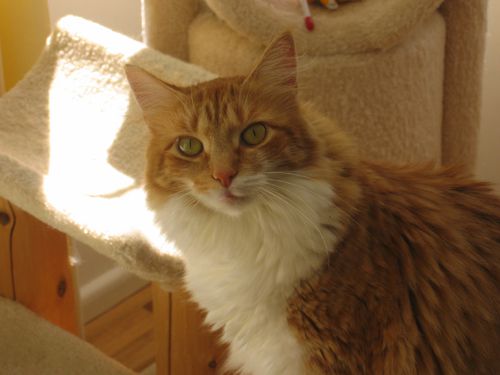 Was ich tun möchte, ist zusammengesetzt Daphne in der westlichen Hintergrund, etwas in die Vene ein Filmplakat, und mischen die beiden zusammen reibungslos, um eine nahtlose Collage zu machen.
Schritt 2 - Mask dem Motiv im Vordergrund
Abhängig von Ihrer Quellbild, kann es nicht notwendig sein, Ihre Motiv im Vordergrund vom Hintergrund isolieren. Aber in meinem Fall ist es, weil ich gerade Daphne Kopf und Brust, nicht das Zeug hinter ihr sehen wollen.
So, ich werde das magnetische Lasso verwenden und zeichnen Sie eine lockere Kontur um sie. Wie ich tue, wird das magnetische Lasso Auswahl ihrer Kanten Kinderspiel.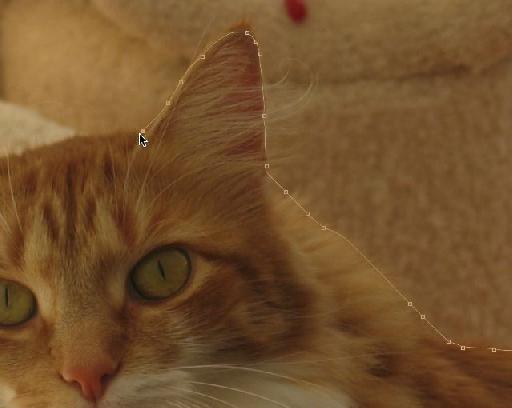 Wir müssen nicht darum, zu präzise Sorgen, wie wir feather gehst diese Auswahl heavilywhich wir als nächstes tun werde.
Schritt 3 - Feather Vordergrund Mask
Bei der Auswahl noch aktiv ist, klicken Sie auf "Kante verbessern" Button in der Optionsleiste auf die Kante verbessern Dialog zu öffnen. In diesem Dialog legen Sie die Feder hoch (wie hoch ist die Auflösung Ihres Bildes ab), so dass Sie eine sehr weiche verschwommene Rand für die Auswahl zu erstellen.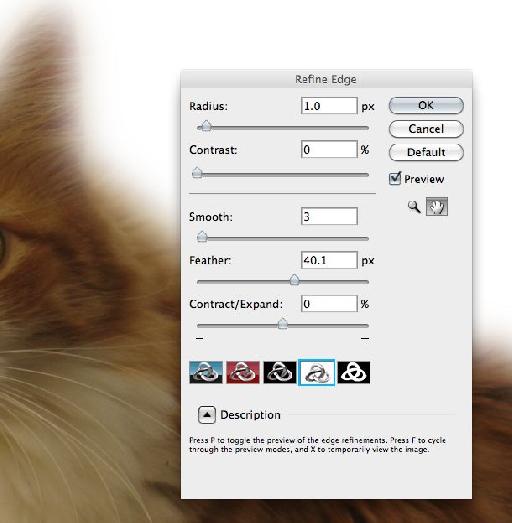 Bevor Sie fortfahren, speichern Sie Ihre Auswahl mit Select
Schritt 4 - Kopieren Sie die Vorder-Bild in den Hintergrund
Als nächstes mit dem Bild im Vordergrund noch ausgewählt ist, es zu kopieren, und dann bringen Sie das Hintergrundbild nach vorne und fügen Sie das maskierte Bild hinein.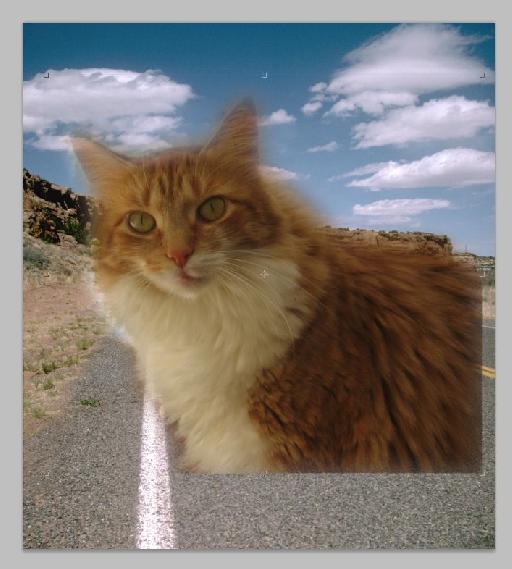 Wie Sie sehen können, ist Daphne bereits etwas in den Hintergrund mit einem attraktiven halo wegen ihrer sehr weichen Kante gemischt. Aber sie ist offensichtlich ein zugeschnittenes Foto, und ich möchte sie mehr reibungslos in die Landschaft einfügen sowieso. Wir werden das nächstes zu tun ist.
Schritt 5 - Erstellen Sie eine Vordergrund-Layer Mask
Zuerst mit dem Verschieben-Werkzeug, um Ihre Bild im Vordergrund, wo Sie wollen es neu zu positionieren (ich habe zog ihre höhere und zentriert).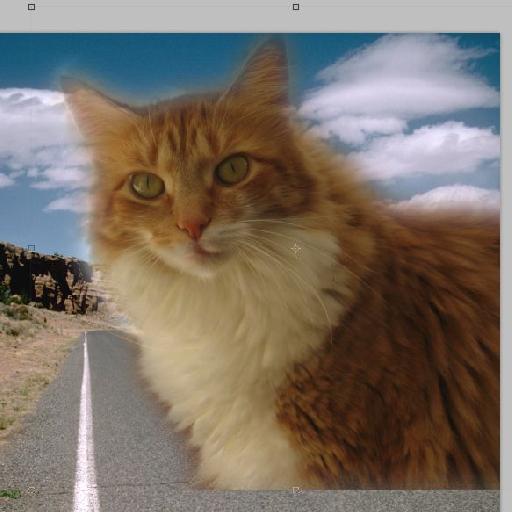 Wählen Sie als nächstes den Vordergrund Ebene in der Ebenen-Palette und klicken Sie auf "Ebenenmaske hinzufügen" klicken.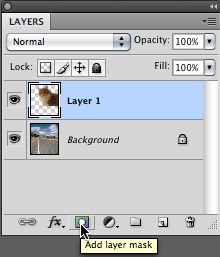 Sie sehen eine Ebenenmaske (das weiße Rechteck) zugegeben neben der Ebene des Bildes in der Palette.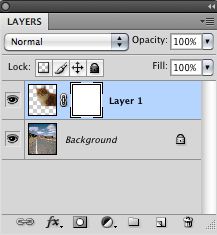 Als nächstes auf der Ebenenmaske Thumbnail klicken, um sicherzustellen, dass es ausgewählt ist und ergreifen Sie die Verlauf-Werkzeug aus der Werkzeug-Palette. Vergewissern Sie sich, ein einfaches Schwarz-Weiß-linearen Gradienten in der Optionsleiste ausgewählt, dann mit der Steigung in Ihrem Bild im Vordergrund von unten nach oben ziehen. Eventuell müssen Sie dies mehrere Male versuchen, die richtige Mischung zu bekommen, die Positionen, an denen Sie Beginn und Ende wird die endgültige Composite erheblich beeinträchtigen. Hier ist, was ich am Ende mit: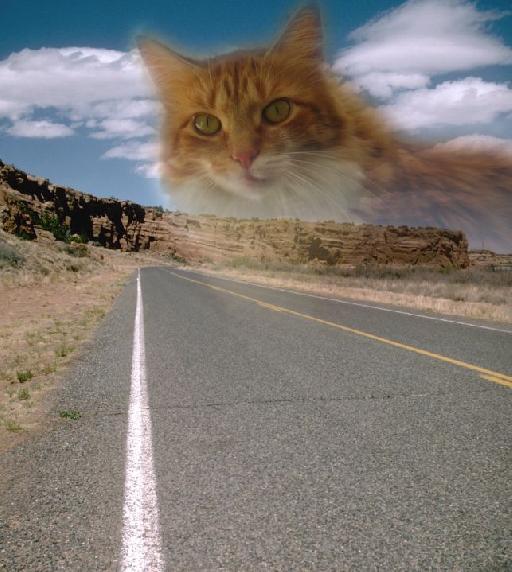 Wie Sie sehen können, wird ein Gefälle in der Ebenenmaske für eine Schicht, die Schicht in den Hintergrund, basierend auf der Grauwerte in der Steigung. Je dunkler die Steigung, desto transparenter das Bild.
Wie ich bereits erwähnt, gibt es viele Möglichkeiten, Collage Bilder nahtlos in Photoshop. Wie immer möchte ich Sie ermutigen, zu experimentieren mit eigenen Versionen dieser Technik sowie die Erkundung anderer.