There are 101 ways to work with multiple images to build a collage in Photoshop. Richard Lainhart shows how to use layer masks and gradients to blend two unlikely images into one composition.
Dans cet article, je vais vous montrer une des nombreuses techniques possibles pour le mélange des photos de concert pour créer un collage. Nous allons travailler avec deux images ici, mais bien sûr, vous pouvez facilement étendre ces techniques à des couches plus grand nombre d'images que vous le souhaitez. Commençons.
Étape 1 - Rassemblez vos images
Je vais travailler avec deux images ici, comme je l'ai mentionné:
Une photo d'une route solitaire occidentaux ...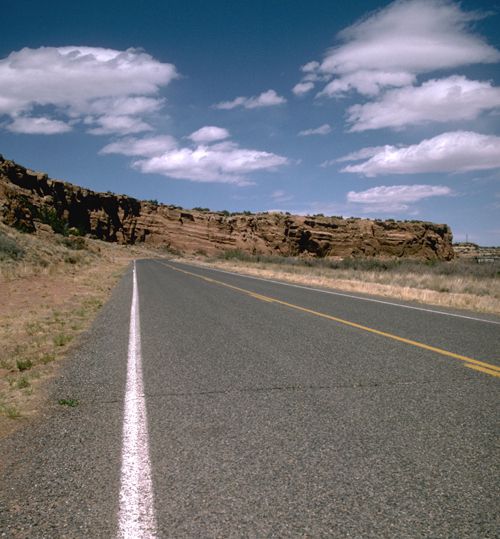 ... Et un cliché de ma Daphné chat, regarder séduisante: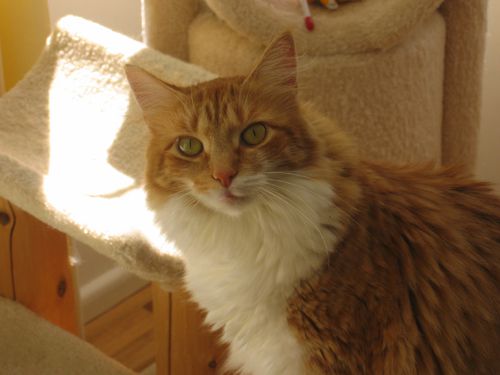 Qu'est-ce que je veux faire est composite Daphné sur le fond de l'Ouest, un peu dans la veine d'une affiche de film, et mélanger les deux ensemble sans heurts pour faire un collage homogène.
Étape 2 - Masque du sujet en premier plan
En fonction de votre image source, il peut ne pas être nécessaire d'isoler le sujet au premier plan de son fond. Mais dans mon cas c'est parce que je veux voir juste la tête et la poitrine Daphné, pas l'étoffe derrière elle.
Donc, je vais utiliser l'outil Lasso magnétique et tracez un contour lâche autour d'elle. Comme je le fais, la sélection Lasso magnétique se cassera à son bord.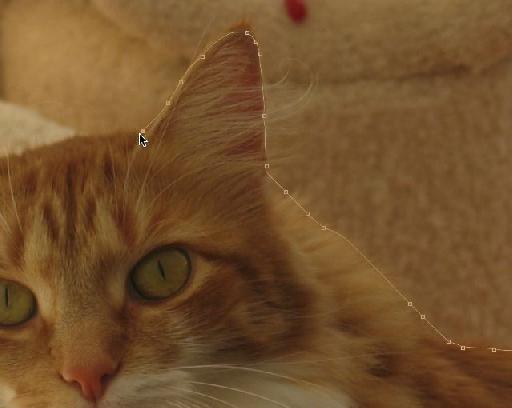 Nous n'avons pas à craindre d'être trop précis, comme nous allons plumes de cette sélection heavilywhich nous allons faire ensuite.
Étape 3 - le masque de plumes avant-plan
Avec la sélection toujours active, cliquez sur le bouton "Affiner Edge 'dans la barre d'options pour ouvrir la boîte de dialogue Améliorer le contour. Dans ce dialogue, définissez la Plume haute (à quelle hauteur dépendra de la résolution de votre image), afin que vous créer un bord très doux floue pour la sélection.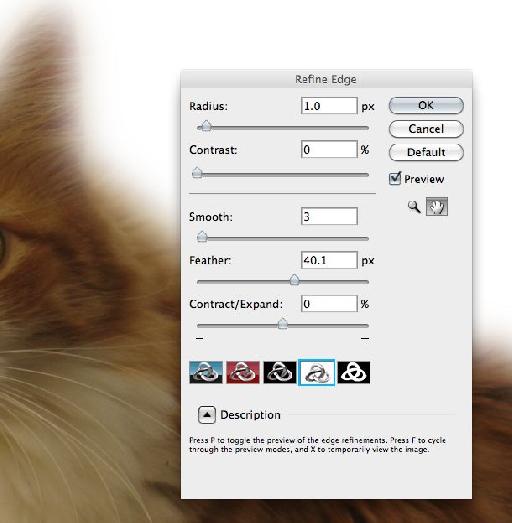 Avant de poursuivre, enregistrer votre sélection en choisissant Sélection
Étape 4 - Copier l'image premier plan dans le fond
Ensuite, avec l'image au premier plan est toujours sélectionné, il copie, et ensuite mettre en avant l'image de fond et coller l'image masquée en elle.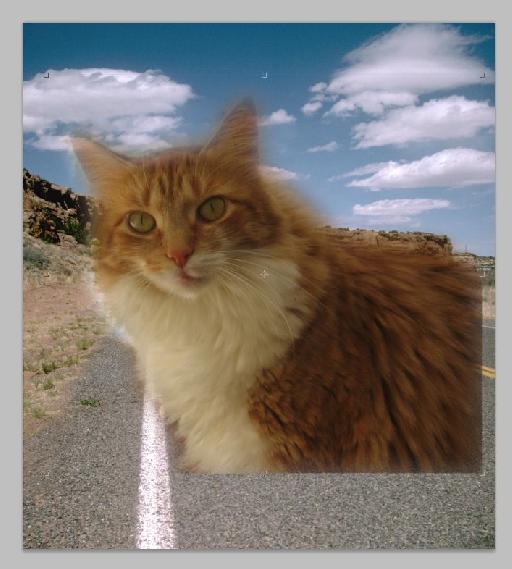 Comme vous pouvez le voir, Daphné déjà un peu mélangé dans le fond avec un halo attractif en raison de sa pointe hautement plumes. Mais elle est bien évidemment une photo recadrée, et je tiens à son mélange plus facilement dans le paysage de toute façon. Nous allons le faire venir.
Étape 5 - Créer un masque de fusion avant-plan
Tout d'abord, utilisez l'outil Déplacement pour repositionner votre image de premier plan à l'endroit où vous le voulez (je l'ai déplacé sa plus élevés et plus centré).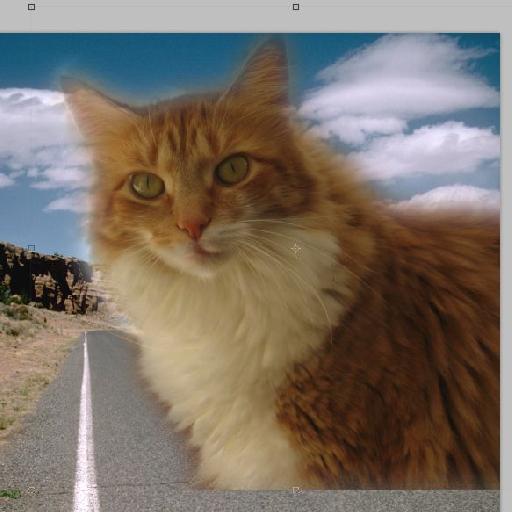 Ensuite, sélectionnez le calque au premier plan dans la palette Calques, puis cliquez sur le bouton "Add Layer Mask".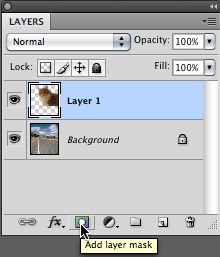 Vous verrez un masque de calque (le rectangle blanc) ajouté à côté de l'image du calque dans la palette.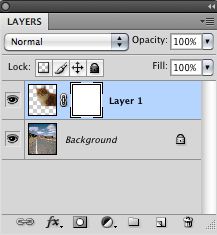 Ensuite, cliquez sur la vignette du masque de couche pour s'assurer qu'il est sélectionné et saisir l'outil Dégradé dans la palette d'outils. Assurez-vous d'avoir un noir uni-blanc dégradé linéaire sélectionné dans la barre d'options, puis faites glisser avec le dégradé dans votre image au premier plan de bas en haut. Vous pouvez avoir à essayer plusieurs fois pour obtenir le bon mélange; les positions où vous début et de fin aura une incidence sur le composite final de façon significative. Voici ce que j'ai fini avec: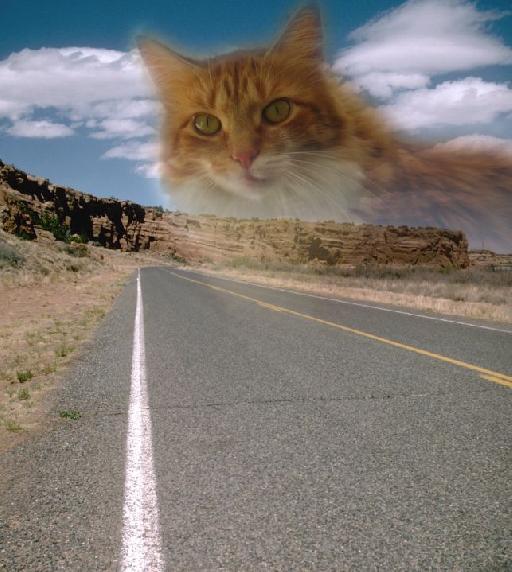 Comme vous pouvez le voir, un gradient dans le masque de calque pour une couche de mélange de cette couche va dans le fond, sur la base des valeurs de gris dans le dégradé. Le plus sombre la pente, la plus transparente de l'image.
Comme je l'ai mentionné, il ya de nombreuses façons d'images de collage de manière transparente dans Photoshop. Comme toujours, je vous encourage à expérimenter avec vos propres versions de cette technique ainsi que d'explorer d'autres.