There are 101 ways to work with multiple images to build a collage in Photoshop. Richard Lainhart shows how to use layer masks and gradients to blend two unlikely images into one composition.
In questo articolo, ho intenzione di mostrare una delle tante possibili tecniche per la miscelazione foto insieme per creare un collage. Stiamo andando a lavorare con due immagini qui, ma naturalmente si può facilmente estendere queste tecniche a strati il ​​maggior numero di immagini che vuoi. Cominciamo.
Fase 1 - Montare le tue immagini
Ho intenzione di lavorare con due immagini qui, come ho già detto:
Una fotografia di scorta di una strada solitaria occidentale ...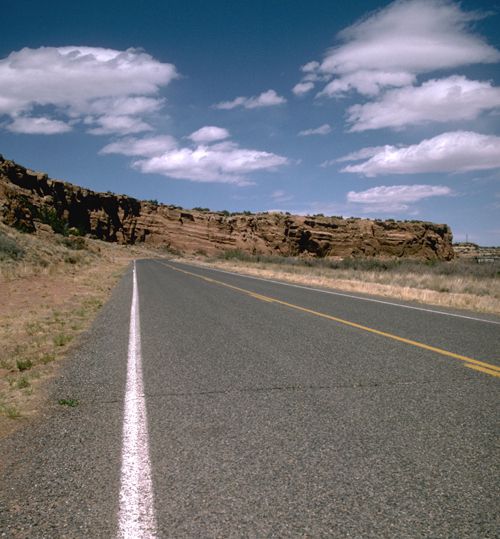 ... E una fotografia del gatto Daphne mia, guardando accattivante: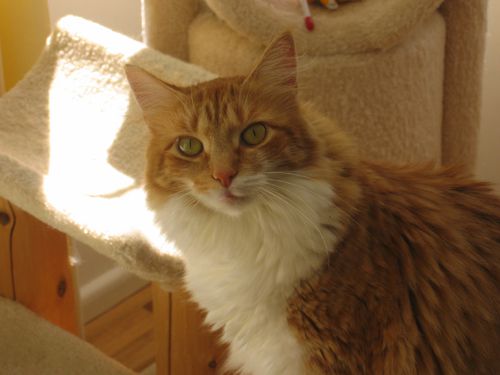 Quello che voglio fare è composito Daphne sullo sfondo occidentale, un po 'nella vena di un poster cinematografico, e si fondono le due cose insieme senza problemi a fare un collage senza soluzione di continuità .
Fase 2 - Maschera del soggetto in primo piano
A seconda della immagine di origine, potrebbe non essere necessario isolare il soggetto in primo piano dallo sfondo. Ma nel mio caso lo è, perché voglio vedere solo Daphne testa e torace, non la roba dietro di lei.
Così, ho intenzione di utilizzare lo strumento Lazo Magnetico e disegnare un profilo sciolto intorno a lei. Come faccio io, la selezione Lazo magnetico si aggancerà alla sua bordi.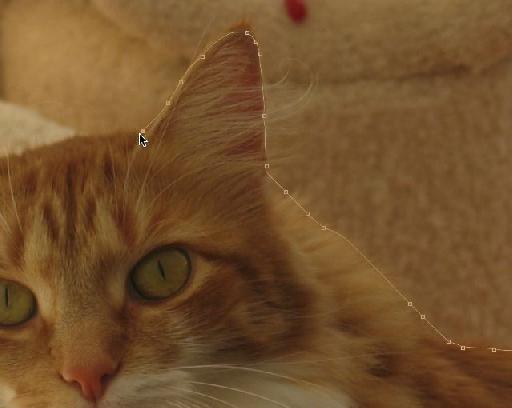 Non devi preoccuparti di essere troppo precisi, come andremo a piuma questa heavilywhich selezione faremo dopo.
Fase 3 - Feather la maschera in primo piano
Con la selezione ancora attiva, fare clic sul pulsante 'Migliora bordo' nella barra delle opzioni per aprire la finestra di dialogo Migliora bordo. Nella finestra di dialogo, impostare il Feather alto (quanto in alto dipende dalla risoluzione dell'immagine) in modo da creare un vantaggio molto morbido offuscata per la selezione.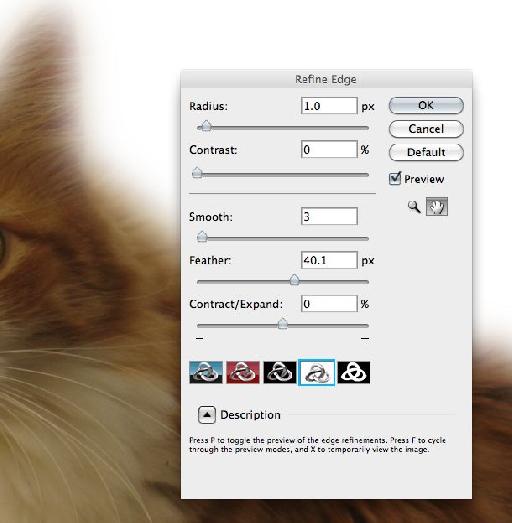 Prima di procedere, salvare la selezione scegliendo Seleziona
Fase 4 - Copiare l'immagine di primo piano in secondo piano
Successivamente, con l'immagine in primo piano ancora selezionato, copiarlo, e quindi portare l'immagine di sfondo in avanti e incollare l'immagine mascherata in esso.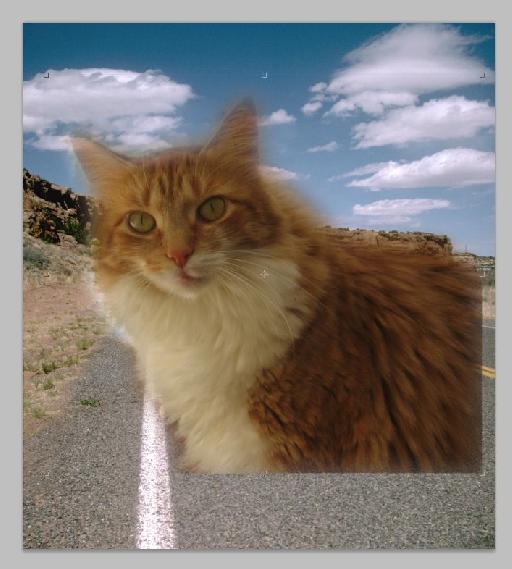 Come potete vedere, Daphne è già un po 'mescolati in secondo piano, con un alone attraente a causa del suo bordo molto piumati. Ma è ovviamente una foto ritagliata, e mi piacerebbe miscela lei più dolcemente nel paesaggio comunque. Lo faremo dopo.
Fase 5 - Creazione di una maschera di livello in primo piano
In primo luogo, utilizzare lo strumento Sposta per riposizionare l'immagine in primo piano al punto desiderato (ho spostato il suo più alto e più centrato).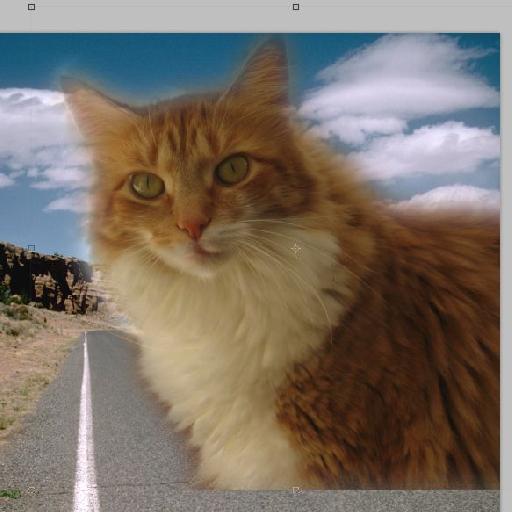 Quindi seleziona il livello di primo piano nella palette Livelli e cliccare il pulsante 'Aggiungi maschera di livello'.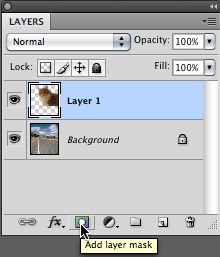 Vedrete una maschera di livello (il rettangolo bianco) accanto a quello dell'immagine del livello nella palette.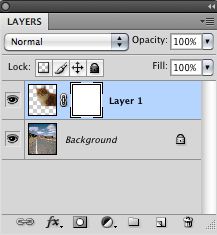 Avanti, fare clic sulla miniatura maschera di livello per assicurarsi che sia selezionata e afferrare lo strumento Gradiente dalla tavolozza degli strumenti. Assicurarsi di avere un semplice nero al bianco gradiente lineare selezionato nella barra delle opzioni, quindi trascinate con il gradiente nella vostra immagine in primo piano dal basso verso l'alto. Potrebbe essere necessario provare questa operazione più volte per ottenere il giusto mix, le posizioni in cui inizio e la fine influenzerà il composito finale in modo significativo. Ecco cosa ho finito con: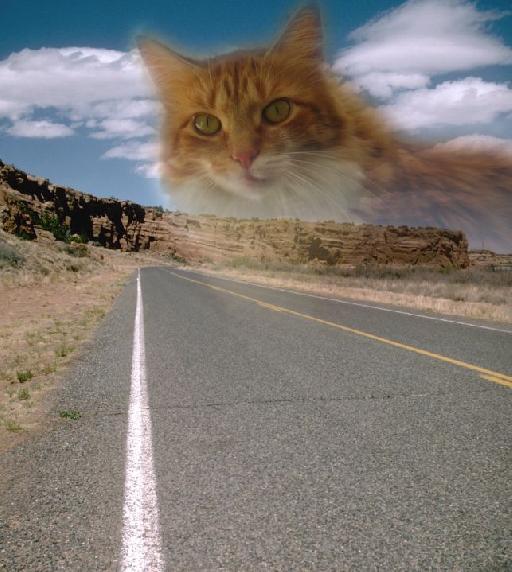 Come potete vedere, una sfumatura nella maschera di livello per un livello tale livello si fondono con lo sfondo, sulla base dei valori di scala di grigi nel gradiente. Più scuro è il gradiente, il più trasparente l'immagine.
Come ho detto, ci sono molti modi per immagini collage senza soluzione di continuità in Photoshop. Come sempre, vi incoraggio a sperimentare con le proprie versioni di questa tecnica così come esplorare altri.