This article is in honor of all lovers of well-pruned hedges, Photoshop CS6 and creative text effects. David Smith serves up a treat in this article: merging all three of the above to excellent effect
My hedges are the neatest hedges on my street, I spend time on trimming them neatly and keeping them in shape. What has that got to do with Photoshop? Absolutely nothing, unless that is you are using Photoshop to create a neat and stylish hedge of your own.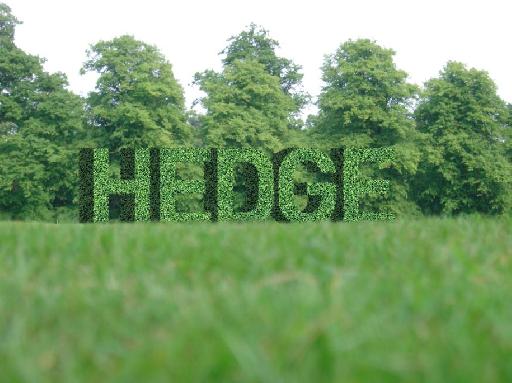 OK, so the point of this little exercise is to get you to experiment a little with Layers, Filters and Clipping Masks, hence we are going to create a hedge from scratch, rather than as I've seen in some tutorials (which by the way in my opinion constitutes cheating at an international level) just using an image of some leaves.
Step 1 - Create Your Text
Select the Horizontal Type Tool or press T and enter the text HEDGE using a font that has a thicker set of letters. In this case I am using DIN-Bold at 141 pt.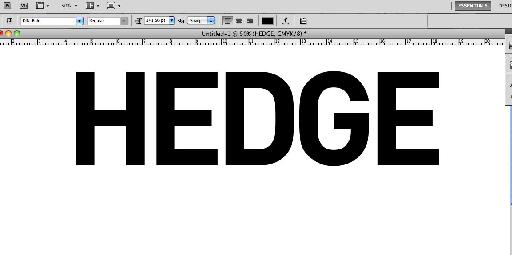 Step 2 - Rasterize the Text
It's going to become important for the text to have a roughened outline, as you would expect from leaves. Too straight an edge will detract from the design. In order to enable filters that will do this, the text must be rasterized.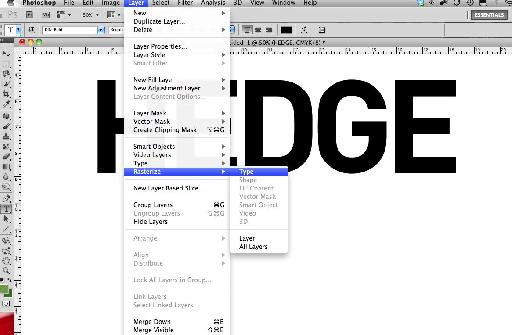 Choose Layer > Rasterize > Type to do this, but first make sure the text is styled (and spelled) correctly.
Step 3 - Ripple the edges
Once the text has become a regular layer, the filters can go to work. To get a rough, leaf like edge choose Filter > Distort > Ripple.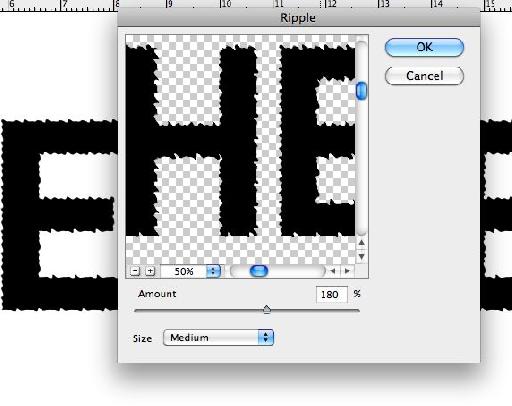 Set the Amount to about 180% and the size to medium (settings may need to differ depending on the font and size used).
Step 4 - Create a New Layer
Now for the hedge part. First you need a new layer with which to draw the leaves onto. Click on the New Layer button or press Shift-Command-N.
Step 5 - Fill it with Greenery
Start by selecting a green Foreground color, here I went with R=121 G=145 and B=71, which is a pretty natural green hue. Then create a Background color, I chose the slightly darker shade of R=68, G=103 and B=40. Once the colors are picked, render some clouds onto the new layer. Choose Filter > Render > Clouds. The layer will fill with clouds made up of your leafy green Foreground and Background colors. This will be the basis of your foliage.
Step 6 - Create the Leaves
Rendering a cloud is a great way to create a random pattern of tones and hues, however they don't look leafy enough. To add a nice effect to create a more foliage like pattern to the cloud pattern choose Filter > Pixelate > Mezzotint.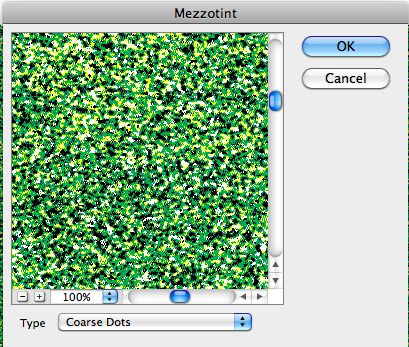 Use the Type menu to create the look you desire. I have chosen Coarse Dots for my image as I think it has the best outcome.
Step 7 - Create a Clipping Mask
To get the leafy texture of the top layer to look like it is one with the roughened former text layer beneath it, and thus creating our topiary hedge look, we can simply use a Clipping Mask.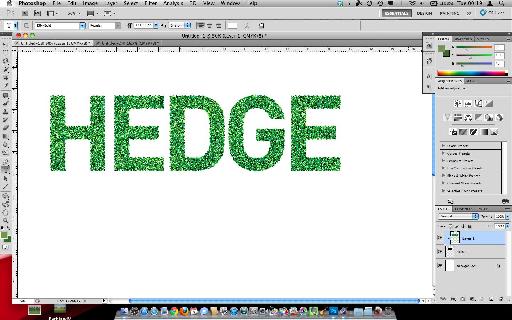 Select the layer containing the foliage and press Option-Command-G or use Create Clipping Mask from the contextual menu when you right-click. Voila the foliage is clipped by the rasterized text, meaning that it can only appear where both layers overlap.
TIP: Make sure the layer containing the foliage is placed above the rasterized text layer in the layers panel.

Step 8 - Create Some Depth
This is a very flat image, but as its a hedge it could really benefit from looking a little more 3D. Start off by merging the 2 layers of the clipping mask. Select them both and press Command-E to merge them together. Now you can duplicate the layer by choosing Layer > Duplicate Layer.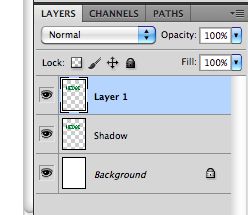 The lower of the 2 layers will become the 3D element.
Step 9 - Add some contrast
To finish the look, first adjust the position of the lower layer so that it sits slightly off center from the other hedge text layer.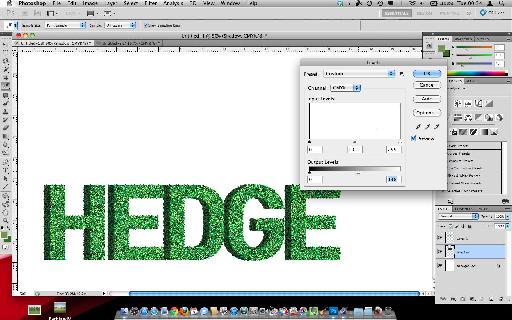 Use the Adjustments Menu to darken the layer, Levels is worth a try, here I simply lowered the Output Value of White to 138 rather than 255 to create the effect.
And there you have it, a hedgerow trimmed to read the work hedge, and no leaf clippings requiring to be collected. Try adding this text to landscapes or images of architecture, use the transform tools such as Perspective if you require to. I think you will get some interesting results.