Got an iPad? Get Photoshop Touch for iPad! In this 2nd tutorial on the iOS app Dan Moughamian introduces us to retouch layers for powerful and specific editing needs.
Eines der wertvollsten Dinge, die wir mit Desktop-Versionen von Photoshop tun können, ist zu präzisen Auswahl um konzentrieren unsere Änderungen an einem sehr spezifischen Bereich des Foto. Wir können dies, indem Sie die Auswahl aktiv und Bearbeiten, Erstellen eines duplizierten Ebene mit einer Ebenenmaske basierend auf der Auswahl, oder wir können Schichten mit Transparenz (auch basierend auf der Auswahl) erstellen zu tun.

Mit Photoshop Touch for iPad, wir haben immer noch die Möglichkeit, neue Schichten mit transparenten Bereichen erstellen, basierend auf einer Auswahl. Das heißt, wir isolieren können unsere Änderungen an einem ganz bestimmten Bereich, und keinen Einfluss auf die ursprünglichen Hintergrund oder Basisschicht, auch auf dem iPad! Hier auch wählen Sie das Wasser, um eine spezielle Schicht für gleiche erstellen.
Schritt 1 - Wählen Sie Ihre Selection Tool
Für dieses Beispiel habe ich das Lasso-Werkzeug, das sieht genauso aus wie es funktioniert in Photoshop CS6, und wird in der Toolbar gefunden, auf der linken Seite des Bildschirms. Tippen Sie einfach auf sie mit dem Finger oder dem Stift, um es auszuwählen.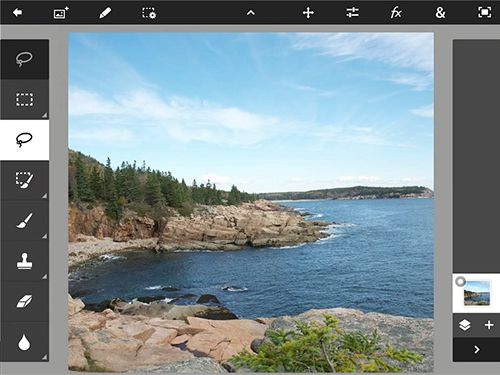 Wenn Sie das tun, wird die Symbolleiste zu ändern, um das aktive Werkzeug anzuzeigen, und was Optionen sind verfügbar für sie. Hier sehen wir das bekannte Add / subtrahieren Option und die Anti-Aliasing-Option.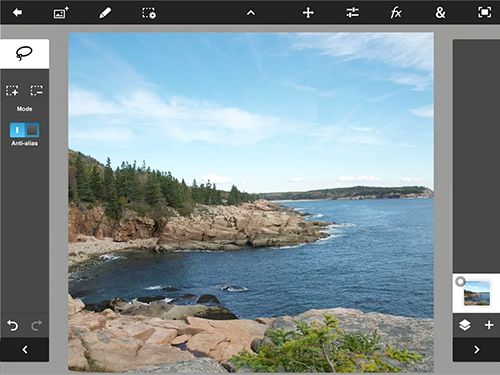 Schritt 2 - Zeichnen Sie die Auswahl
In Photoshop Touch, können wir das Lasso-Werkzeug und unsere Finger (Ich empfehle den Kauf des Bamboo Stylus von Wacom für diese Art von Funktion), eine raue Kante innerhalb oder um unser Thema zu ziehen. Es braucht nicht zu 100% präzise in diesem Stadium.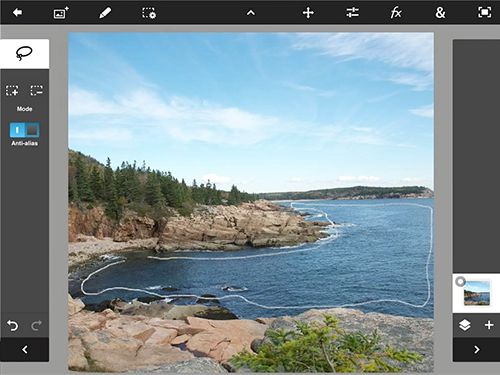 Wenn youre fertig sollten Sie marschierenden Ameisen identifiziert die Pixel youve gewählt, so wie man es in den Desktop-Versionen von Photoshop.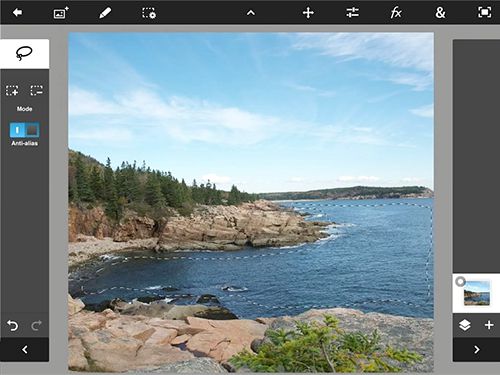 Schritt 3 - Öffnen Sie die Kante verbessern Modus
Weiter von der Auswahl-Menü (oben auf dem Bildschirm, vierten Button von links), wählen Sie verfeinern Edge.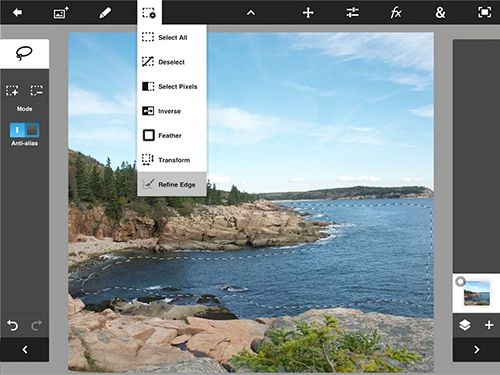 Dies zeigt eine QuickMask Angesichts der Auswahl, die Sie gerade gemacht (rötliche Farbe), zusammen mit einigen Optionen am unteren Rand des Bildschirms. Verwenden Sie die Standardeinstellung Pinsel-Modus, wenn Sie die Auswahl oder das Radiergummi-Modus erweitern, wenn Sie ihren Umfang reduzieren möchten möchten. Außerdem können Sie den Cursor Durchmesser durch Klicken auf die Größe Symbol (weißer Kreis) und swiping nach links, wenn der Pinsel-Vorschau angezeigt wird.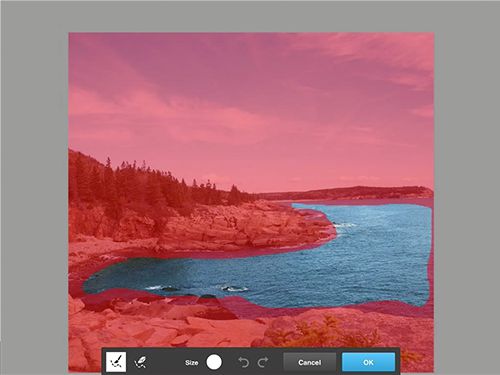 Schritt 4 - Pinsel über die Kanten des Motivs
Sobald youre bereit, platzieren Sie den Cursor auf dem Rand der ursprünglichen Auswahl und verwenden Sie den Stift, Pinsel über den Grenzbereich (in diesem Fall alles das Wasser zu berühren) bis zu seiner ganz enthüllt. Der Schuss zeigt dieser Schritt nahezu abgeschlossen.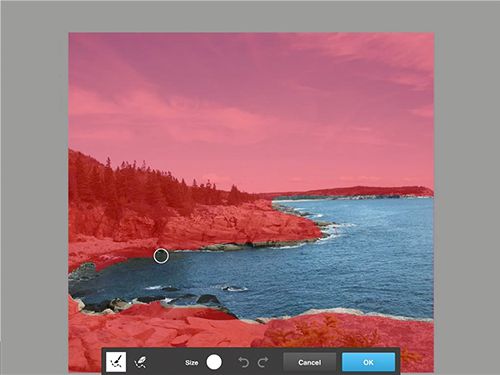 Sobald Sie den Hörer des Stylus, Photoshop Touch wird die Auswahl für einen Moment verarbeiten und erstellen Sie dann eine wesentlich genauere Berandungsform. Es kann ein paar Flecken, die weitere Optimierungen benötigen. Go ahead, und klicken Sie auf OK.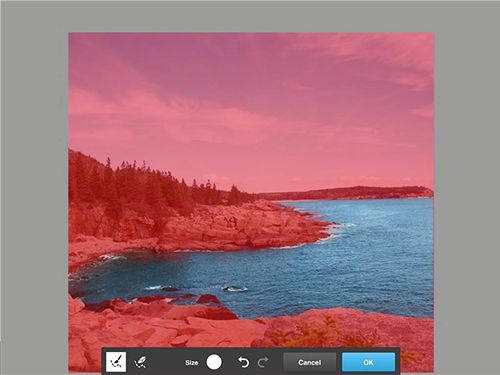 Das Ergebnis sollte eine neue Auswahl mit marschierenden Ameisen sein, das ist genauer als zuvor.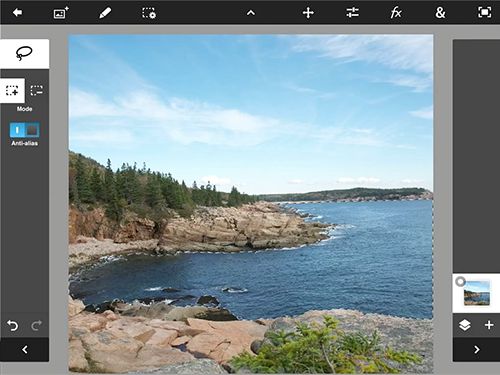 Schritt 5 - Entfernen Extras oder weggelassen Areas
Manchmal Photoshop Touch wird irrtümlich fügen Sie kleine Bereiche der neuen Pixel oder weglassen Bereiche, die Sie bestimmt zu wählen. In der Regel können Sie das Lasso-Werkzeug wieder schnell (mit dem Add / subtrahieren Modi), zu entfernen oder neu zu gründen kleine Bereiche von Pixeln, so wie man es in Photoshop CS6.
Schritt 6 - Erstellen Sie das Retuschieren Schicht
Sobald Sie Ihre Auswahl abgeschlossen ist, klicken Sie auf das Pluszeichen ( )-Taste an der rechten unteren Ecke des Ebenenbedienfeld (rechte Seite des Bildschirms). Mit der Auswahl aktiv wählen Sie Layer aus Selection.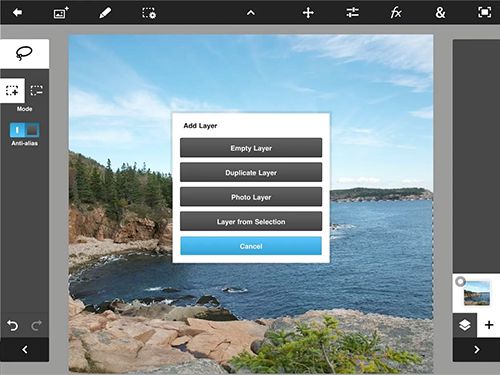 Dadurch wird eine neue Schicht, die nur die Wasser-Pixel und zeigt die übrigen Teile des Dokumentes Bereich als transparente Pixel (dh was ist unten durch zeigen wird) umfasst.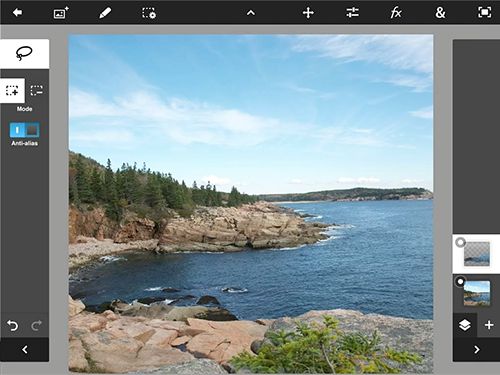 Schritt 7 - Ändern New Layer
Jetzt youre bereit, Ihre Retusche durchführen oder Bearbeitungen auf der neuen Ebene! Hier habe ich verdunkelte das Wasser durch stell den Mischmodus und Opazität.