Got an iPad? Get Photoshop Touch for iPad! In this 2nd tutorial on the iOS app Dan Moughamian introduces us to retouch layers for powerful and specific editing needs.
Una de las cosas más valiosas que podemos hacer con versiones de escritorio de Photoshop es hacer selecciones precisas con el fin de centrar nuestra ediciones en una región muy específica de la foto. Podemos hacer esto al dejar la selección activa y editar, crear una capa duplicada con una máscara de capa sobre la base de la selección, o podemos crear capas con transparencia (también basado en la selección).

Con Photoshop Touch para iPad, todavía tenemos la capacidad de crear nuevas capas con áreas transparentes, basados ​​en una selección. Esto significa que podemos aislar nuestra edición a un área muy específica, y no afecta el fondo del original o de la capa de base, incluso en el iPad! Aquí también seleccionar el agua con el fin de crear una capa especial para el mismo.
Paso 1 - Elija su Herramienta de selección
Para este ejemplo, he utilizado la herramienta Lasso, que se ve como lo hace en Photoshop CS6, y se encuentra en la barra de herramientas, en la parte izquierda de la pantalla. Sólo la toca con el dedo o el lápiz óptico para seleccionarla.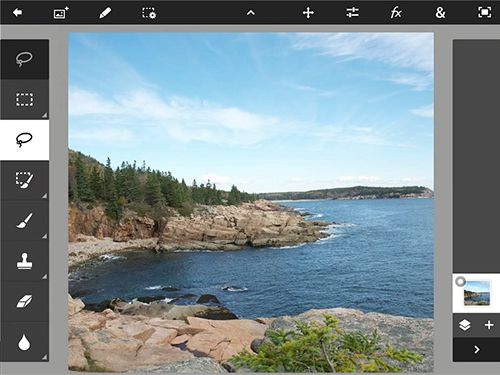 Cuando lo haga, la barra de herramientas cambia para mostrar la herramienta activa, y cualquier opción que están disponibles para él. Aquí podemos ver el complemento familiar / restar opción y la opción anti-alias.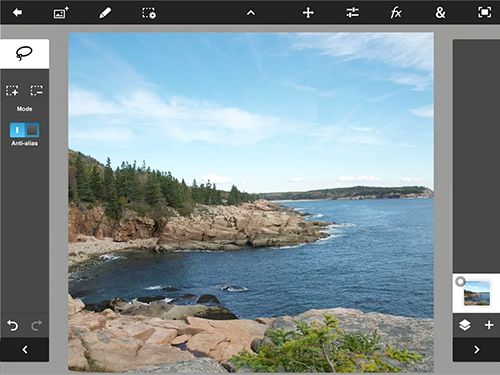 Paso 2 - Hacer la selección
In Touch Photoshop, podemos utilizar la herramienta Lazo y nuestro dedo (recomiendo la compra de la Bamboo Stylus de Wacom para este tipo de función) para dibujar un borde áspero en el interior o alrededor de nuestro tema. No tiene por qué ser 100% precisa en esta fase.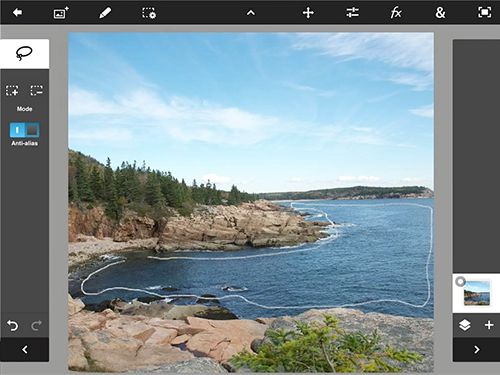 Cuando estás acabado debería ver hormigas marchando identificar los píxeles youve seleccionado, tal como lo haría en las versiones de escritorio de Photoshop.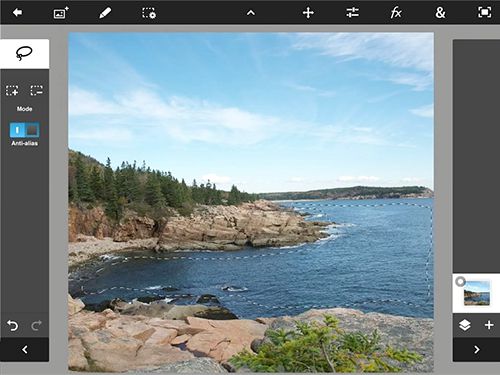 Paso 3 - Abrir el modo de definición de bordes
A continuación, en el menú de selección (parte superior de la pantalla, cuarto icono de la izquierda), escoja Perfeccionar borde.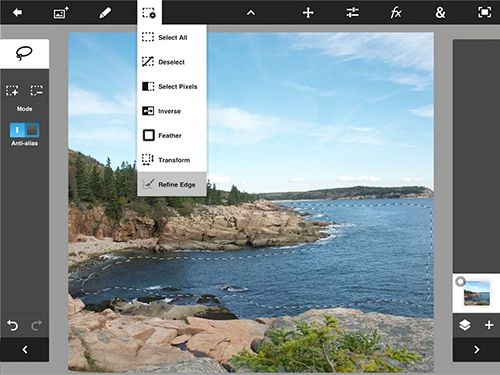 Esto mostrará una vista de máscara rápida de la selección que acaba de hacer (color rojizo), junto con algunas opciones en la parte inferior de la pantalla. Utilice el cepillo de modo predeterminado si desea ampliar la selección, o el modo Borrador si desea reducir su ámbito de aplicación. También puede modificar el diámetro cursor haciendo clic en el icono de Tamaño (círculo blanco) y deslizar hacia la izquierda cuando aparece la vista previa cepillo.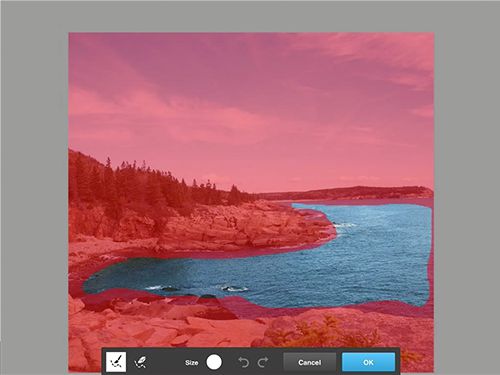 Paso 4 - Pincel largo de los bordes de la reserva
Una vez que estés listo, coloque el cursor en el borde de la selección original y utilice el lápiz para pincel sobre el área de frontera (en este caso todo contacto con el agua) hasta su completo revelado. La vacuna muestra este paso casi completa.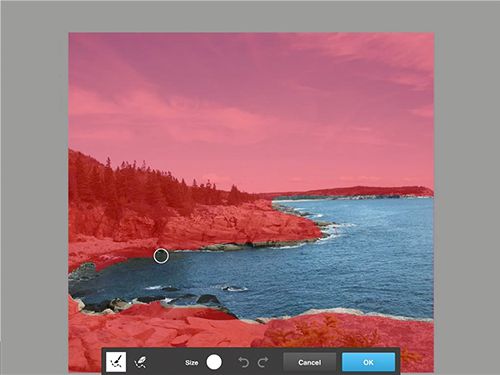 Una vez que se levante el lápiz óptico para tocar Photoshop procesará la selección por un momento y luego crear una forma límite mucho más precisa. Puede haber algunos puntos que deben ajustar aún más. Adelante, haga clic en Aceptar.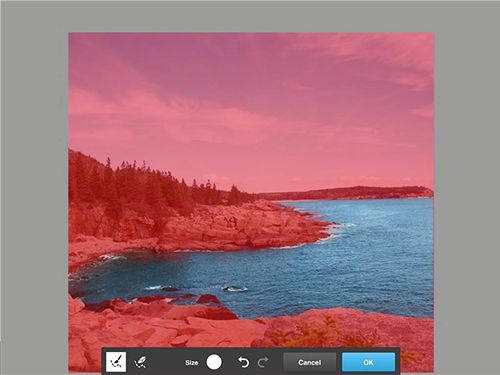 El resultado debería ser una nueva selección con línea discontinua, que es más precisa que antes.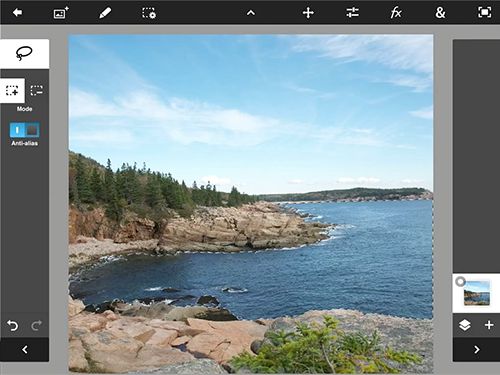 Paso 5 - Quitar Extras o zonas omitidas
A veces Photoshop Touch erróneamente añadir pequeñas áreas de nuevos píxeles u omitir las áreas que pretenden seleccionar. Normalmente, puede utilizar la herramienta Lasso de nuevo de forma rápida (usando el add / restar modos) para eliminar o reincorporar pequeñas regiones de píxeles, tal como lo haría en Photoshop CS6.
Paso 6 - Crear la capa de retoque
Una vez que la selección se realiza, haga clic en el signo más ( ) Situado en la parte inferior derecha del panel Capas (lado derecho de la pantalla). Con la selección activa elija Capa de Selección.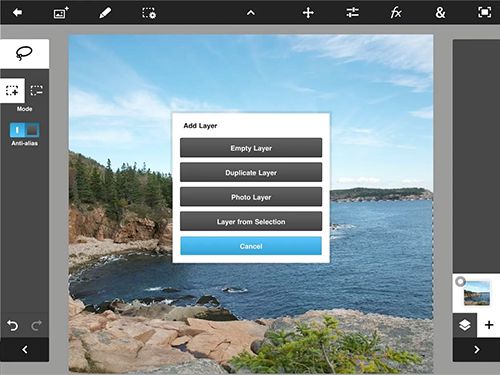 Esto generará una nueva capa que incluye sólo los píxeles de agua y programas en el resto del área del documento en forma de píxeles transparentes (es decir, cuál es debajo se muestran a través).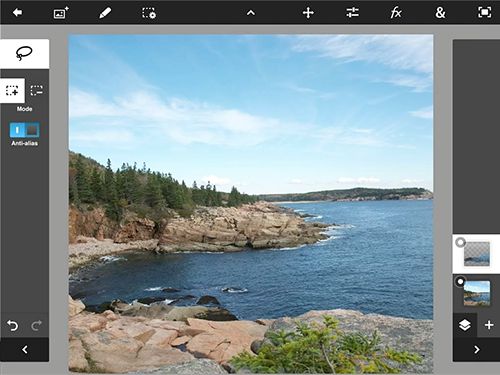 Paso 7 - Capa Modificar Nueva
Ahora usted está listo para llevar a cabo su retoque o modificaciones en la nueva capa! Aquí me oscureció el agua por cambiar el modo de fusión y la opacidad.