Got an iPad? Get Photoshop Touch for iPad! In this 2nd tutorial on the iOS app Dan Moughamian introduces us to retouch layers for powerful and specific editing needs.
یکی از با ارزش ترین چیزهایی که ما می توانیم با نسخه دسکتاپ فتوشاپ انجام دهید، انتخاب دقیق به منظور تمرکز ما مخفی شود را به یک منطقه بسیار خاص از عکس است. ما می توانیم این کار را ترک انتخاب فعال و ویرایش، ایجاد یک Duplicate Layer را با یک لایه ماسک را بر اساس انتخاب، و یا ما می توانیم لایه ها را با شفافیت (بر اساس انتخاب) ایجاد کنید.

با صفحه لمسی دکمه های فتوشاپ برای iPad، ما هنوز توانایی ایجاد لایه جدید با زمینه شفاف، بر اساس یک انتخاب داشته باشد. این به این معنی است که ما می توانیم منزوی ما مخفی شود به یک منطقه بسیار خاص و تاثیر پس زمینه اصلی یا لایه پایه، حتی بر روی iPad! در اینجا به خوبی انتخاب آب به منظور ایجاد یک لایه ویژه برای همان است.
گام 1 - انتخاب ابزار انتخاب شما
برای این مثال، من با استفاده از ابزار کمند، که به نظر می رسد درست مثل آن در فتوشاپ CS6 می کند، و در نوار ابزار موجود در سمت چپ صفحه نمایش. فقط آن را با انگشت و یا قلم خود را بزنید تا انتخاب شود.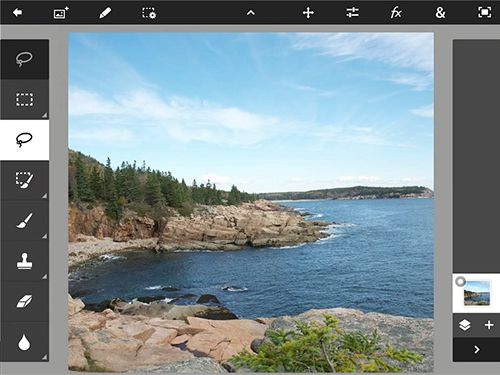 هنگامی که شما انجام دهید، در نوار ابزار تغییر خواهد کرد ابزار فعال را به نمایش، و هر آنچه که در دسترس هستند برای آن است. در اینجا ما می توانیم افزودنی آشنا / تفریق گزینه و گزینه ضد نام مستعار.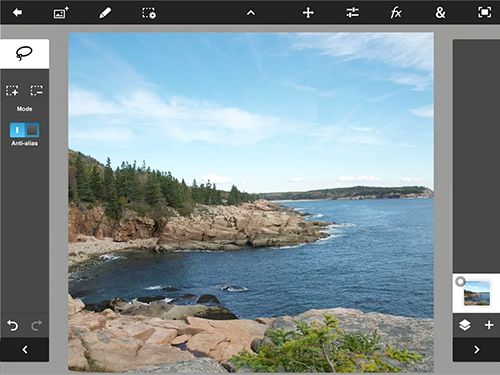 مرحله 2 - قرعه کشی انتخاب
در تماس فتوشاپ، ما می توانیم از ابزار کمند و انگشت ما (من توصیه به خرید قلم بامبو برای این نوع عملکرد از WACOM) استفاده از لبه های خشن در داخل یا اطراف موضوع ما را به منظور جلب. این کار نیاز به 100٪ دقیق در این مرحله است.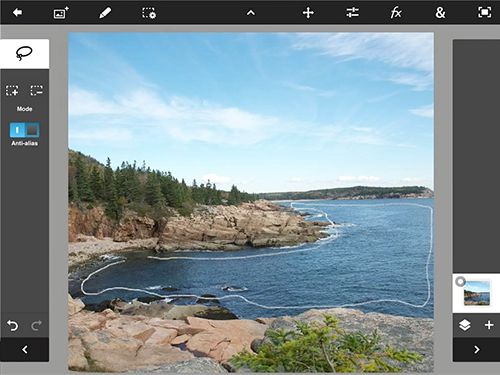 زمانی که ازمن میخوای به پایان رسید شما باید راهپیمایی مورچه ها شناسایی پیکسل youve انتخاب، فقط به عنوان شما می توانید در نسخه دسکتاپ فتوشاپ.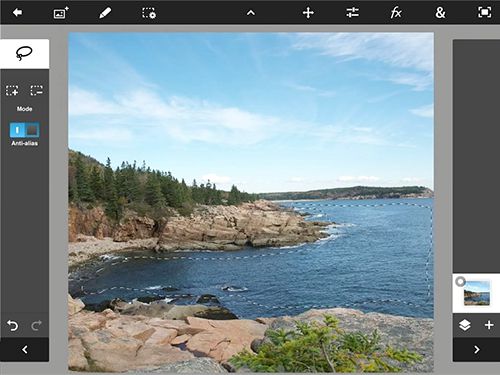 مرحله 3 - باز کردن محدود حالت لبه
بعد، از منوی انتخاب (بالای صفحه نمایش، آیکون چهارم از سمت چپ)، انتخاب محدود به لبه.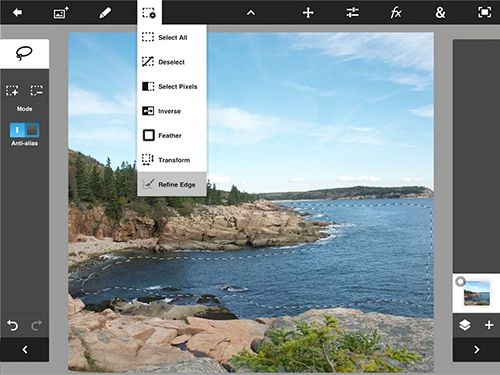 این کار باعث. مشاهده QuickMask از انتخاب شما فقط (رنگ مایل به قرمز) ساخته شده، همراه با برخی از گزینه ها در پایین صفحه نمایش. با استفاده از حالت پیشفرض قلم مو اگر می خواهید به گسترش انتخاب، و یا حالت پاککن اگر شما می خواهید برای کاهش دامنه آن است. شما همچنین می توانید قطر مکان نما را از طریق کلیک کردن بر روی آیکون حجم (دایره سفید) و کشیدن به سمت چپ که پیش براش به نظر می رسد تغییر دهید.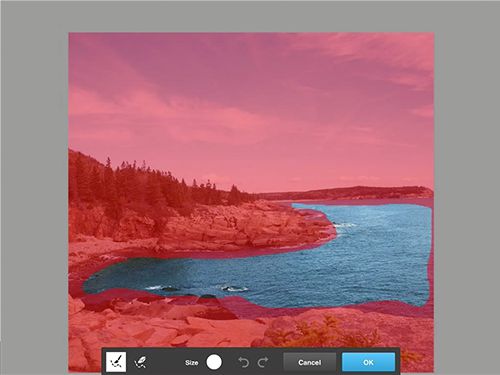 مرحله 4 - قلم مو بر روی لبه های سوژه خود را
هنگامی که شما آماده، قرار دادن مکان نما بر روی لبه از انتخاب های اصلی شما است و با استفاده از قلم به قلم مو بیش از منطقه مرزی (در این مورد همه چیز را از دست زدن به آب) تا خود را به طور کامل نشان داد. شات زیر نشان می دهد که این مرحله تقریبا کامل است.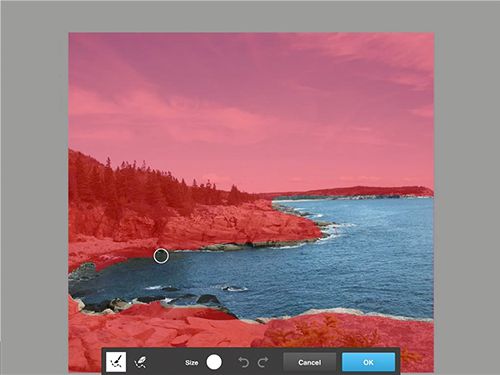 هنگامی که شما انتخاب کنید تا قلم، لمسی فتوشاپ انتخاب برای یک لحظه پردازش و پس از آن بسیار دقیق تر شکل مرز. ممکن است نقاط چند که نیاز به افزایش سرعت بیشتر وجود دارد. برو جلو و روی OK کلیک کنید.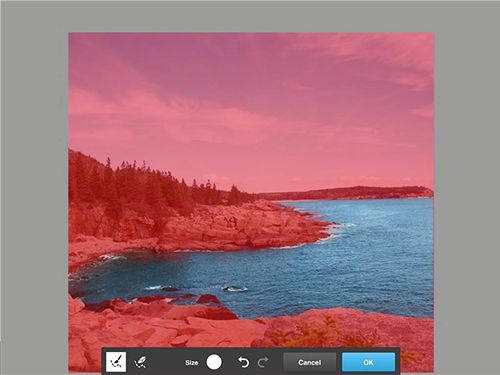 در نتیجه باید یک انتخاب جدید را با مورچه ها در راهپیمایی، این است که دقیق تر از قبل است.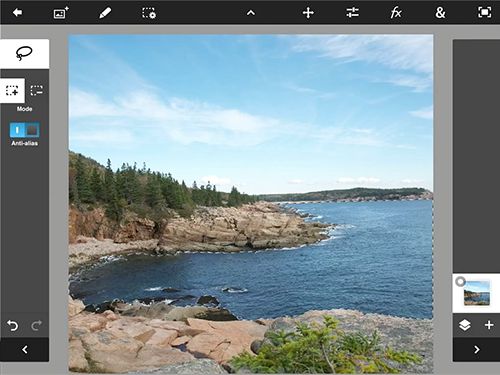 مرحله 5 - حذف افزودنیهای پیشنهاد شده و یا حذف شده نقشه
گاهی اوقات لمسی فتوشاپ به اشتباه به مناطق کوچکی از پیکسل های جدید و یا اضافه کردن حذف مناطق شما در نظر گرفته شده را انتخاب کنید. شما معمولا می توانید از ابزار کمند دوباره به سرعت (با استفاده از اضافه کردن / جمع و تفریق حالت) برای حذف و یا reincorporate مناطق کوچک پیکسل، فقط به عنوان شما می توانید در فتوشاپ CS6.
مرحله 6 - ایجاد لایه دستکاری کردن
هنگامی که انتخاب خود را انجام شده است، بر روی به علاوه کلیک کنید ( ) را فشار دهید در سمت راست پایین پانل لایه ها (سمت راست از روی صفحه نمایش). با انتخاب فعال را انتخاب کنید لایه ای از انتخاب.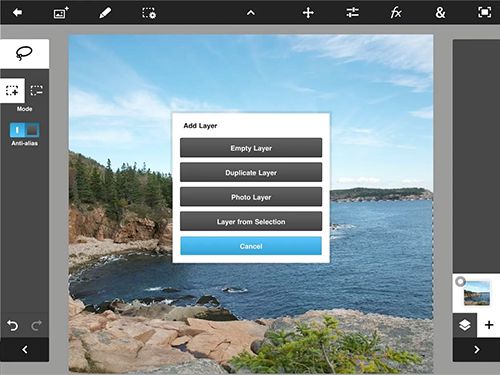 با این کار یک لایه ی جدید که شامل فقط پیکسل آب و نشان می دهد بقیه از منطقه سند به عنوان پیکسل شفاف (به معنی چه زیر را از طریق نشان می دهد) را تولید کند.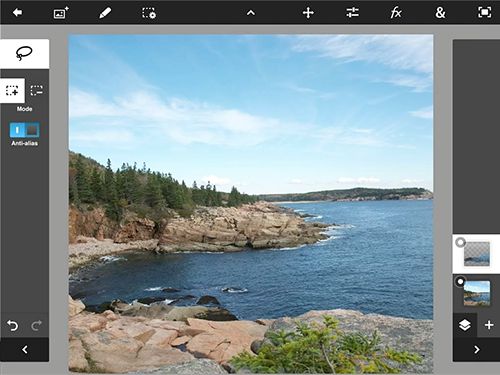 مرحله 7 - لایه اصلاح جدید
در حال حاضر شما آماده به انجام رتوش خود را مخفی شود یا بر روی لایه ی جدید! در اینجا من آب را با تغییر حالت ترکیب و تاری تیره.