Got an iPad? Get Photoshop Touch for iPad! In this 2nd tutorial on the iOS app Dan Moughamian introduces us to retouch layers for powerful and specific editing needs.
Une des choses les plus précieuses que nous pouvons faire avec les versions de bureau de Photoshop, c'est de faire des sélections précises afin de concentrer nos modifications apportées à une région très spécifique de la photo. Nous pouvons le faire en laissant la sélection active et l'édition, la création d'une double couche avec un masque de calque basé sur la sélection, ou nous pouvons créer des couches avec transparence (également basée sur la sélection).

Avec Photoshop tactile pour iPad, nous avons encore la possibilité de créer de nouveaux calques avec des zones transparentes, basées sur une sélection. Cela signifie que nous pouvons isoler nos modifications à un domaine très spécifique, et non un impact sur le fond de l'original ou de la couche de base, même sur iPad! Voilà bien choisir l'eau afin de créer une couche spéciale à cet effet.
Étape 1 - Choisissez votre outil de sélection
Pour cet exemple, j'ai utilisé l'outil Lasso, qui ressemble comme il le fait dans Photoshop CS6, et se trouve dans la barre d'outils, sur le côté gauche de l'écran. Il suffit de tapoter avec votre doigt ou le stylet pour le sélectionner.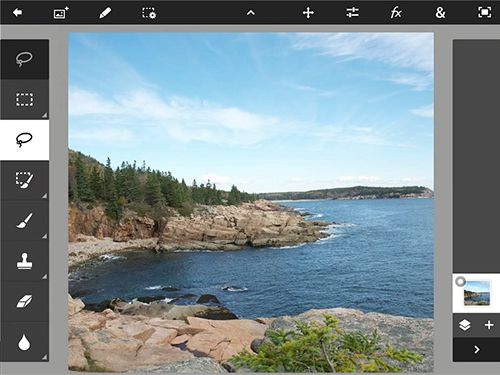 Lorsque vous le faites, la barre d'outils change pour afficher l'outil actif, quelles que soient les options sont disponibles pour cela. Ici, nous pouvons voir le familier ajouter / soustraire option et l'option anti-aliasing.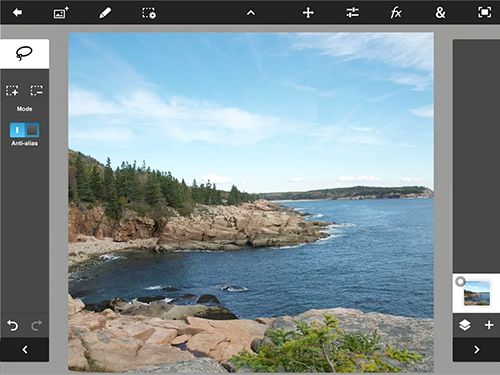 Étape 2 - Tracer la sélection
In Touch Photoshop, on peut utiliser l'outil Lasso et le doigt (je recommande l'achat du stylet Bamboo de Wacom pour ce type de fonction) pour tirer un bord rugueux à l'intérieur ou autour de notre sujet. Il n'a pas besoin d'être 100% précis à ce stade.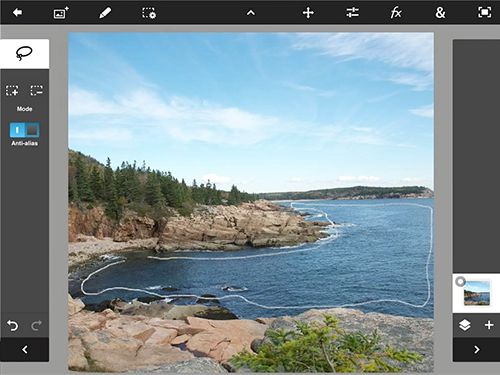 Lorsque vous êtes fini, vous devriez voir des fourmis marchant identification des pixels youve choisi, comme vous le feriez dans les versions de bureau de Photoshop.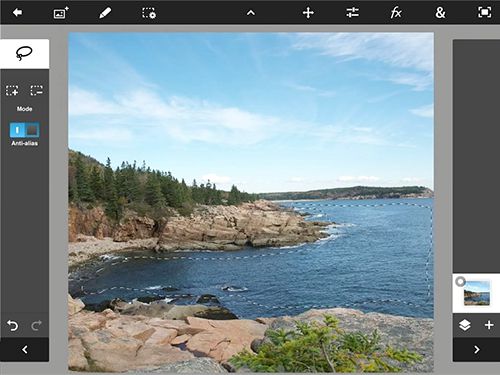 Étape 3 - Ouvrir le mode Améliorer le contour
Ensuite, dans le menu Sélection (en haut de l'écran, quatrième icône en partant de la gauche), choisissez Améliorer le contour.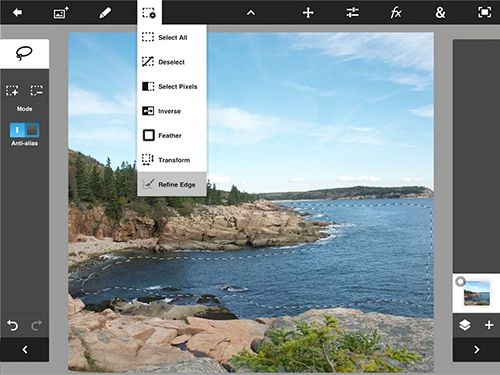 Cela permet d'afficher une vue QuickMask de la sélection que vous venez de créer (couleur rouge), avec quelques options en bas de l'écran. Utilisez le mode Brush par défaut si vous souhaitez étendre la sélection, ou le mode Gomme si vous souhaitez réduire la portée. Vous pouvez également modifier le diamètre curseur en cliquant sur l'icône Taille (cercle blanc) et de glisser vers la gauche lorsque l'aperçu de brosse apparaît.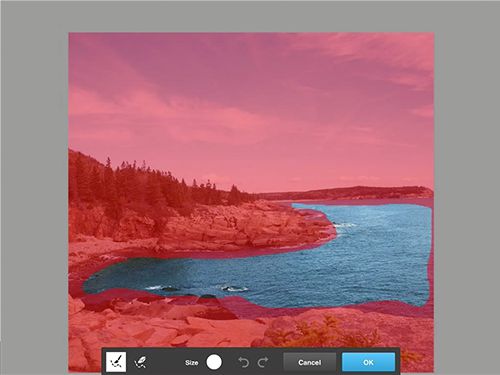 Étape 4 - Badigeonner les bords de l'Objet
Une fois que vous êtes prêt, placez le curseur sur le bord de votre sélection originale et utilisez le stylet pour badigeonner la zone limite (dans ce cas, tout ce qui touche l'eau) jusqu'à ce que son entièrement révélé. Le coup ci-dessous illustre cette étape presque complète.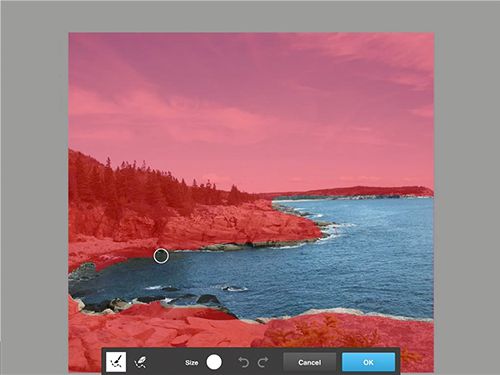 Dès que vous décrochez le stylet, tactile Photoshop traitera la sélection pendant un moment et puis créer une forme de frontière beaucoup plus précis. Il peut y avoir quelques points qui ont besoin de peaufiner davantage. Allez-y et cliquez sur OK.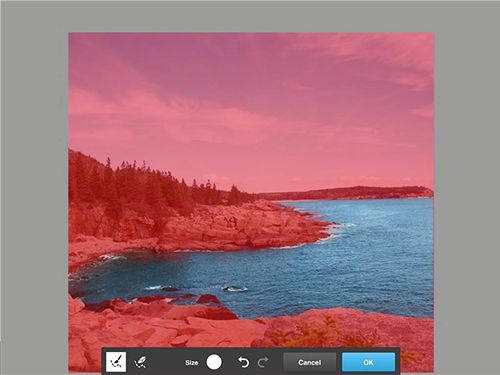 Le résultat devrait être une nouvelle sélection avec les fourmis qui marchent, qui est plus précis que par le passé.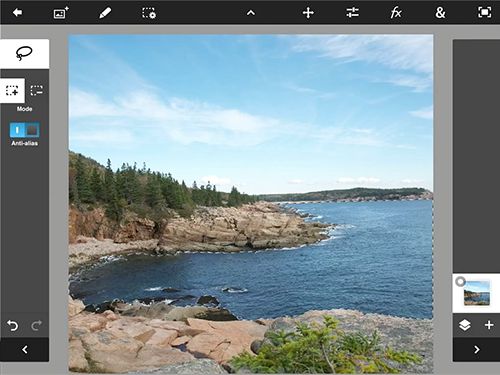 Étape 5 - Supprimer Extras ou zones omises
Parfois tactile Photoshop erreur ajouter de petites zones de pixels de nouvelles ou d'omettre les zones que vous destinés à sélectionner. Vous pouvez généralement utiliser l'outil Lasso à nouveau rapidement (en utilisant l'addition / soustraction modes) de supprimer ou réintégrer petites régions de pixels, comme vous le feriez dans Photoshop CS6.
Étape 6 - Création de la couche Retouche
Une fois votre sélection terminée, cliquez sur le signe plus ( ) Bouton en bas à droite du panneau Calques (côté droit de l'écran). Avec la sélection active choisissez Calque de sélection.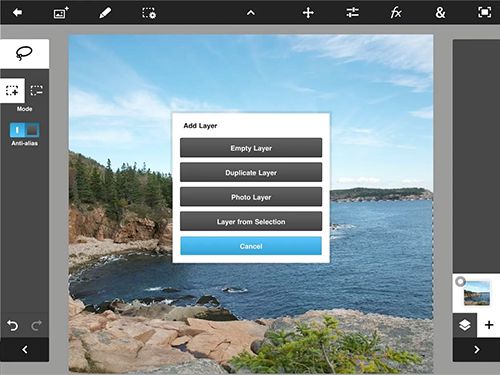 Cela va générer une nouvelle couche qui inclut uniquement les pixels de l'eau et des spectacles le reste de la zone du document en pixels transparents (ce qui signifie whats-dessous vous montrera à travers).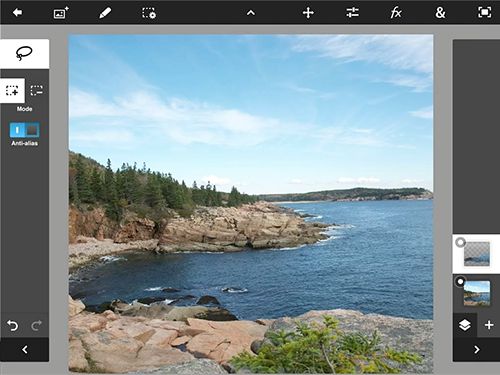 Étape 7 - Modifier Nouveau calque
Maintenant vous êtes prêt à effectuer des retouches ou modifications de votre sur le nouveau calque! Ici, je assombri l'eau par changer le mode de fusion et l'opacité.