Got an iPad? Get Photoshop Touch for iPad! In this 2nd tutorial on the iOS app Dan Moughamian introduces us to retouch layers for powerful and specific editing needs.
우리가 í¬í† ìƒµì˜ 데스크톱 ë²"ì "ê³¼ 함께 í•  수있는 가장 가치있는 일 중 하나는 우리가 사진의 매우 íŠ¹ì • 지역에 대한 ìˆ˜ì • 사항 집중하기 위해 ì •í™•í•œ ì" 택ì"합니다. 우리는 ì" 택이 활성화 출발 및 편집, ì" 택에 따라 ë ˆì´ì–´ 마스크와 중복 ë ˆì´ì–´ë¥¼ 생성, 또는 우리가 투명성 (또한 ì" 택에 따라)ë¡œ ë ˆì´ì–´ë¥¼ 만들 수 있습니다하여이 작업을 수행 í•  수 있습니다.

iPad ìš© í¬í† ìƒµ 터치를 통해, 우리는 ì—¬ì "히 ì" 택에 따라 투명 영역을 새로운 ë ˆì´ì–´ë¥¼ 만들 수 있습니다. 이것은 우리가 우리는 매우 íŠ¹ì • 지역에 대한 ìˆ˜ì • 사항, 심지어는 아이 패드에 원래 배경이ë'˜ë² 이스 층에 영향을주지 분리 í•  수​​ 있음을 의미! 다음은 잘 같은에 대한 특별한 계층을 만ë"¤ë ¤ë©´ 물을 ì" 택합니다.
1 단계 - ë‹¹ì‹ ì˜ ì" 택 도구를 ì" 택
이 예를 들어, ì œê°€ 아는 그냥 í¬í† ìƒµ CS6에서 동작하는 것 같습니다, 화면의 왼쪽에, 툴바에서 ë°œê²¬ë˜ê³ , 올가미 도구를 사용했습니다. 그냥 ì" íƒí•˜ë ¤ë©´ 손가락이나 스타일러스로 누릅니다.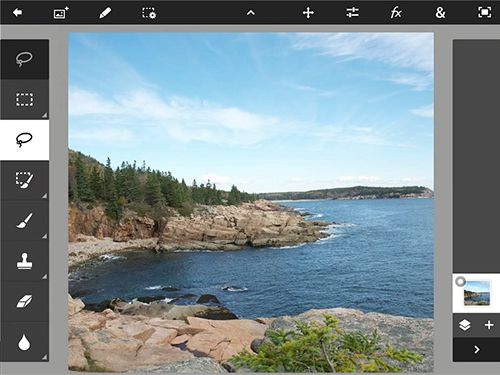 ë‹¹ì‹ ì´í•˜ë©´ 도구 모음이 활성화 된 도구를 표시 변경되며, ì–´ë–¤ 옵션은 ì'¬ìš©í•  수 있습니다. 여기서 우리는 익숙한 추가를 참조하십시오 / 옵션과 안티 - 별칭 옵션을 뺍 í•  수 있습니다.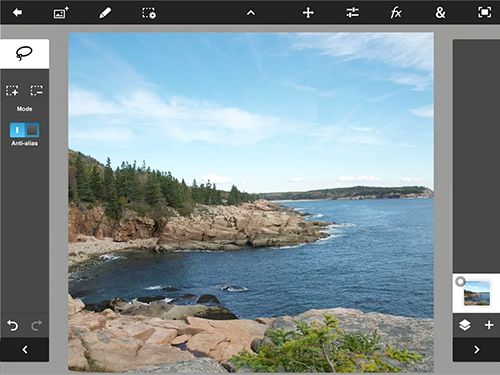 2 단계 - ì" 택ì" 그립니다
í¬í† ìƒµ 터치에서 우리는 우리의 ì£¼ì œ 내부 또는 주위에 거친 가장자리를 그릴 (I 함수의 ìœ í˜•ì— 대한 Wacom에서 대나무 스타일러스를 구입 권장) 올가미 도구와 손가락을 ì'¬ìš©í•  수 있습니다. 그것은이 단계에서 백퍼센트 ì •í™•í•˜ê²Œ í•  필요가 없습니다.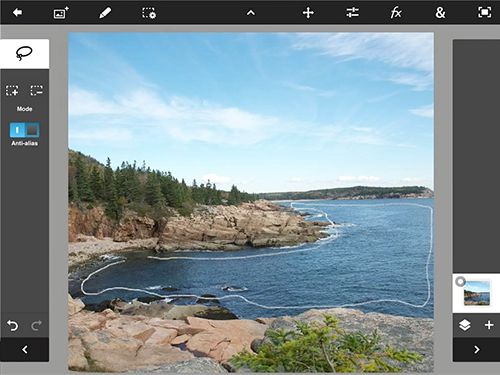 완료 개봉 í•  ë•Œ 행진 개미는 픽셀 youve 식별 표시됩니다 ì" 택 ë‹¹ì‹ ì´ í¬í† ìƒµì˜ 데스크톱 ë²"ì "에ì"œì™€ 있습니다.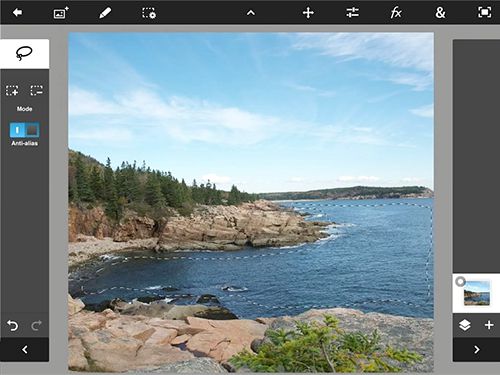 3 단계 - ìˆ˜ì • 가장자리 모드를 엽니 다
다음, ì" 택 메뉴 (화면의 상단 왼쪽에서 네번째 아이콘)에서 가장자리를 ìˆ˜ì •ì" ì" 택합니다.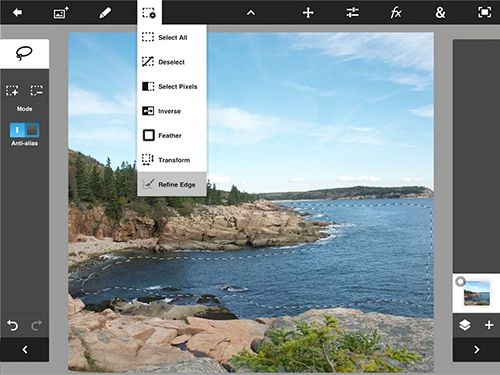 이 화면의 맨 아래에 몇 가지 옵션과 함께, ë‹¹ì‹ ì€ 방금 만ë"  ì" 택 (붉은 색)의 QuickMask보기를 표시합니다. ë‹¹ì‹ ì€ ë‹¹ì‹ ì´ ê·¸ 범위를 줄이기 위해 원하는 경우 ì" 택, 또는 지우개 모드를 í™•ìž¥í•˜ë ¤ë©´ 기본 브러시 모드를 사용합니다. ë‹¹ì‹ ì€ 또한 크기 아이콘 (흰색 동그라미)를 í´ë¦­í•˜ê³  브러시 미리보기가 ë'˜íƒ€ë'  ë•Œ 왼쪽으로 패스 í•œ 번 찍어 주시면하여 커서 직경을 ìˆ˜ì •í•  수 있습니다.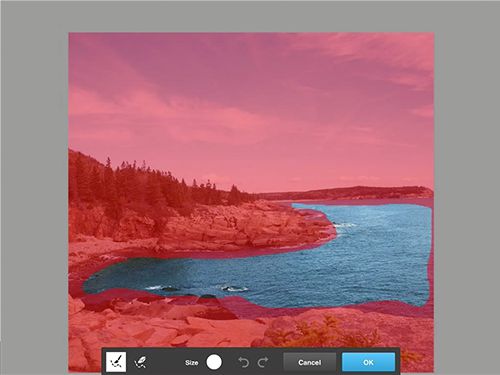 4 단계 - 피사체의 가장자리 이상의 브러쉬
일단 준비줍니다, 원래 ì" 택의 가장자리에 커서를 ë†"ê³ ëŠ" ì™"ì "히 공개 í•  때까지 (이 경우 물을 만지는 모ë" )의 경계 영역을 통해 브러쉬 스타일러스를 사용합니다. 아래의 샷이 단계가 거의 완료 보여줍니다.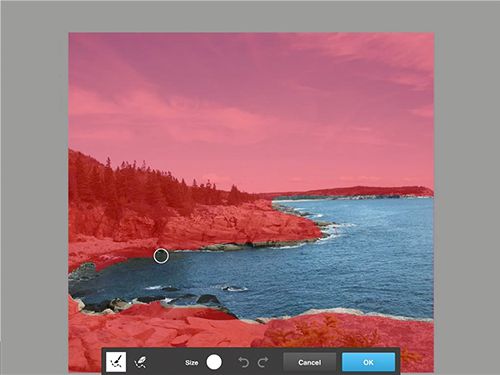 일단, 스타일러스을 ìˆ˜ë ¹ í¬í† ìƒµ 터치는 순간의 ì" 택ì" ì²˜ë¦¬í•˜ê³  다음 훨씬 더 ì •í™•í•œ 경계 모양을 만들 수 있습니다. 추가 ì¡°ì •ì´ 필요한 몇 곳이있을 수 있습니다. 가서 확인을 클릭합니다.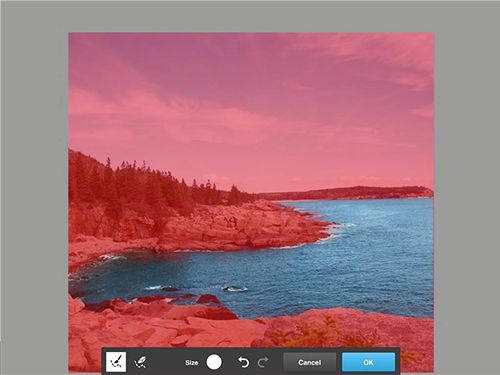 ê·¸ ê²°ê³¼ 행진 개미와 새로운 ì" 택해야, ê·¸ 이ì "보다 더 ì •í™•í•©ë‹ˆë‹¤.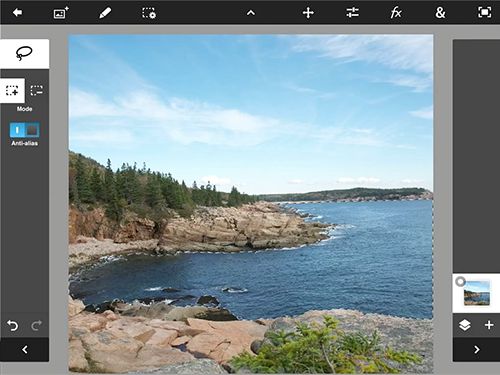 5 단계 - ì œê±° 엑스트라 또는 생략 분야
가끔 í¬í† ìƒµ 터치가 실수하는 픽셀의 작은 영역을 추가하거나 ì" 택하기ìœ"í•œ 영역을 생략합니다. ë‹¹ì‹ ì€ ì¼ë°˜ì ìœ¼ë¡œ ì‹ ì†í•˜ê²Œ ë‹¹ì‹ ì´ í¬í† ìƒµ CS6에서와 같이 픽셀의 작은 영역을 ì œê±°í•˜ê±°ë'˜ reinc​​orporate하기 (추가 / 모드를 뺍를 사용하여). 다시 올가미 도구를 ì'¬ìš©í•  수 있습니다
6 단계 - ë³´ì • ë ˆì´ì–´ 만들기
ì" 택이 완료되면, (더하기를 클릭하십시오 ë ˆì´ì–´ 패널 (화면의 오른쪽)의 오른쪽 하단에서) 버튼을 클릭합니다. ì" 택에ì"œ ì" 택 활성화 ì" 택 ë ˆì´ì–´ë¥¼ ê°–ì¶"ê³  있습니다.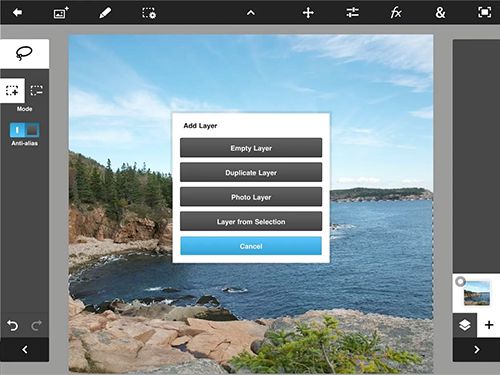 이 물 픽셀 쇼 투명 픽셀 (아래는을 통해 표시됩니다 이런 ì  ìž¥ì" 의미)ê³¼ 같은 문서 영역의 나머지 만 포함 된 새 ë ˆì´ì–´ë¥¼ 생성합니다.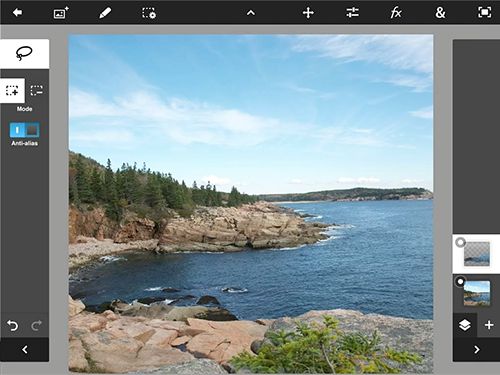 7 단계 - ìˆ˜ì • 새 ë ˆì´ì–´
ì´ì œ ë³´ì •ì" 수행 í•  준비가줍니다하거나 새 ë ˆì´ì–´ì— 편집! ë'œ 여기 혼합 모드 및 불투명도를 변경하여 물을 어둡게 하였다.