Got an iPad? Get Photoshop Touch for iPad! In this 2nd tutorial on the iOS app Dan Moughamian introduces us to retouch layers for powerful and specific editing needs.
Uma das coisas mais valiosas que podemos fazer com as versões desktop do Photoshop é fazer seleções precisas, a fim de concentrar a nossa edições em uma região muito específica da foto. Podemos fazer isso, deixando a seleção ativa e edição, criando uma camada duplicada com uma camada de máscara com base na seleção, ou podemos criar camadas com transparência (também com base na seleção).

Com o Photoshop Touch para iPad, ainda temos a capacidade de criar novas camadas com áreas transparentes, com base em uma seleção. Isto significa que podemos isolar nosso edições em uma área muito específica, e não afetar o fundo original ou camada de base, até mesmo no iPad! Aqui também seleccionar a água, a fim de criar uma camada especial para a mesma.
Passo 1 - Escolha sua ferramenta de seleção
Para este exemplo, eu usei a ferramenta Lasso, que se parece exatamente como faz no Photoshop CS6, e é encontrado na Barra, no lado esquerdo da tela. Basta tocar com o dedo ou a caneta para selecioná-lo.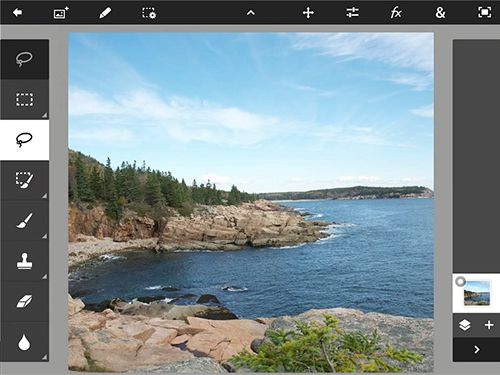 Quando o fizer, a barra de ferramentas muda para exibir a ferramenta ativa, e quaisquer que sejam as opções estão disponíveis para ele. Aqui podemos ver o suplemento familiar / subtrair ea opção anti-alias.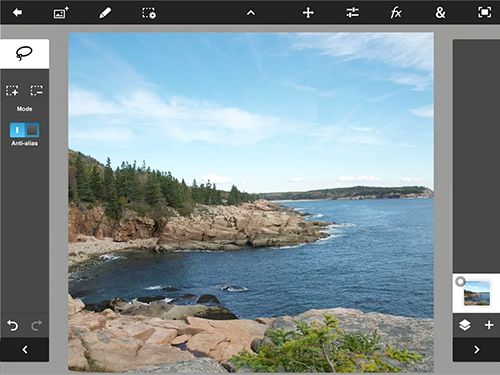 Passo 2 - Desenhe a Seleção
In Touch Photoshop, podemos usar a ferramenta Lasso e nosso dedo (eu recomendo comprar a Stylus Bamboo da Wacom para este tipo de função) para desenhar uma borda áspera dentro ou ao redor de nosso assunto. Ele não necessita de ser 100% preciso, nesta fase.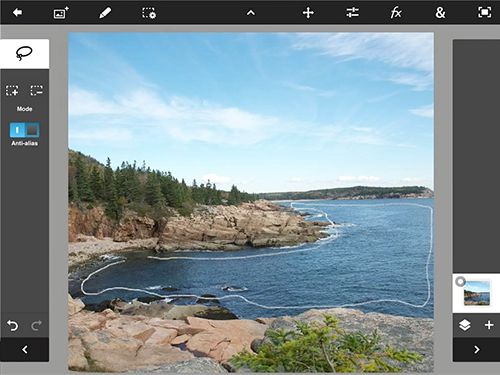 Quando você está terminado, você deve ver as formigas marchando identificar os pixels youve selecionado, assim como você faria nas versões desktop do Photoshop.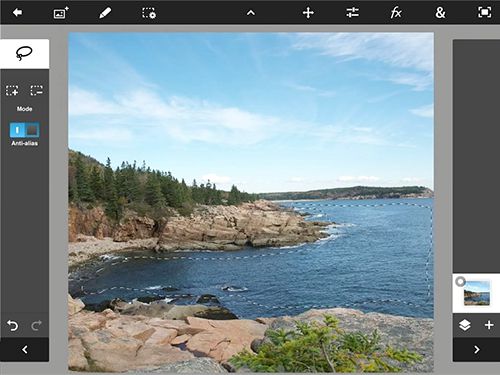 Passo 3 - Abra o Modo Refine Edge
Em seguida, no menu Seleção (parte superior da tela, quarto ícone da esquerda), escolha Refine Edge.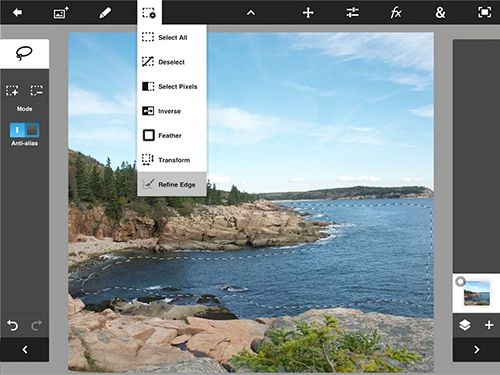 Isto irá mostrar uma visão QuickMask da seleção que você acabou de fazer (cor avermelhada), junto com algumas opções na parte inferior da tela. Use o modo de escova padrão se você deseja expandir a seleção, ou o modo Eraser se quiser reduzir o seu escopo. Você também pode modificar o diâmetro cursor, clicando no ícone Tamanho (círculo branco) e passando para a esquerda quando a visualização escova aparece.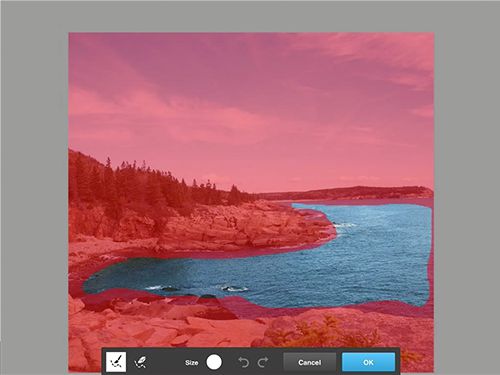 Passo 4 - Pincel sobre as bordas do seu assunto
Uma vez que você está pronto, coloque o cursor na borda de sua seleção original e usar a caneta para escovar sobre a área de fronteira (neste caso, tudo o contato com a água) até a sua inteiramente revelado. A foto abaixo mostra este passo quase completa.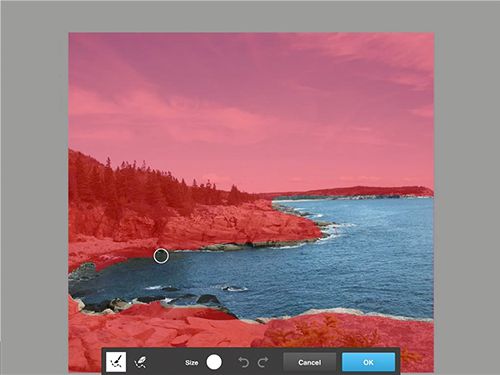 Uma vez que você pegar a caneta, Touch Photoshop irá processar a seleção por um momento e em seguida, criar uma forma de fronteira muito mais preciso. Pode haver alguns pontos que necessitam de ajuste adicional. Vá em frente e clique em OK.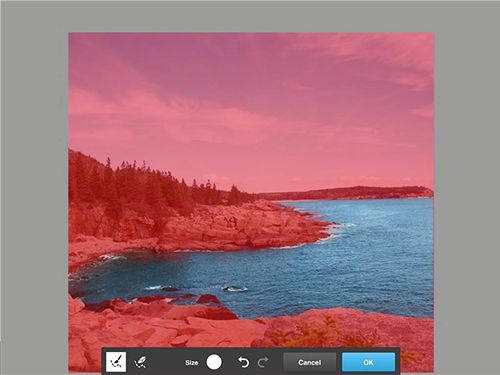 O resultado deve ser uma nova seleção com formigas em marcha, que é mais preciso do que antes.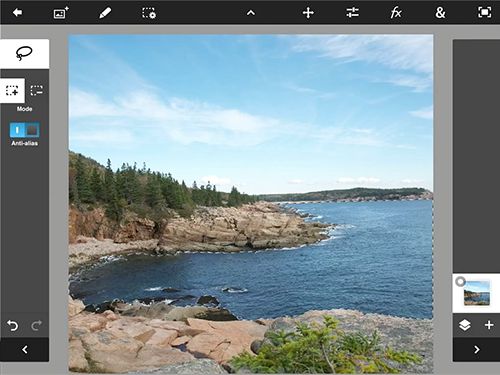 Passo 5 - Remover Extras ou Áreas Omissos
Às vezes Toque Photoshop irá adicionar equivocadamente pequenas áreas de novos pixels ou omitir áreas você pretende selecionar. Normalmente você pode usar a ferramenta Lasso novamente rapidamente (usando o suplemento / subtrair modos) para remover ou reincorporar pequenas regiões de pixels, como faria no Photoshop CS6.
Passo 6 - Crie a camada Retoque
Depois que a seleção é feito, clique no sinal de mais ( ) Botão no canto inferior direito do painel Layers (lado direito da tela). Com a seleção da camada ativa de escolher Seleção.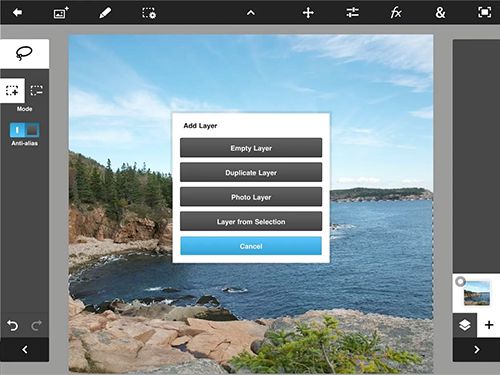 Isso irá gerar uma nova camada que inclui apenas os pixels de água e mostra o resto da área do documento como pixels transparentes (ou seja, o que está embaixo vai mostrar através).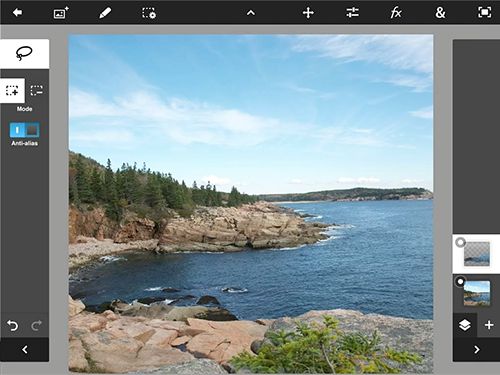 Passo 7 - Modificar Nova Camada
Agora você está pronto para realizar o seu retoque ou edições sobre a nova camada! Aqui eu escureceu a água, mudar o modo de mistura e opacidade.