Photoshop offers up a huge variety of ways to create stunning black and white images -- and I don't just mean choosing Image > Mode > Grayscale. For photographers, or even for those who want the ...
Photoshop ofrece una gran variedad de formas para crear impresionantes imágenes en blanco y negro - y no me refiero sólo a la elección de la imagen
However in this tutorial, we'll look at a technique for creating a rich black and white effect that is destructive, or permanent, so you may want to back up your photo before we begin.

Paso 1 - Introducción
Seguir adelante y abrir la foto que desea aplicar el efecto de blanco y negro. La foto que estoy usando es de uno de nuestros malhechores local, y como se puede ver, la foto es un poco lavado en función de su color y el contraste. No te preocupes, eso no debería importar demasiado para nuestro efecto.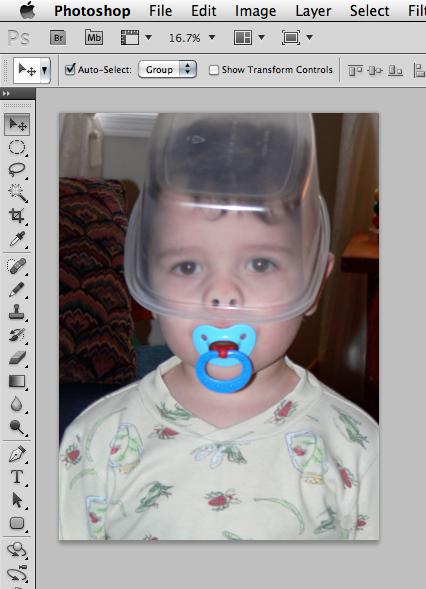 Paso 2 - Abrir el Mezclador de canales
Para nuestros efectos, vamos a utilizar Photoshop mezclador de canales. Vaya por delante y se abre por la elección de la imagen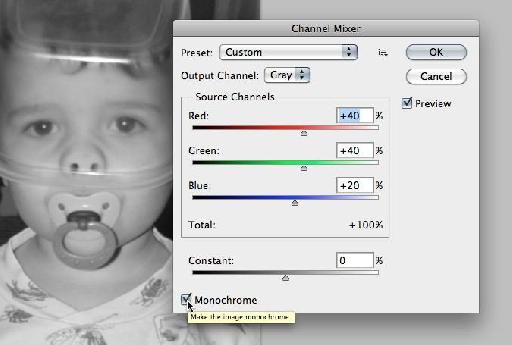 Paso 3 - Ajuste fino del efecto
Ahora, podemos dejar las cosas como son, pero una de las razones que me gusta usar el mezclador de canales, cuando estoy creando efectos de la foto en blanco y negro es que tenemos la capacidad para violín y jugar con nuestra obscuridad y las luces. Así que en el cuadro de diálogo Mezclador de canales, trata de experimentar con los controles deslizantes Rojo, verde y azul hasta que logre un buen resultado - una foto rica, impresionante blanco y negro.
As you can see, you can really fine tune things. And using the Channel Mixer offers a heck of a lot more control than simply changing the image's color mode to grayscale or desaturating your image (Image > Adjustments > Desaturate). Try moving the sliders in small increments, and don't forget about the Constant slider at the bottom.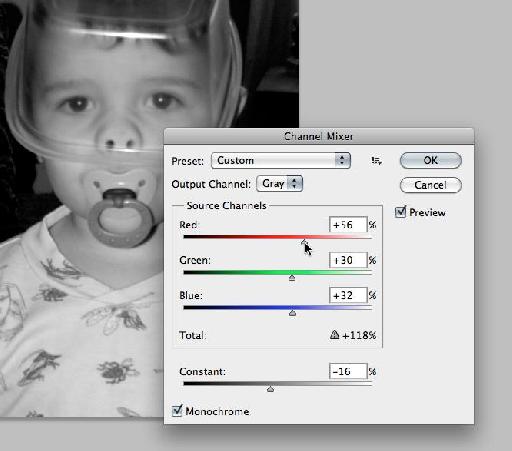 If you don't like the results that you're getting, hold down
Opt
(Mac) or
Alt
(PC) and that will change the dialog box's Cancel button into a Reset button, allowing you to start again. Have fun!
Para saber más cómo-a sobre retoque fotográfico con Photoshop .