Have an enlightening experience with Photoshop CS6's new lighting filter'¦ Iain Anderson demos its finer points and discovers how awesome and easy it is to use.
Você pode ter lido algo sobre a Galeria de borrão novo, incluindo Tilt Shift nova e efeitos Iris Blur. Na verdade, eu espero que você fez que eu escrevi sobre isso aqui ! Algo semelhante existe no Photoshop CS6 para a Galeria de Iluminação, reinventando um recurso antigo com uma interface nova e tornando muito mais fácil de usar. (Na verdade, você pode nunca ter visto os efeitos de iluminação antigos filtro. Isso não funcionou no Photoshop padrão CS5s modo de 64 bits no Mac).

Antes de começar, devo dizer que a sua não normalmente sábia escolha um para simplesmente corrigi-lo no posto. Se você pode captar a imagem na câmera, fazer. Mas deve uma luz falhar ou ser colocados incorrectamente, não é um desastre. Você pode, de fato, adicionar um grau de iluminação realista após os tiros foram tomadas, de maneira muito semelhante a adicionar um borrão. E como com os borrões, quanto mais você tentar se safar, o menos realista que parece. Exagere, e sua claramente falso.
Passo 1 - O filtro de um, assim
Como acontece com qualquer filtro, você deve ligar sua camada alvo (s) em um Objeto Inteligente antes de o aplicar. Dessa forma, você pode direcionar várias camadas sem achatar-los, você pode alterar as configurações de filtro depois que eles já foram aplicadas, e você pode mascarar o filtro, onde você não quer aplicá-lo.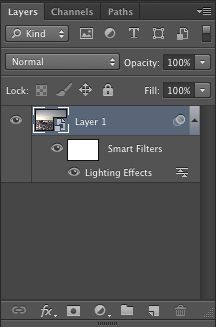 Isto é o que um objeto inteligente deve ser semelhante no painel Layers.
Para uma camada de controle do mouse e escolha Convert to Smart Object. Por mais de uma camada, clique no primeiro, Shift-clique no passado, então o controle do mouse e escolha Convert to Smart Object.
Passo 2 - Faça-se a luz!
Escolha Filtro
Move the center control (or anywhere inside the light area) to reposition the spotlight.

Drag the light circle just outside the center control clockwise to increase the light intensity, or counter-clockwise to decrease it.

Drag on the small white circles on the solid lines to rotate the spotlight.

Drag just outside the small white circles on the solid lines to rotate the spotlight.

Neste modo, você não pode redimensionar a janela ou entrar no modo de tela cheia, para usar o comando-mais algumas vezes para fazer a imagem ea janela maior, então Command-Option-menos um tempo pouco mais para fazer a imagem, mas não a janela menor. Agora você pode manipular os controles que estão fora da janela. Alguns tipos de projectores realistas precisam de ser muito maior do que a própria imagem.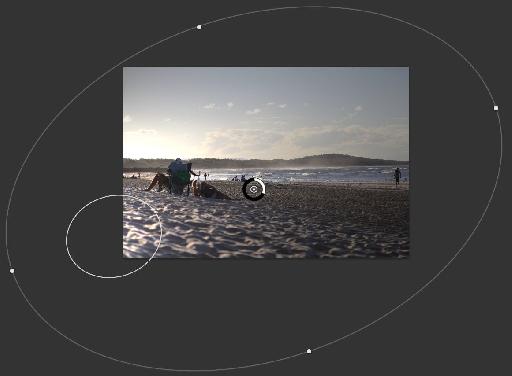 A imagem pode precisar de ser menor do que a janela.
Passo 3 - Mude-se!
Dê um duplo clique sobre o texto efeitos de iluminação no painel Layers para voltar a entrar no modo de Iluminação Effects. Você pode mudar o que quiser, incluindo uma gama de configurações no painel Propriedades que a tela de toque não pode controla: Colorize, Gloss, Metálico e ambiente.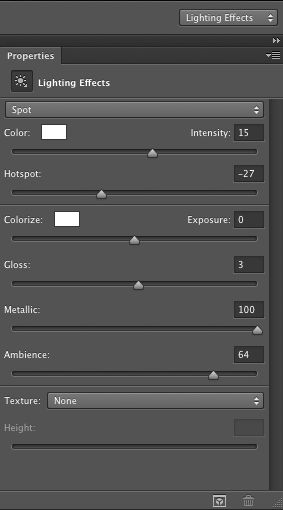 A iluminação Efeitos propriedades.
Como adicionar mais luz? Olhe para o canto superior esquerdo, e clique em um dos ícones para adicionar outro Spot Light, um ponto de luz, ou uma luz infinita. Um ponto de luz ilumina uma área, e tem uma vantagem arrastável verde. Um infinitos pontos de luz em uma direção, e oferece um controle arrastável 3D provavelmente de uso mais quando se trabalha com objetos 3D.

Escolha uma predefinição ou adicionar uma nova luz a partir do canto superior esquerdo.
O que mais? Se a luz se foi um pouco errado, redefini-la usando o botão à direita dos botões que adicionou novas luzes, no canto superior esquerdo. E se youve acrescentou muitas luzes, desligá-los ou excluí-los inteiramente usando os controles no painel de luzes na parte inferior direita.
Passo 4 - Escolha uma predefinição
Para ter uma boa idéia de algumas das capacidades, tente algumas das memórias, como Círculo de Luz, encontrada no menu no canto superior esquerdo. Eles podem não ser realista, mas eles mostram o que você pode fazer. Se você quiser ajustar a iluminação em um único tiro, você vai provavelmente ser melhor servido por um casal de simples, sutis, refletores brancos.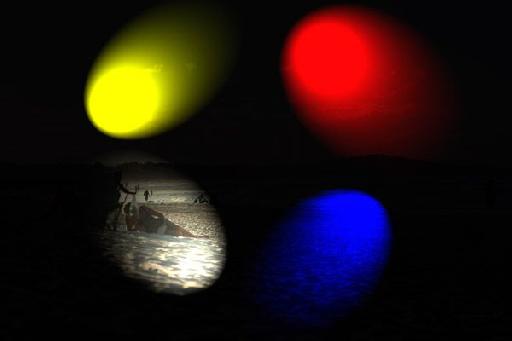 Conclusão
Tal como acontece com muitas características em Photoshop, uma opção rapidamente, demitido pode ser usado com bons resultados se for dada uma chance. Só porque você pode usar cinco luzes infinitas em cores do arco-íris não significa que você deve. Da próxima vez que você for tentado a acrescentar luz localizada, com uma camada de ajuste rápido, dar efeitos de iluminação um ir em seu lugar.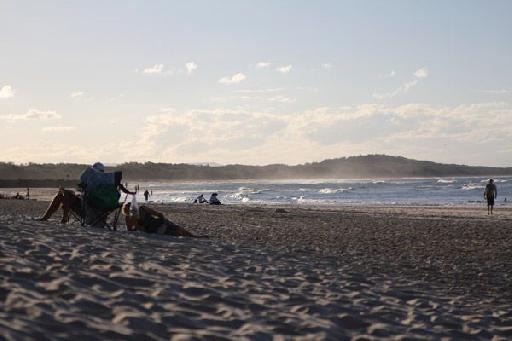 A imagem original, antes de quaisquer efeitos de iluminação.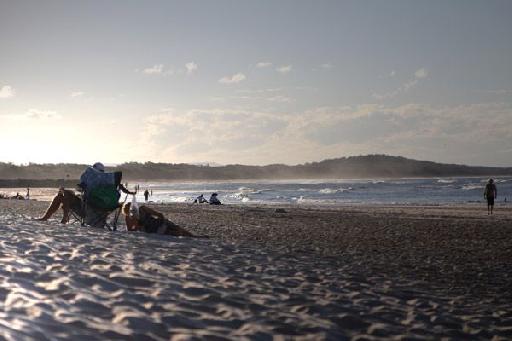 Depois de um único holofote foi adicionado.