Iain Anderson examines two stand-out areas of Photoshop CC (Creative Cloud) which have us pretty excited: The new features in Camera Raw and Smart Sharpen. Editing images has never been easier!
You've likely read of the new Photoshop CC features here on The Hub already (Photoshop CC: New Features, Part 1 and Part 2). This time around, though, we'll be taking a more in-depth look at the new goodies in Camera Raw, and the new Smart Sharpen features.
Camera raw as a filter
This is a big one. Previously, the only way to access Camera Raw after its initial application was to remember to press Shift as you finished, turning Open Image(s) into Open Object(s). That way, Camera Raw was effectively applied as a Smart Filter to a Smart Object.
Now, though, you can apply it at any stage of the process, to any layer or any Smart Object. Because it combines almost every useful color, toning, sharpening and healing operation, this could transform the way you work. If you used to add a few adjustment layers for color correction on top of a regular background layer, take a really good look at using Camera Raw instead.
To apply Camera Raw to your work, first select all the layers you'd like to combine, by clicking of the name of the first layer, then Shift-clicking on the name of the last. (If you only have a Background layer so far, you can skip this step.) Right-click one of the layer names, then choose Convert to Smart Object.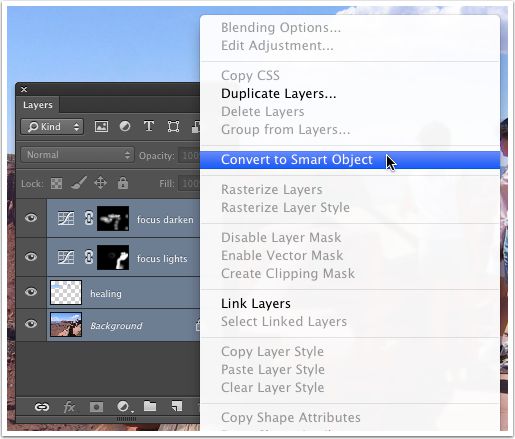 Just select all your layers and right-click.
Finally, choose Filter > Camera Raw Filter.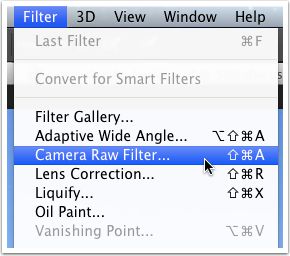 Always apply filters to Smart Objects to allow non-destructive editing.When you've played with all the new settings, you'll see it in the Layers panel, applied to a Smart Object as a Smart Filter. Double-click the 'Camera Raw Filter' text to re-edit the Camera Raw settings. There's no need to ever flatten this down, and it's got almost everything you need for basic and advanced adjustments. Fantastic.

Healing/spot removal
This new feature allows you to paint over an area, then choose where the replacement pixels are coming from '" somewhat like a hybrid between the Healing Brush Tool and the Patch Tool. It works well, and as you can see in the screenshot, you can press / to 'auto patch the selected spot', which in practice means that the source area moves to a new spot, semi-randomly, each time you press it.

The green part spots over the red part, then heals nicely.
Adjustment Brush
While the ability to use Camera Raw as a filter is novel, tools like the Adjustment Brush are not, yet they are now more accessible than ever. It's never been easier to paint on light, dark, contrast and more, and while you can still use advanced adjustment layers with masks to paint the sky darker, for example, it's probably now easier to use Camera Raw.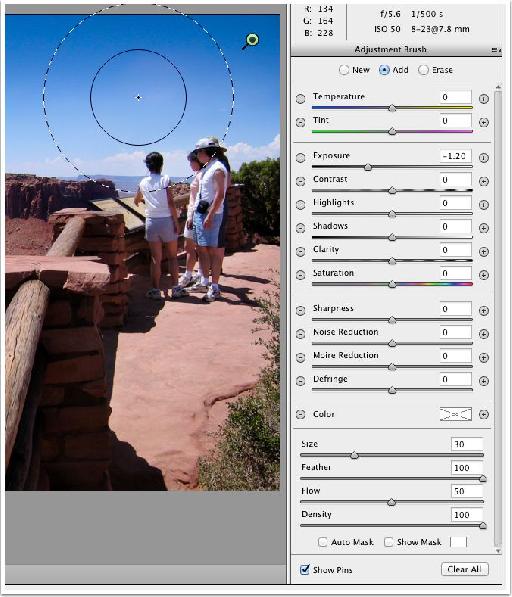 Painting light, contrast, shadow, or color has never been easier.
Radial Filter
The new Radial Filter option here makes it easy to focus attention on part of the image by vignetting the rest of it. Draw your circle over the part of the image you want to focus on, then switch to adjusting the Outside of the cirle at the bottom right of the panel. Similarly to the Adjustment Brush, you can attack many, many properties here, including Exposure, Contrast, Highlights, Shadows, Clarity, Sharpness, Noise Reduction and more. It's very powerful indeed.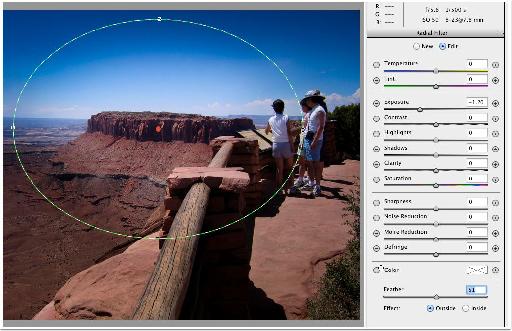 A wee bit less subtle than an edge vignette, this one.
Upright for deskewing
One new feature which is really designed for photos fresh from a camera is the newly updated 'Upright' deskewing panel in Camera Raw. This is a new, magic option, in addition to the existing Profile Corrections which correct for lens distortion.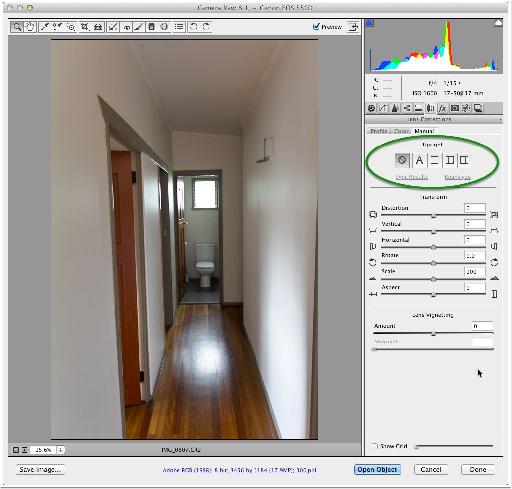 Here's the original (dull) hallway image and the full dialog, with only Lens Correction applied.
There's a Level option, which automatically corrects for a tilted shot.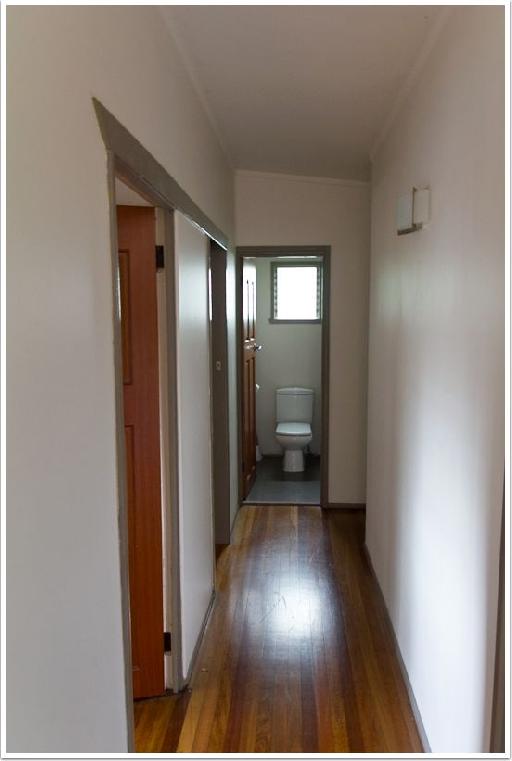 Just the Level option applied is pretty handy '" never manually rotate an image again?
So far so good, but the revolutionary other options here also force any nearly-vertical lines to be actual vertical lines. The Vertical option applies both level and vertical perspective corrections, while the Full option locks down level, vertical and horizontal perspective corrections.
This last 'Full' option can be a bit much with some photographs, as it's pretty agressive in its interpretation of which lines it straightens.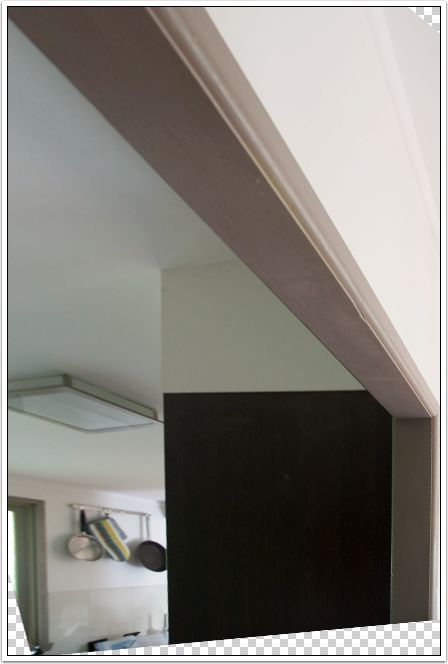 A different image, showing how crazy Full can get.
The Auto option provides a 'balanced' alternative.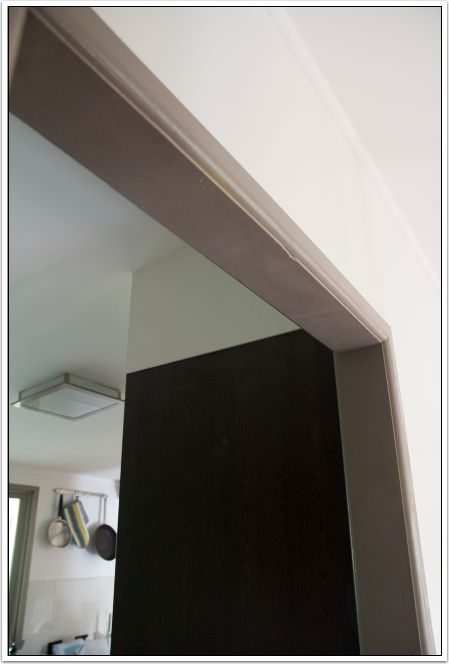 In this case, Auto stays closer to reality.
The Transform options below allow you to shift your perspective, rotating the angle of the photograph in an intelligent way. It's pretty remarkable stuff, and I can only imagine how real estate photographers are going to love it '" even more than the Adaptive Wide Angle feature from CS6.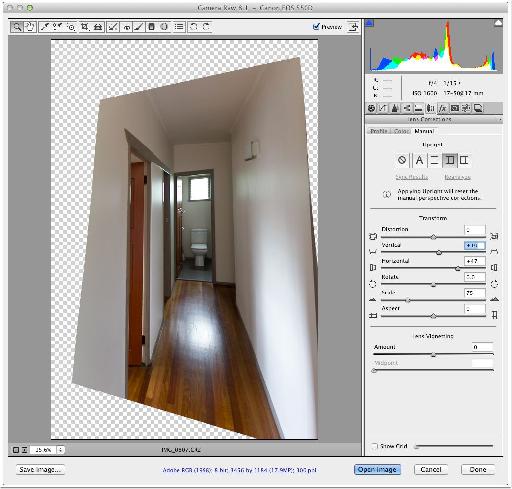 The first image again, but seen from a different angle?
A better way to resize images
Another key feature in Photoshop CC are some smarter sharpening algorithms, to be found in a couple of places. First is the venerable Image > Image Size dialog, which now shows a preview window and gives a new algorithm, Preserve Details, for enlargements.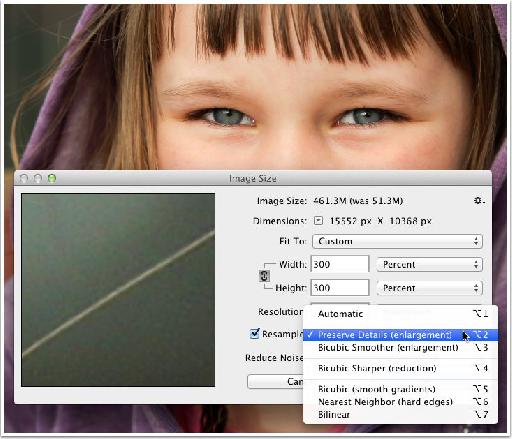 Here it is '" the preview and the new option chosen.
Choosing this setting gives noticeably better (to my eyes) results when making an image larger. I'd no longer hesitate to double the size of an image, and unwanted haloing around high-contrast edges is kept to a minimum.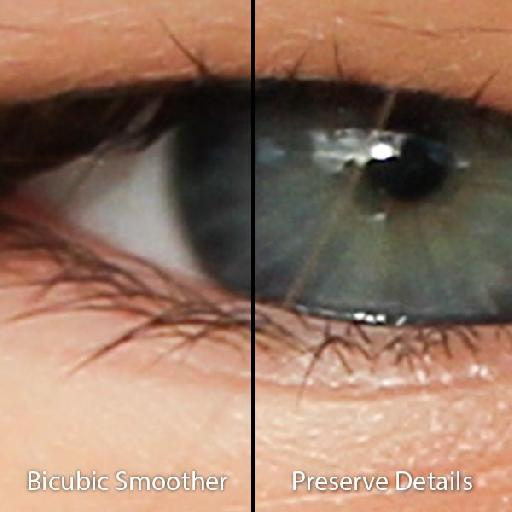 It's difficult to show this on the web, but this 300% enlargement shows sharper details on the right side.
One note: if you're using Smart Objects, they'll always resize in their own way, referring back to the original image. Only real pixels are affected by your chosen settings in Image Size.
And a smarter sharpen to finish off
While we've had a Smart Blur for a while, we haven't had a Smart Sharpen. The new algorithm here focuses on keeping higher-contrast areas sharp while allowing lower-contrast areas to retain their smoothness. Where Unsharp Mask has often been too strong, Smart Sharpen avoids haloing, and avoids the artificially sharpened look which is a hallmark of overdone Unsharp Masking.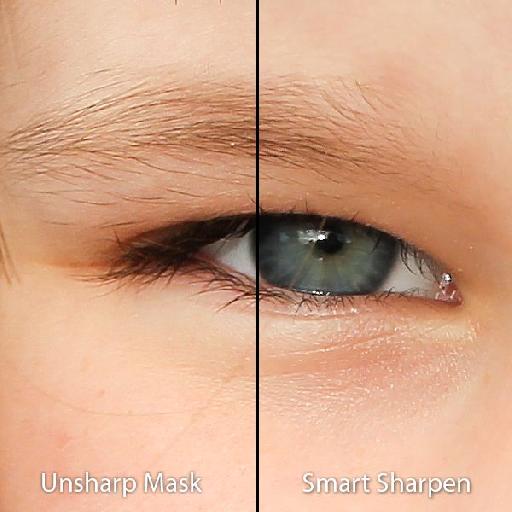 The Unsharp Mask on the left has sharpened low-level noise, while the Smart Sharpen has left it safely alone.
Conclusion
Taken one by one, these changes might not seem like such a big deal, but they can prove transformative to your workflow. By adopting heavier use of Camera Raw as a Smart Filter, you can greatly simplify the number of adjustment layers you use, while giving up nothing in flexibility. The new Upright feature will be fantastic for anyone photographing any part of a building, and Sharpening is noticeably improved. While you should always strive for the best shots possible, there's never been a better time to cheat in post.