Why is it whenever you take a photo of friends or family, there's always someone with their eyes closed! Iain Anderson shows how to solve that in this eye-opening Photoshop tutorial.
If you've ever taken a family portrait, you'll know how hard it can be to get everyone to smile, open their eyes, and stop pulling on their cousin's hair all at the same time. While some cameras now have a function to only snap a shot when they detect a smile, that simultaneous pose can still be a challenge to capture. The answer, of course, is to fake it in post. We're not going to fake anyone's expression or paint in any eyes here, though'"we'll just pick the best parts of all the photos you've taken.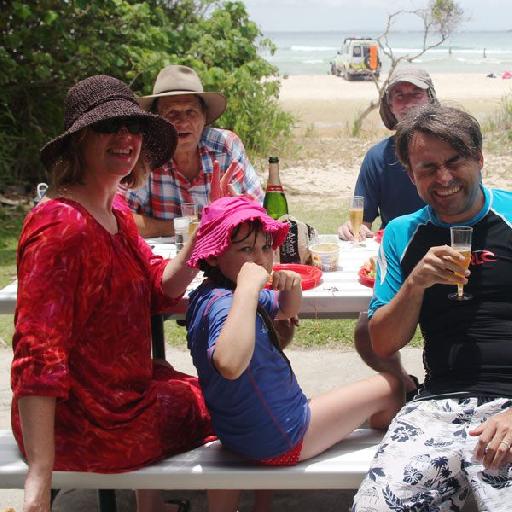 Blinking at the wrong time?
Import the photos
For our purposes here, it doesn't matter what you use to import and manage your photos. I personally like Aperture, but if you're using Lightroom or iPhoto they can work well too. Even good old Image Capture can provide a good way to just copy photos from your digital devices, and that can be useful when you want to do something special with just a few images, like we're going to do today. However you get your images, start by selecting a series of photos taken in the same position, preferably on a tripod, and preferably with motor drive. The more similar these photos are to one another, the better a result you'll get.
Open them all in Photoshop
Photoshop has a built-in feature for aligning images, and you should use it even if you used the aforementioned motor drive and tripod'"it simply saves a lot of copying and pasting.

Here are four images we'll be working with today.
First, launch Photoshop, then open all your images at the same time, and close anything else you've been working on. I'll assume you've been shooting JPEGs and that they'll all open immediately, but if you've shot RAW, be sure to synchronize settings between all your shots to treat them in the same way.
Align the pictures together
Now smoosh them together with File > Automate > Photomerge.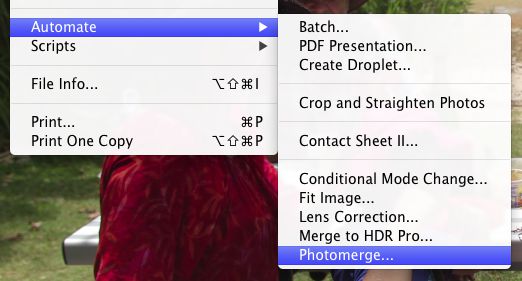 Photomerge is here in the menus.
In the dialog that appears, press Add Open Files. Choose Reposition in the bottom left corner to simplify what you're asking Photoshop to do.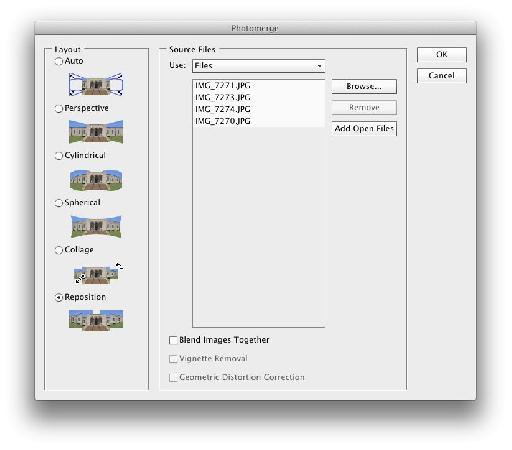 The Photomerge dialog in typical use.
Also turn off the Blend Images Together option, as we'll be doing that manually. You'd leave this option on if you were building a panorama'"that's right, this is also the main tool you should use for building panoramas.
(If panoramas are your goal, you'd leave the main setting on Auto, and if there's any whiff of lens distortion, check Geometric Distortion Correction to get rid of it. For this to work, you also have to be working with camera-original files. We're just scratching the surface here, but that's OK.)
Review the images
After a short bout of processing, you'll be left with a layered file featuring all your images, lined up perfectly. Each layer is named for the file it came from, which is convenient. (I should probably also mention that this is what Christmas lunch actually looks like in Australia. No snow here outside of a shopping mall's Santa's photo booth.)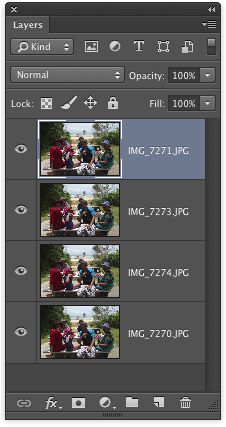 Here's the layered file I'm left with.
Review each shot by Option-clicking the eye next to each layer. Option-clicking hides all other layers, so it's a good way to find the best shots.
Start with a good shot
You'll want to find a shot that's mostly good as a starting point, then put parts of the other shots on top to cover up any flaws in this one. In this example, let's say I like the central two figures and the beach background in IMG_7270, the right figure in IMG_7271, and the leftmost figures in IMG_7274. I'll begin by putting IMG_7270 at the bottom, and putting IMG_7273 underneath with visibility off'"it's potentially going to remain unused. The other layers will remain above the base layer IMG_7270, but turned off for now.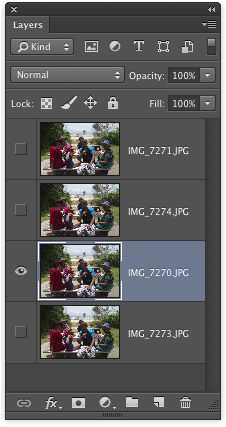 Here's the starting layer position.
The next step will be to selectively add parts of the other shots.
Mask out the next layer
On the first layer above your base layer, press the space where the eye should be to show it, then hold Option and click on the Add Layer Mask icon at the bottom of the Layers panel.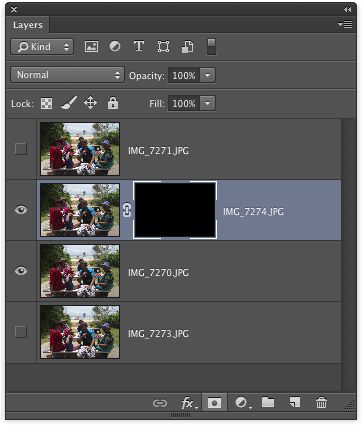 Hold Option, press the button that's lit, and you'll see this result.
Why Option? Because it blacks out the mask as it's created. If you just press the button, you'll get a white mask, and you'll need to fill it with black before proceeding further.
Paint in good parts of other shots
Press B to select the Brush Tool, hold Control and Option together, then click on the canvas and drag left and right for size or drag up and down for hardness. You'll want a big, soft brush, and here I've gone for both.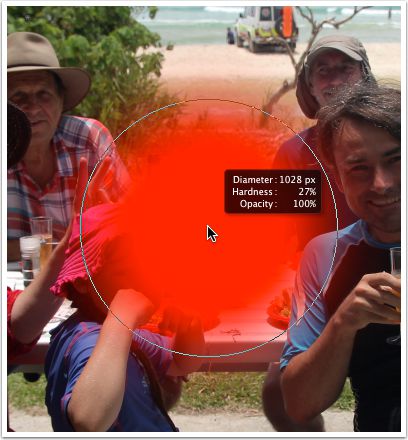 Control-Option-drag is best, but the good old square brackets will do in a pinch.
Press D to choose Default colors, and you'll be painting with white. Make sure your mask is selected, then paint over the areas you want to show from this layer. If you go too far, press X to swap foreground and background colors, then paint again (in black) to hide areas.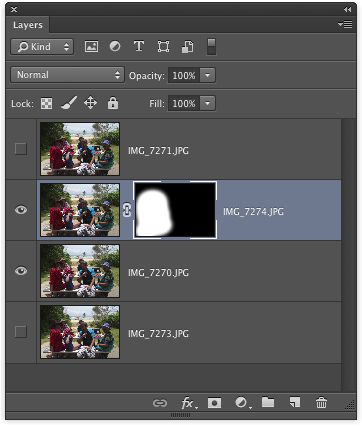 In this example, I've included the figures on the left from the IMG_7274 layer.
Now simply repeat these steps with any other layers you wish to incorporate. With any luck, there will just be one or two you need to work with, but you could extend this technique for special effects such as one person appearing many times in the same frame. (For a few more tricks to do with Layer Masks, try reading this article: 5 Layer Mask Tricks in Photoshop CS6)
Correct them together
An adjustment layer will hopefully sort out any color correction required, so add a Curves adjustment layer by choosing Curves from the black-and-white-cookie-like button at the bottom of the Layers panel, then get to work. Of course, you can take this as far as you like (see Non-Destructive Lighting Correction with Adjustment Layers in Photoshop).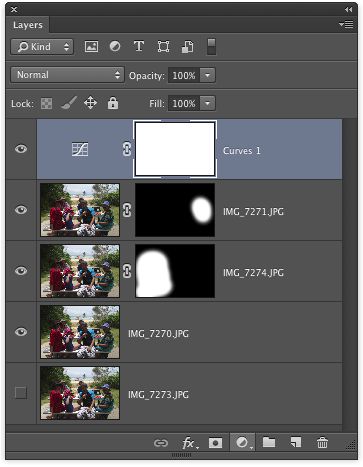 Here's the result after pressing the highlighted button.
NOTE: For changes that involve filters like Unsharp Mask or the Shadow/Highlight feature, select all image layers, right-click on a layer name, then Convert to Smart Object. You can now add Filter > Sharpen > Unsharp Mask or Image > Adjust > Shadow/Highlight non-destructively, but still double-click the Smart Object to adjust layers or their masks.
Export for sharing
Use File > Save to keep your original layered file, just in case you change your mind about anything later. For sharing, use File > Save for Web, then create a reasonably sized JPEG (maybe 1000-2000 pixels across) at a reasonably high quality setting'"perhaps 70.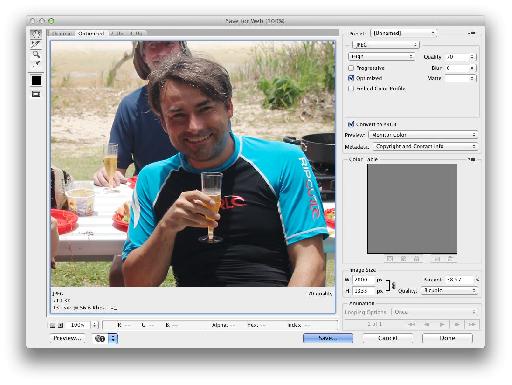 Lowering the size before the quality can save you a bit of time.
And that's that'"best of luck keeping all your family members' eyes open.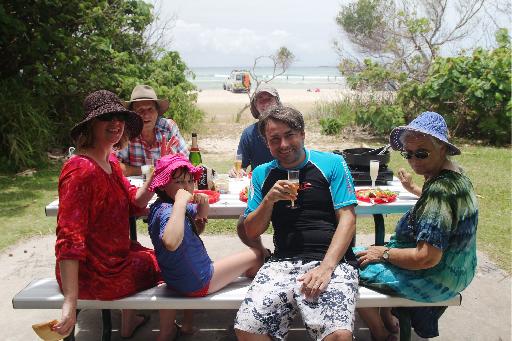 Cheers!