My friend and neighbor Jordan Rudess, keyboardist with Dream Theater (and macProVideo instructor!) asked me a couple of years ago to help him out with a quick project - shooting some promo images of h
Mi amigo y vecino, Jordan Rudess , tecladista de Dream Theater (y ! instructor macProVideo ) me preguntó un par de años para que lo ayude con un proyecto rápido - rodar algunas imágenes promocionales de él la celebración de un nuevo teclado Roland. Todo ocurrió en un plazo muy corto, así que esa tarde nos fuimos en frente de mi casa y se utiliza una pequeña cámara digital Sony para rodar algunas imágenes. En el apuro, sin embargo, Jordan logró olvidar que afeitarse la cabeza, y cuando revisamos las fotos, me preguntó si podía deshacerse de su barba.
In this tutorial, I'm going to show you one quick 'n' easy Photoshop approach to this problem.

Paso 1 - Abrir la imagen y Zoom In
Tenemos que trabajar a la máxima resolución disponible para obtener un buen afeitado aquí.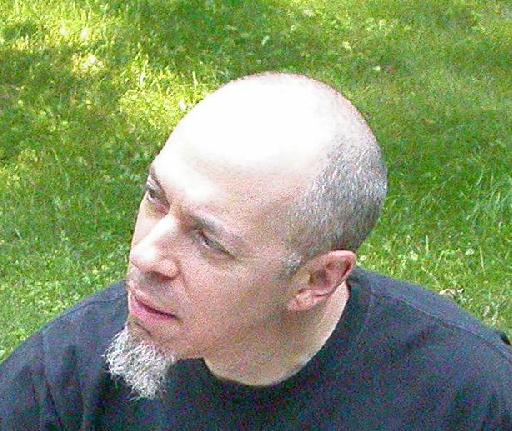 Paso 2 - Seleccione la herramienta Tampón de clonar
La herramienta Tampón de clonar (que también se eligen pulsando "S" en su teclado) le permite pintar en una imagen con píxeles que recogemos de otras áreas de la imagen, y es la herramienta ideal para este trabajo - que vamos a lo utilizan para pintar sobre la piel del cuero cabelludo sin afeitar, con la piel limpia de otras partes de la cabeza de Jordania.

Paso 3 - Establecer el tamaño del pincel
El siguiente paso es configurar el tamaño y la dureza de la herramienta Tampón de clonar, que establecerá qué tan grande un área de píxeles que vamos a recoger y pintar. Para ello, haga clic en el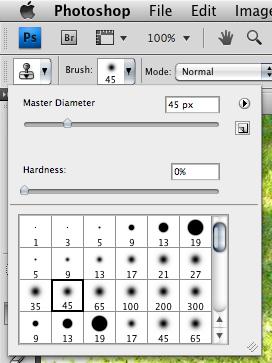 Este cepillo nos dará un área de pintura relativamente pequeña comparada con la cabeza de Jordania, por lo que se puede pintar con precisión, y una en la que los píxeles pintados se mezcla sin problemas en los píxeles del fondo.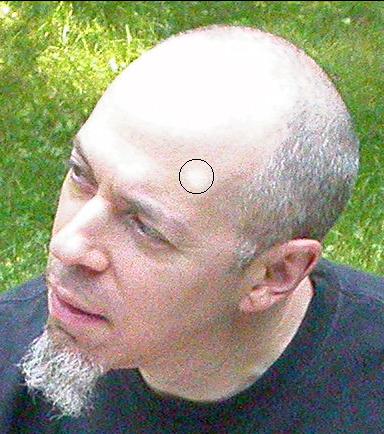 Paso 4 - Ajuste el punto de clonar y empezar a pintar
Aquí está el paso más crítico - el establecimiento de la zona desde la que se va a copiar los píxeles para pintar. Para establecer el punto de clonar actual, mantenga pulsada la tecla Opción (Mac) o la tecla Alt (Windows), para que veas el icono en forma de cruz, mueva el Tampón de clonar para el punto desde el que se desea clonar, y haga clic para establecer el área de clonación.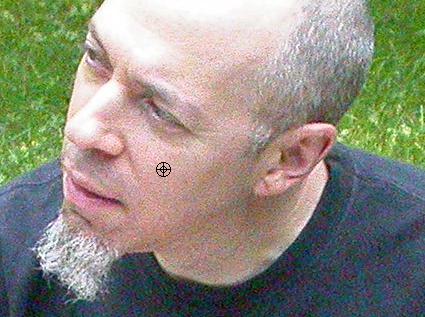 Lo que estamos tratando de hacer es encontrar áreas sin pelo de la cabeza de Jordán, lo que coincide con el resto de su cráneo pelado con el fin de pintar la barba con la piel clara. Cualquier lugar de la cabeza que coincide con el color y el brillo de la piel próxima a la zona de afeitar va a funcionar, y usted puede probar el partido por el posicionamiento de la herramienta Tampón de clonar en el área donde usted desea pintar: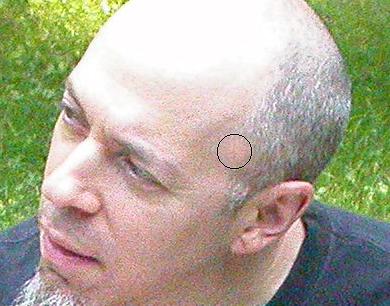 Si el área de la muestra dentro del círculo Herramienta para clonar Sello parece que va a ser un buen partido, haga clic y arrastre para pintar la barba con la piel clara: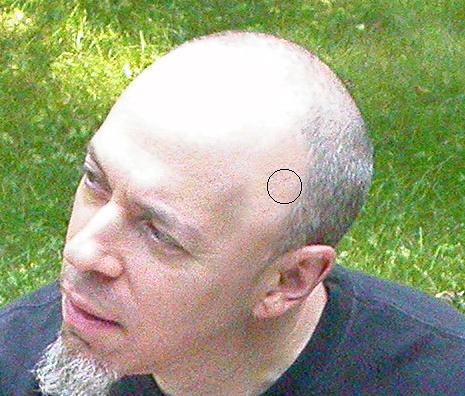 Use movimientos cortos, y ser conscientes de que el Tampón de clonar la zona clon se mueve en paralelo a la zona donde se está pintando (por defecto). Eventualmente llegarás a una zona donde el clon no será el tipo correcto de los píxeles. Cuando lo haga, demos un paso atrás y volver a muestrear el punto de clon de otra área de la cabeza.
Paso 5 - Continuar la pintura para quitar todo el pelo
Por lo tanto, sólo seguir la pintura y el ajuste del punto clon como sea necesario hasta que todo el pelo se elimina. Puede que tenga que mover el punto de clonar con la frecuencia que cada movimiento para que coincida con el color y el sombreado de la piel. Con un poco de corrección de color al final de mejorar la imagen y hacer que el tono de la piel un poco más rico, que terminará con una convincente afeitado: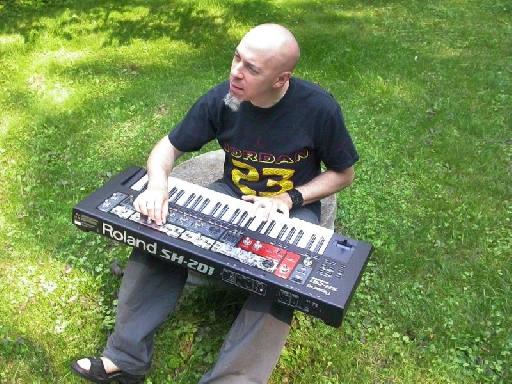 Y eso es todo!
¿Necesita más la imagen de Photoshop retoque know-how? Marque este tutorial a cabo !