Simple Photoshop: 7 tips to make Photoshop easy-peasy for non-graphics professionals
You may not rate yourself as a professional graphic artist, but it doesn't mean you can't have fun in Photoshop! Elaine Ashburn shares 7 easy tips that'll make your pictures the talk of the town.
Sometimes you just wish you could do it all yourself. There's that photo you have that you like a lot, but if you were just able to do a little retouching to it, it would be perfect. Sadly, a lot of those tutorials are just too complicated for someone who isn't skilled in Photoshop. Kind of like chasing after your own tail '" but I hope to make this so simple that you actually get it. I used CS6, but these tips work in most versions of Photoshop.

Tip 1: Simple color-correcting
I know the vampire look is in, but some of us would rather not look dead yet. Using curves and brightness/contrast are two of the easiest ways to color-correct an over- or under-exposed photograph. I'll use myself as an example. The original photo was over-exposed and I was on my way to becoming a Cullen. To darken it, go to Image (the third header to the right after the Photoshop name on the very top bar), then move your cursor down to Adjustments and then over to Curves.

The Original Photo (left), where to Find 'Curves' (center), and the Curves' Dialogue Box (right).
This will bring up a dialogue box with a line cutting it in half diagonally. This line is moveable and to darken the image move the central point on that line downwards until your optimum color adjustment has been made. It is usually a very slight adjustment.
To adjust an under-exposed image (too dark) simply move the line again from the center point, but upward.
You should now have an image where the color feels in the normal-range. It may not yet be optimum, so we'll need to adjust the brightness and contrast.
To do this, go to Image>Adjustments>Brightness/Contrast.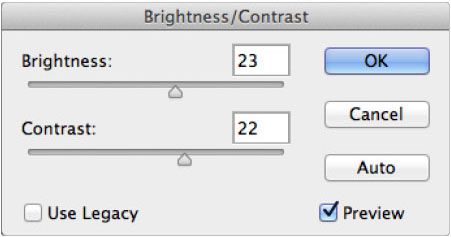 'Brightness/Contrast' Dialogue Box.
You will find a dialogue box with 2 sliders on it. Go to the first slider (Brightness) and slide it to your right to somewhere between 20 and 25 to get the brightness you want. Then slide the contrast slider to the right to bring some additional contrast into the image (I usually find between 14 and 25 does the trick).
Your image should now look the way you want it to.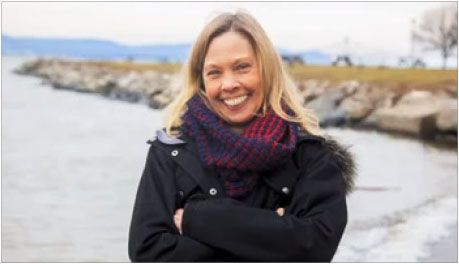 Color-corrected image.
Tip 2: Simple Red-Eye Adjustment
Hitting someone in the eyes with a flash is a sure way to give them red eye; they didn't even have to have a few beers the night before. Photoshop has built in an easy way to fix this. Blow up your image using the magnifying glass on the toolbar to the left of the image.

Original photo with Magnifying-glass tool and red eye tool highlighted (left), marquising red eye (right).
Using the red eye tool, which is located under the spot healing brush tool (4th icon down from top on left of a 2 column toolbar), draw a marquis around the red eye and click to bring the color back into the eye. You may have to do this more than once depending on how blown-out the eye color is, but it will restore it within a few clicks.

Restoring Color to eye by clicking (left), no more red eye (right).
Tip 3: Removing Facial Blemishes
We can use our same '˜red-eye man' again. As you can see, he has a blemish on his forehead and a big dark circle under his eye. Once again, blow up the image using the magnifying glass tool on the left hand toolbar.
Go to your patch tool.

Original photo with 'patch tool' highlighted (left), Marquised dark circle (center), Dark circle removed (right).
Using this tool, draw a marquis around the dark circle. You'll see two arrows on this tool once you've finished drawing the marquis. You can move around pieces of the face that are near this area to fill in the dark circle.
I used what was below and just moved it up. Photoshop seamlessly fills in the pixels in between so no additional retouching is usually necessary.
You can use this same tool to fix the blemish on his forehead.
Or alternately you can use the spot healing brush tool. To use this one, simply circle the blemish with this tool highlighted and it will pick up nearby pixels to fill the area. Both work well for small imperfections.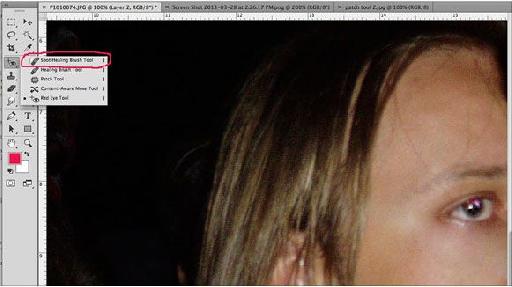 Final retouched photo with 'spot healing brush tool' highlighted.
Tip 4: Dust Reduction and Scratch Removal
When shooting still life images like guitars, the photo usually picks up imperfections such as dust and scratches that were on the object when it was shot. Getting rid of these is a very easy job. You simply use the spot healing brush tool we just spoke about and use it to circle each piece of dust or scratch.

Original photo with dust and scratches on face of guitar (left), Retouched photo '" no more dust and scratches (right).
You may have to step back (Command-Z) every once in a while and take in a smaller amount of the image if it picks up odd colors from nearby. Usually this tool works seamlessly, but occasionally it can get a little quirky. Unfortunately the best way to remove dust and scratches are one particle or scratch at a time.
Tip 5: Bringing out Detail Lost in Shadow
A New York icon of the 1930s, this trolley car has seen better days and so have my meek efforts at bringing out all the grainy, rusted detail with photography alone.
There are times when the light is just not in the right place to bring out the details of a photograph. If an area appears dark, but you know there is detail there, simply use the dodge tool.
Just go over the area you want to bring out with the tool. I'd keep the exposure around 65-70%; so you don't accidently bring out so much detail you blanch out the photo.

Original photo with interior in darkness (left), Dodge Tool (centre), Retouched photo with detail brought out using the Dodge Tool (right).
Tip 6: Bringing Detail Back to Blanched-Out Areas.
This familiar construction site figure in NYC is a good example to use to explain how to bring back overexposed and blanched out areas. Note in visual 1, details of the rat's head are barely discernible, but after using the burn tool on them, with about 20% exposure, we can bring them out and our larger-than-life superstar is once again spiffed up and ready to take on any passerby.

Original photo with over-exposed detail (left), Burn Tool (center), Retouched photo with detail brought back using the Burn Tool (right).
Tip 7: Color Adjusting
Color adjusting is different than color correcting, and Photoshop lets you change colors almost as easily as you can change nail polish. The original sneakers in this example are magenta, but we can very easily change the color of the sneakers to green. Unfortunately just using the sliders on the Image > Adjust > Hue/Saturation changes the color of the entire image.

Original photo with magenta sneakers (left), Duplicate base layer (centre), Finding Hue/Saturation on the Interface (right).
And when it comes to things like skin-tones and background colors, this usually isn't desirable. What I recommend doing is duplicating your base layer (unlock it by double-clicking on it and option-drag it above itself in the layers palette) to create a second layer.

Quick Select Tool (left), Using Quick Select Tool to delete areas we don't want (center), Final retouched photo with green sneakers (right).
On this layer use the Image > Adjust > Hue/Saturation sliders to change the image to green. Then we use our quick select tool to quickly scoop out areas we don't want and delete them to reveal the original image below it.