Perplexed by Photoshop? Confused by colors? Bemused by brushes? Have no fear, Elaine Ashburn is here to take you by the hand in this step-by-step guide on using Photoshop for the uninitiated.
Tip 1: Silhouetting and placing an image into another photo
There are number of ways to silhouette within Photoshop. I took you through a very simple, yet imperfect, way in my May article Simple Photoshop. You can let Photoshop do it for you using the Quick Selection tool (or alternately the Magic Wand tool). As you probably noticed, you had hairy, ragged edges; kind of like a bad haircut. Yeah, I don't use that method in real life either.
The better, more precise way to silhouette requires using the Pen tool and Bezier curves. Don't get scared. Photoshop's Bezier curves are so much easier than either Illustrator's or InDesign's. And once you get the hang of it, it's like riding a bicycle; you'll have the skill for life.
So let's get started. My goal is to have this fish (Image 1) swim in the ocean (Image 2). Obviously it's not a real fish, or a real ocean. But we can pretend :).

Image 1, Image 2
Click on the Pen tool (Image 3). You'll notice that there is a small pull-down menu in the upper left-hand corner near the image of the tool. To silhouette, this needs to be set to '˜path'. Blow up your image to around 200% so you can see the edge clearly. Start at any point around the perimeter and click once. A point will appear. Pull and drag setting down points here and there to create a path around your object (Image 4). Once you've connected back to your starting point, you'll notice that the points go away and a single grey line remains (Image5).

Image 3, Image 4, Image 5
Go to the floating panel on your right that has three tabs across the top: Layers, Channels and Paths. Click on the Path tab. Then go to the down arrow followed by four parallel lines to the extreme right of that tab. If you click and hold on it, a menu will appear. Scroll down to Make Selection. A dialogue box will pop up. The default on it will be Feather Radius '˜0' and Anti-Aliased will be checked. This is what you want. Just say ok. You'll notice that your grey line has turned into a moving dotted line. You've successfully silhouetted your object. Now copy it (Command-C) and paste it (Command-V) onto a new layer (just for safety sake) and also onto the image you want to incorporate it into. For me, it's my ocean (Image 6).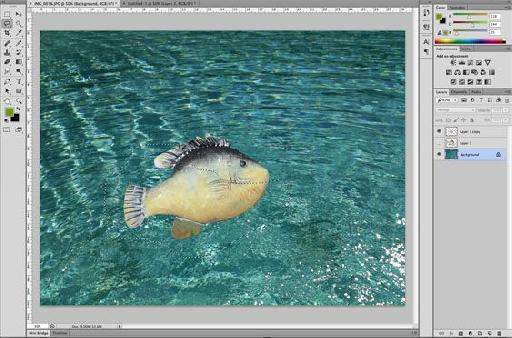 Image 6
Rotate your image as necessary using Edit > Transform > Rotate. You may also want to reduce or enlarge the size of your image. Mine came in much too big. To do that, go back to Edit and this time it's Edit > Transform > Scale. Then place your cursor at one of the corner squares that appear and push in or pull out to either enlarge or scale down your image. You'll also need to hold down the Shift and Option keys together to keep the proportion of the image the same (Image 7).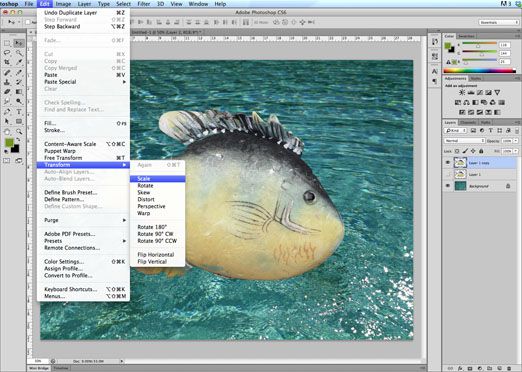 Image 7
Ok, it's not looking too realistic yet, so we need to get a part of it into the water. To do this, draw a marquis around the fish leaving its head out of the equation (Image 8). Move to your base layer (the ocean) and copy the marquised area (Command-C). Move the little hand tool to the top layer (my fish) and paste (Command-V). You'll now have that piece of ocean pasted over the fish.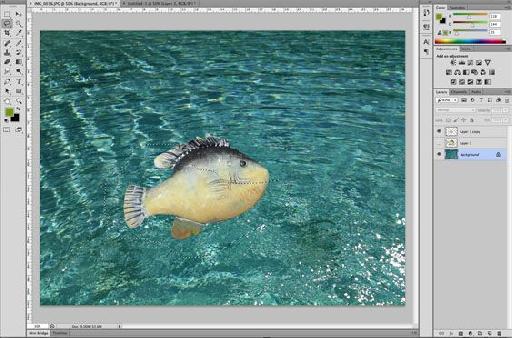 Image 8
In real life, water is transparent, so let's go over to the opacity slider on the right and move the slider to around 50-55% (Image 9) (Image10). It's looking better, but that hard edge through the body of the fish isn't very realistic. Let's get rid of it. Go to the Eraser tool (Image 11). Click on it and using an opacity of around 60% (Image 11b), let's begin to soften that edge (Image 12).

Image 9, Image10, Image11, Image11b, Image12
Real water has undulations to it, so let's create some by duplicating the layer we are on. The easiest way to do that is to simply drag the layer above itself holding down the Option key and using the solid arrow tool (Image 13). Change the opacity on this new layer to around 35% (Image 14).

Image 13, Image 14
We now want to add a little depth to the fish as he looks a little flat. To do this, click on the fish layer (layer1 copy). Then go up top to the Layer pull-down menu. Pull down to Layer Style and then over to Drop Shadow (Image 15). A floating dialogue box will pop up (Image 16). Keep the blend mode and '˜Multiply' as is, but change the opacity to around 29%. Change the angle to follow the shadows in your image, then increase the distance and size to mimic the shadows within your picture.

Image 15, Image 16
Your picture should now be complete.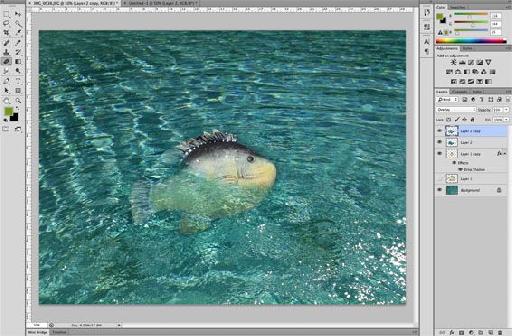 Final picture
Tip 2: Adding a person or replacing a head in a group shot
You can use this same technique to add a person or swap out a head on a group shot. You know there is always someone who looked the wrong way or blinked or scratched their nose or something'¦ even if you took multiple pictures.
Find the best group shot, then take either a full person or the head of a person from the second shot (usually no one looks bad twice). Silhouette that shot by using the techniques I outlined above, then copy and paste it into the other picture. Move it around using the Arrow tool until it is over the original image as closely as you can get it. It may not fit correctly, but if you use the Edit on the top menu as we did before (Edit > Transform > Scale) you can reduce or enlarge the head (or the person you are adding in) to fit the image.
If you need any additional help with what I've just outlined, please email me directly at elaine.ashburn@gmail.com and I will be more than happy to help you. Good luck silhouetting.