Transforming Donald Trump into Hillary Clinton Using Photoshop's Face Aware Liquify Feature
It's presidential election year and we're wondering who will be the next president. So, I've decided to make it easier by turning Donald into Hillary using Photoshop's Face Aware Aware Liquify tool.
First let's get a picture of each of them. Mine came from Shutterstock (Thank you Rounik). I did a little initial retouching to both to brighten them up and get rid of extraneous microphones and wires, but as you can see below, Trump still looks like Trump and Hillary like Hillary. (Images 1 & 2)
Note: This is now my second attempt at this. The first time around I went too far—I added a bob haircut, lipstick and eyeliner to Donald and he ended up looking like an aging drag queen. I decided to go in tighter this time, and leave off the makeup.
The Face Aware Liquify feature
The Face Aware feature is new to Liquify and to Photoshop but it is not new to some other photo retouching programs and I was glad to see it added to this updated edition.
Just what does this feature do?
It automatically detects faces in a photo and allows you to individually manipulate the eyes, nose and mouth. I'm probably going to have to tame those eyebrows by hand—and I don't know what I'm going to do with that hair, except maybe put a wig on it. But let's start with the easy stuff.
Getting started
To get started go to Filter > Liquify in your top pull-down menu. As you can see, it automatically opens a new window and calls out the face in the photo. (Image 3) From there, scroll down to the Face Tool and click on it. To the right you'll see adjustment bars for the Eyes, Nose, Mouth and Face Shape. (Image 4) Lets' start with the eyes.
Hillary's eyes are very open and almost round where Donald's are more squinty and cat-shaped. Using the adjustment tools, I opened his eyes, adjusted the distance between them and changed the tilt. While not fully Hillary's, they are closer. (Image 5) I'm going to go back and adjust the eye height further. Now let's try to get his mouth closer to hers. Donald has a tiny mouth relative to his face, so we'll need to open that up and widen it.
I gave him maximum width on his mouth (which I'll probably have to go back and do again). I also gave him a little more upper lip and a bit of a smile. I then reduced his mouth height to more approximate Hillary's. He's looking better already. I'm also going to copy and paste his left eye onto his right to look more like Mrs. Clinton. I then widened his nose a bit and adjusted the space between his nose and upper lip. I also raised his forehead and increased his chin height. I was hoping to be able to get rid of the jowls by adjusting the jawline and face width sliders but they are still there. I'll have to try something else. Liposuction? (Images 6,7, 8, 9).
I went back in and adjusted his eye height, mouth width and mouth height again. (Image 10) I think this is about as far as I can go with the Face Aware Liquify feature. To soften Donald's face a bit and to get rid of his eye bags and deep forehead creases, I went back to a tried and true device— The Spot Healing Brush Tool. By simply circling the areas, a little at a time, using a brush size of about 13 pixels, I was able to get rid of the bags, the smile lines and the deep forehead creases. Hmmph. Who needs Botox? (Image 11)
Unfair, me?
It just came to my attention that perhaps I'm not being fair. This isn't a one-way street and I should make Hillary look more like Donald, too.
Let's start with her eye height. To get that squinty look I'll probably have to go in a number of times. Let's see what it will take? I gave it four times at 100% and that pretty much achieved the look. But if I wanted to, I could also copy and paste her right eye and reduce it further using conventional methods (similar to what I did with Donald). I also thinned out her nose and went in 4 times to narrow her mouth and face in general. (Image 12, 13 & 14)
This is Hillary as close to Donald as the Face Aware Liquify feature will allow me come, and as you can see her mouth and eyes are already beginning to bitmap from over-manipulating them. (Image 15)
So, now let's compare. The original Hillary against adjusted Donald and the original Donald against adjusted Hillary. And yes, I'll admit they are scary. But Halloween is right around the corner. (Image 16)
Of course I did go to extremes here. This is really not what this feature is meant to do. It's meant to be a photo-manipulation tool to subtly enhance model head shots and fix camera distortion flaws. But it was all in good fun and I think I achieved my goal of changing each into the other.
Although…maybe I should just put them together as one molded image? ☺ (Image 17)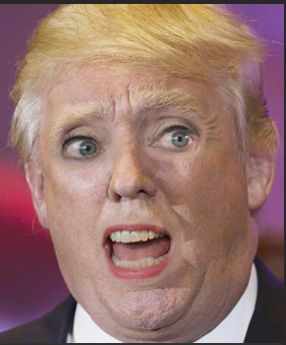 Image 17