Actions are a really great way to save time when repeating common processes. But Photoshop can go one better with Batch Processing to automate those repetitive tasks so you can sit back and relax.
فوتوشوب والعديد من الطرق لأتمتة وتسريع سير العمل. الطريق الأكثر وضوحا للقيام بذلك هي مع الإجراءات التي تسمح لك لتسجيل عمليات تقوم بها على صورة واللعب بها مرة أخرى على صورة جديدة.
عن المهام المتكررة مثل تغيير الحجم ، تطبيقات لا بد وانهم سريع أيضا. يمكنك بسرعة ولكن هذا الأمر خطوة أخرى باستخدام وظيفة الدفعية. أنت لا تملك حتى لإضاعة الوقت فتح الملفات يدويا لمعالجتها. هيريس كيف يمكنك أن تفعل ذلك.
الخطوة 1

لتنفيذ مهمة على مجموعة من الصور باستخدام الدفعية فسوف تحتاج إلى إنشاء عمل الأول. انتقل إلى لوحة الإجراءات وفوق رمز "العمل الجديد".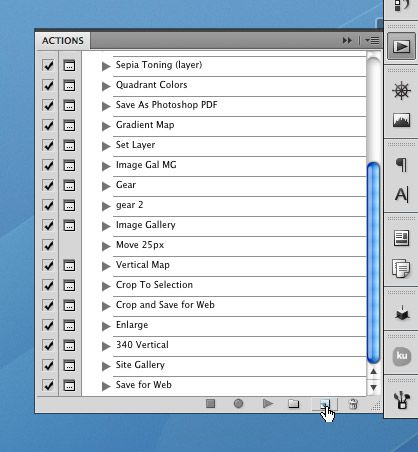 اسم العمل الخاص بك. ايم الذهاب الى هذا الاسم حيويتها / التباين.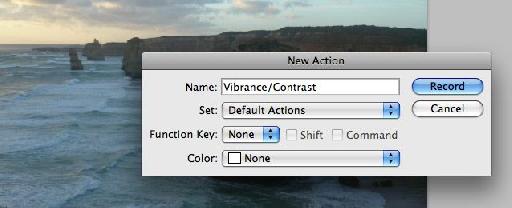 الخطوة 2

ثم عملية الصورة.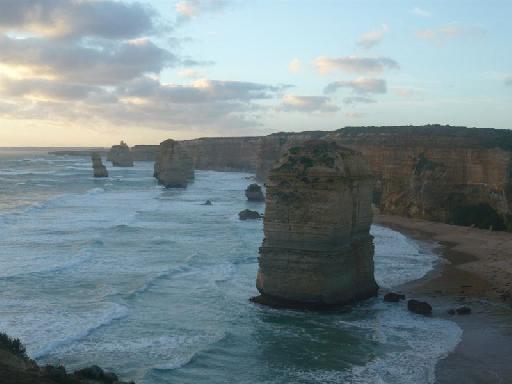 هيريس ما أريد القيام به لمجموعة من الصور الخاصة بي :

Add the Vibrance adjustment to enhance the colors.

Add some Contrast to the images.

Resize the images to 800 pixels wide.

Save them for the Web as .jpg at 70% quality.

Close the original without saving.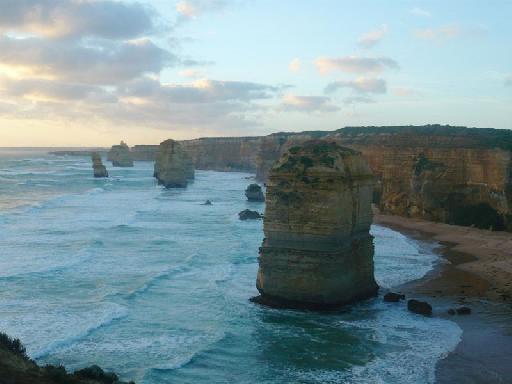 الخطوة 3

بمجرد الانتهاء من ذلك ، انقر فوق "إيقاف" الزر لالانتهاء من تسجيل العمل.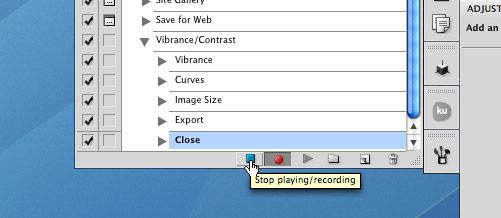 انتقل الآن إلى ملف
تأكد من أن العمل تجاوز أوامر فتح لم يتم التحقق منه ، وإذا تم سحب هذا لن يكون فتح الملفات ما لم يكن هناك قيادة فتح في العمل.
الخطوة 4

اختيار مجلد وجهة للصور الخاصة بك. انقر فوق موافق.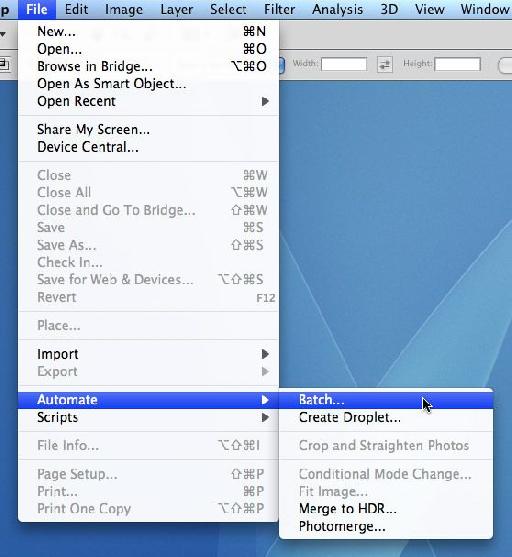 والآن من خلال تشغيل فوتوشوب المجلد ، فتح كل الملفات وتشغيل الإجراء. إذا كنت تريد Photoshop لإغلاق المستند دون حفظ الأصلي بعد الانتهاء من تجهيز ، فسوف تحتاج إلى إدراجه في العمل الخاص.
الخطوة 5

هنا مصدر بلدي والمجلدات الوجهة.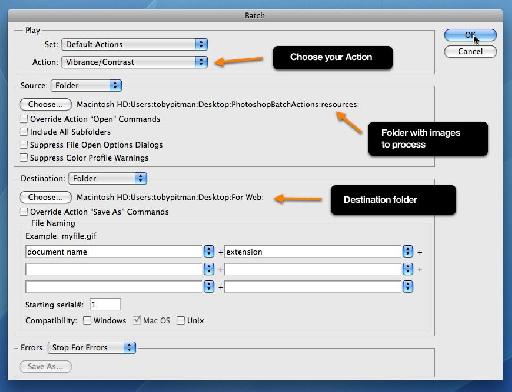 لدي الآن مجموعة من الصور جاهزة للتحميل على شبكة الإنترنت. أخذت الصور eleven حوالي 20 ثانية لهذه العملية. الآن تخيل كم من الوقت سيستغرق يدويا ، ثم رقم عثرة الصورة ل50-100. A timesaver الحقيقي في الواقع!
بالطبع هذا النوع من الاشياء بشكل جيد حيث العمليات لا تحتاج إلى أن تكون محددة على كل صورة. إذا كنت بحاجة إلى قرص المقابل على كل صورة على حدة محشوة كنت أنت! بل هي مناسبة تماما أشياء مثل المهام صورة غير حاسمة وعامة مثل تغيير حجم وضغط لمعالجة الدفعي.
خاطرة النهائي

شيء واحد بارد الأخرى التي يمكنك القيام به هو حفظ العمل بمثابة القطرة. مجرد اختيار "إنشاء القطرة' الخيار بدلا من دفعة في القائمة ملف.
تعيين المكان الذي تريد أن تظهر القطرة (مثل على سطح المكتب) والعمل الذي تريد تشغيله وتعيين مجلد الوجهة.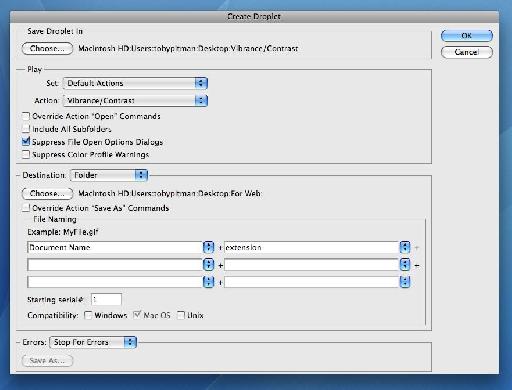 ثم ببساطة سحب وإسقاط الصور التي تريد العملية على القطرة. أنيق جدا!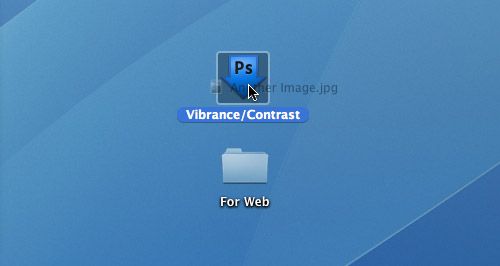 تريد معرفة المزيد؟ تذهب أعمق في فوتوشوب مع هذا التدريب الضروري سلسلة فوتوشوب .