Sure you can make your own brushes and use plug-ins in Photoshop, but what about preset actions? Elaine Ashburn shows how fun using preset actions can be, especially for "painted" effects.
We all know about the preset brushes in Photoshop and about 3rd-party plugs-ins (Deviantart.com) and even how to make your own (the whole craze became overdone and went out as quickly as it came in). BUT, lately I'm fascinated with using Photoshop's preset actions'"especially Frames, Text Effects and Image Effects. They are a lot of fun to use and you can get some cool painterly qualities with them.
They are also easy as pie once you know where to find them and how to load them in.
Let's first load them. Open the '˜Actions' palette under '˜Window'. (Image 1) You'll notice that it comes with some default actions built in. These are a few samplings of what to expect with the other preset actions and are fun to play around with when you have time. But for now lets load in some new ones. To do this go to your Applications folder on your hard drive, find Photoshop, click on it and then scroll down to '˜Presets'. Click on that and scroll down to '˜Actions'. Let's launch Frames, Image Effects and Text Effects by highlighting them together (holding down your Shift key) and then double-clicking. They will immediately load into your Actions palette. (Image 2) They come in with their windows open, but let's close them for ease of use.

Images 1 and 2
Image Effects
I guess I should explain what these actions are before we get started. Photoshop has taken the time to combine a series of '˜actions' that can be automated to create the effect you're looking for. Let's look at Image Effects first. Open up Aged Photo and you'll see the '˜actions' required for Photoshop to create this effect. First it takes a '˜Snapshot of your original', then it '˜Converts it', adds '˜Dust & Scratches', '˜Fades' it, plays around with '˜Color Balance' and '˜Hue /Saturation' before assigning an '˜Unsharp Mask' to it. (Image 3) And it does all of this in about ten seconds or less.

Image 3
I brought in an image to play with. (Image 4) I would find something simple to start with, so that you can see the effects these Preset Actions create.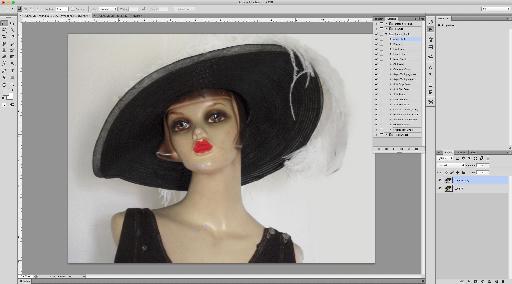 Image 4
Since we just looked at '˜Aged Photo', lets play with that one first. As always I'd make a duplicate of your original by '˜option-dragging' it above it self (Image 5) So to get started, click on '˜Aged Photo' , so it's highlighted. (Image 6) Go to the '˜Play' button at the bottom of that floating palette and click on it. (Image 7)
That's it. In a matter of seconds Photoshop has gone through all the steps involved to create an '˜Aged Photo' look. (Image 8)

Images 5, 6, 7 and 8
Let's try another one. '˜Fluorescent Chalk' is kind of cool. It's the last one in your '˜Image Effects' Presets. Let's turn off the 'Aged Photo effect and go back to our original. Using the same steps as before let's just click on it and let it do its thing. (Image 9) Pretty cool, right?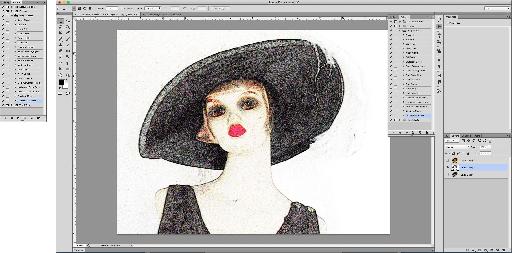 Image 9
Now for some fun stuff. These two effects look great when combined. Move your layers around so that the aged photo effect is under the fluorescent chalk. Then using your overlay button and a percentage of around 38% check out the effect that you get. (Image 10)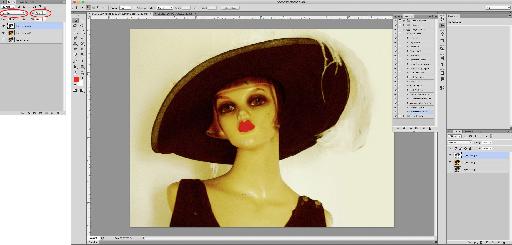 Image 10
The one thing you have to watch out for is that sometimes Photoshop doesn't first duplicate your original and when it doesn't you'll be glad you did or you'll have to revert to get it back. I just once again duplicated my original so I can show you another interesting effect. Lizard Skin. Once again we just need to click on it and let Photoshop take control of all the actions required to get this look. (Image 11) You could see the possibilities with this one'"and it combines well with other effects too. For example, if you move this layer above the Aged Photo effect you get something entirely unexpected. (Image 12)

Images 11 and 12
Text Effects
You can see how you can have a lot of fun creating and combining, but now let's move onto '˜Text Effects' for even more automated options. Let's just type in something so we'll have a text layer. As I know this mannequin is wearing a bathing suit from the '30s, I used that as my headline, although depending on the effect you want to create, Photoshop may ask you to add a text layer to an existing image layer. Just do what it asks of you and you should be ok. For the first example, let's try '˜Wood Paneling'. Doing exactly what we did before, hit '˜Play' and Photoshop creates wooden type. (Image 13)
Another effect that's instant and interesting is '˜Brushed Metal'. (Image 14) One more type effect you can easily create here that had been kind of popular for a while, is a '˜Cast Shadow' look, although I prefer to lighten the opacity down to below 50%. (Image 15) The possibilities are endless, and you can even create an '˜Action Preset' for any action you routinely make by just recording your own step-by-steps. (Image 16)

Images 13, 14, 15 and 16.
Frames
The same way we've been creating text and image effects that would take us several minutes to create without the automated presets, can also create frames for our images.
Let's go back to one of our original images. I'm going to go to the one I combined effects on. Since I want to keep that as a combined image, I'm going to merge the layers. (Image 17)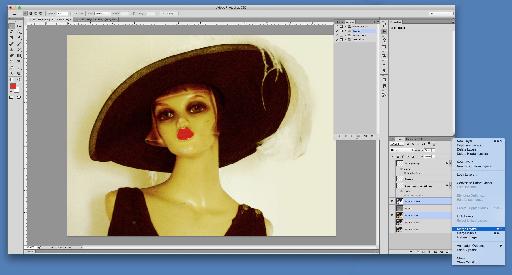 Image 17
So let's make some fun frames. Photo Corners is a nice effect, one that will go well with the old-school image we just created. (Image 18) The only thing with this effect is, you really need to create a layer under it and fill it with black for that old-time photo album look.
Let's try one more. Brushed aluminum. And as you can see, that frame came out nicely, too. (Image 19)

Images 18 and 19
So you can see the possibilities, and these fun actions can lend themselves to a lot of different applications. Just keep playing around and I'm sure you'll find something you like.