The more you work in an NLE, like Premiere Pro, the more you'll want to cut back on repetitive tasks and generally speed up your workflow. David Smith is here to help you do exactly that when editing.
Una omisión muy evidente de Premiere Pro en el pasado ha sido la posibilidad de recortar las ediciones de forma dinámica en la línea de tiempo, confiando en cambio en el panel de ajuste para este flujo de trabajo. Eso no es un problema tan grande que te oigo decir? Bueno no, estoy de acuerdo ... a excepción de las veces usted está tratando de hacer que su combustión teclado con la velocidad de su edición, y luego su enorme.
Así que vamos a tener un poco de
Paso 1 - Crea tu Edit
Si usted tiene un proyecto ya, ¡excelente! Si no, cortar rápidamente algo juntos, por lo que sus clips tienen asas por supuesto, para que pueda recortarlas.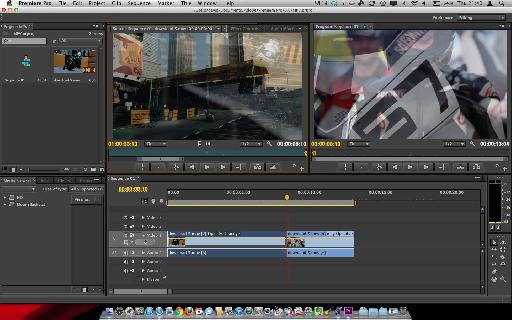 Paso 2 - Participar ajuste dinámico
El modo de Recorte dinámico es muy fácil de activar. Haga clic en el punto de edición entre los clips y un menú desplegable que aparece, enumerando todas las opciones de ajuste dinámico.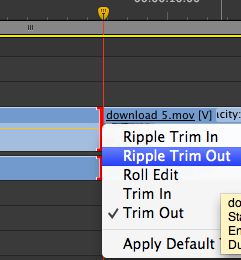 Elija RippleTrim fuera de onda del punto del clip saliente hacia fuera. Para activar la ventana de ajuste dinámico, haga doble clic en el punto de edición.
Paso 3 - Presets Uso Ripple
La ventana de ajuste dinámico se abre en la ventana del programa, que muestra tanto la trama y en el marco. La edición para ser recortadas se indica con una barra azul.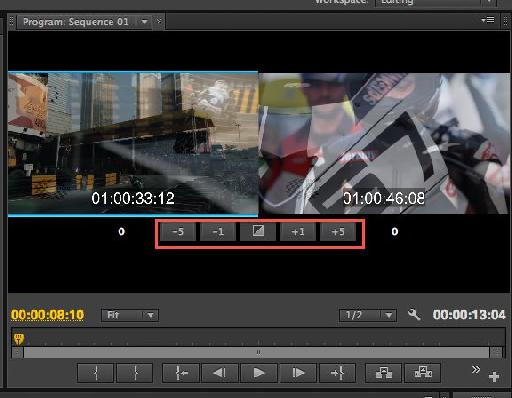 Al hacer clic en el botón -1 moverá el punto de la imagen de la parte trasera de un marco, acortar el clip. Al hacer clic en el 5 se moverá el punto de salida hacia adelante 5 fotogramas, alargando el clip. Utilice los botones para mover el punto de edición en la posición adecuada TIP:. Para realizar un seguimiento de la distancia del punto de edición se ha movido, de entrada y salida los números de referencia de desplazamiento seguimiento para usted en la ventana.
Paso 4 - Teclas Uso Ripple
Intercambio con el clip entrante, haga clic en el árbitro de la ventana Recortar dinámico, por lo que se vuelve azul.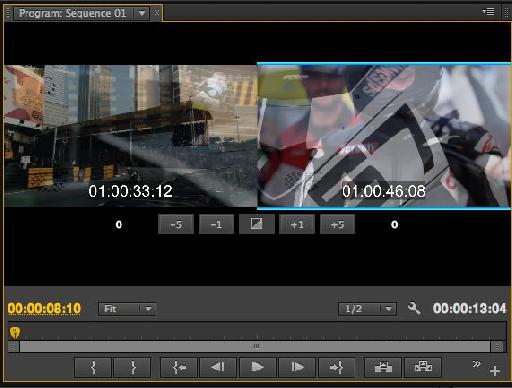 Esta vez, en lugar de utilizar los botones predefinidos, utilice la opción-cursor hacia la izquierda para retroceder 1 cuadro, o Mayús + Opción + cursor derecha para avanzar 5 marcos, si lo prefiere atajos.
Paso 5 - Rollo Editar como un profesional
Coloca el cursor entre los dos clips en el visor, verá que vuelven de color rojo, e indicar la herramienta Roll. Haga clic y ambos clips se vuelven azules, por lo que ambos puntos se pueden editar.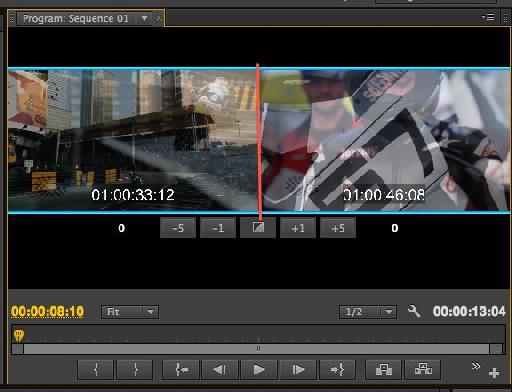 Olvídate de los botones de memoria, o las pulsaciones de teclado. Esta vez vamos a utilizar J, K y L en su lugar, y tengo que admitir que este es mi método preferido. Para rodar las dos ediciones 1 cuadro a la derecha, mantenga pulsada la tecla K y pulse L una vez. Puede repetir esta pulsación de tecla con tanta frecuencia y tan pronto como le sea posible. Usando K y J en vez mueve la edición de un cuadro de la izquierda.
Si usted está sintiendo valiente, pruebe a pulsar J o L para que los clips juegan, cuando el tiempo se siente bien pulse K para detener la reproducción, y ver como los puntos de edición Rollo de los marcos que se detuvo en. Esta técnica le permite editar en tiempo real mientras que usted mira, que es un método muy pulido para su uso.
Paso 6 - Roll de Duración
Si tienes la suerte de conocer con exactitud el número de fotogramas de la edición debe rodar por, y en qué dirección antes de empezar a cortar, entonces usted puede utilizar el teclado numérico para insertar duraciones. Tipo 1 para mover 1 segundo a la derecha o para mover -12 12 bastidores izquierdo y así sucesivamente. Como ya he dicho, si eres afortunado, él no sucede a menudo.
Paso 7 - Añadir una Transición y Revisión
Haga clic en el botón de transición en la ventana de ajuste dinámico para añadir la transición predeterminada al punto de edición.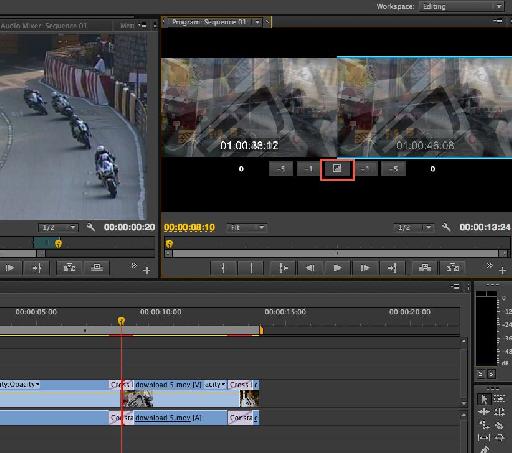 Presione la barra espaciadora en cualquier momento para jugar un adelanto de la edición que usted está haciendo.
Paso 8 - Pasar a la siguiente edición
Ahora que la edición es perfecta (que alejar No hasta que esté bien?), Pulse el cursor hacia arriba o cursor hacia abajo (página arriba o abajo) para mover la ventana de ajuste dinámico a la siguiente o volver a la edición anterior en la línea de tiempo, y empezar de nuevo.
Esto realmente es una adición bienvenida a Adobe Premiere Pro, ya pesar de que la ventana de ajuste aún está disponible, Ill ser la pervivencia de este a partir de ahora.