The more you work in an NLE, like Premiere Pro, the more you'll want to cut back on repetitive tasks and generally speed up your workflow. David Smith is here to help you do exactly that when editing.
Une omission vraiment flagrante dans Premiere Pro dans le passé a été la capacité de couper les modifications de manière dynamique dans la chronologie, s'appuyant plutôt sur le panneau de garniture pour ce flux de travail. Ce n'est pas un gros problème, je vous entends dire? Eh bien non, je suis d'accord ... sauf pour les fois que vous essayez de faire votre brûlent du clavier à la vitesse de votre édition, puis son énorme.
Alors jetons un peu
Étape 1 - Créez vos Edition
Si vous avez déjà un projet, c'est parfait! Sinon, couper rapidement quelque chose ensemble, pour s'assurer que vos clips ont des poignées de cours, de sorte que vous pouvez les couper.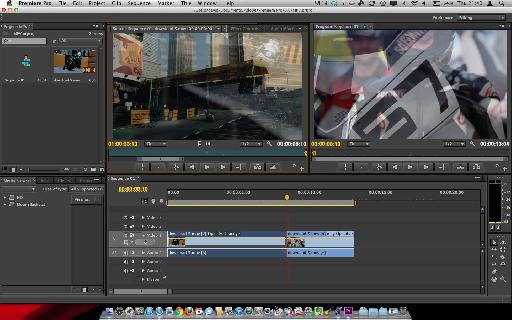 Étape 2 - Engager ajustement dynamique
Le mode Recadrage dynamique est très facile à activer. Cliquez-droit sur ​​le point de montage entre les clips et un menu déroulant apparaît, listant toutes les options de finition dynamiques.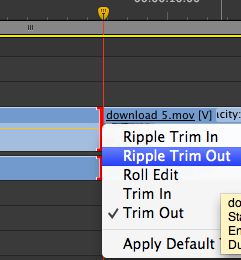 Choisissez RippleTrim Out to ondulation point du clip sortant de rupture. Pour activer la fenêtre d'ajustement dynamique, double-cliquez sur le point d'édition.
Étape 3 - Utilisation des Presets Ripple
La fenêtre d'ajustement dynamique s'ouvre dans la fenêtre du programme, affichant à la fois le cadre et sur le dans le cadre. Le montage doit être recadrée est indiquée par une barre bleue.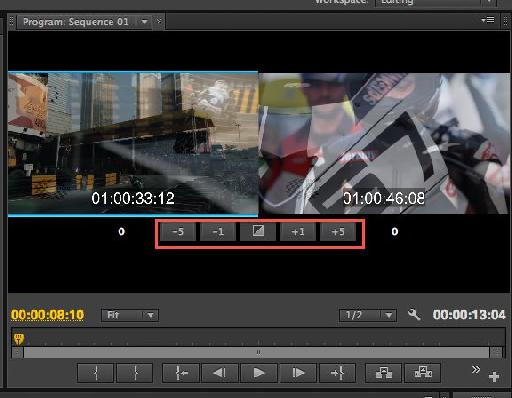 En cliquant sur le bouton -1, déplacer le point de sortie du clip arrière d'une image, raccourcir le clip. En cliquant sur le 5 va déplacer le point sur l'avant 5 cadres, l'allongement de la pince. Utilisez les boutons pour déplacer le point de montage dans une position appropriée. Conseil: Pour garder une trace de la distance du point de montage a bougé, In et Out numéros de référence de décalage suivre pour vous dans la fenêtre.
Etape 4 - Utilisation des frappes Ripple
Swap pour le clip entrant en cliquant sur le dessus dans la fenêtre d'ajustement dynamique, de sorte qu'il devient bleu.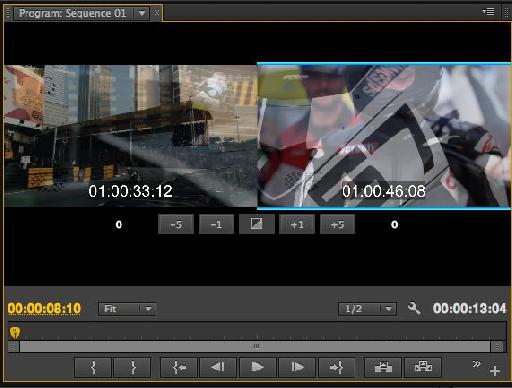 Cette fois, au lieu d'utiliser les touches de présélection, utilisez l'option-curseur vers la gauche pour revenir en arrière 1 cadre ou la droite Maj + Option curseur pour avancer 5 images si vous préférez raccourcis.
Étape 5 - Edition de rouler comme un pro
Placez le curseur entre les deux clips dans le visualiseur, vous verrez qu'il devient rouge, et indiquer l'outil Roll. Cliquez et deux clips deviennent bleus, de sorte que ces deux points seront édités.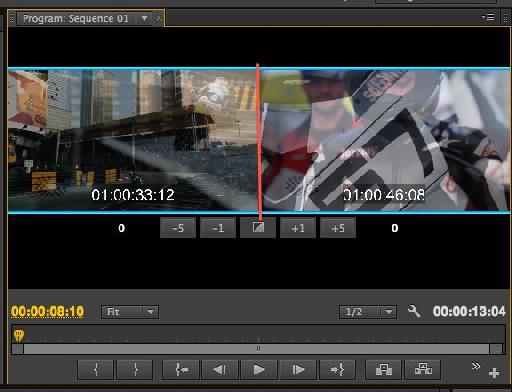 Oubliez les boutons prédéfinis ou les frappes. Cette fois nous allons utiliser J, K et L à la place, et je dois avouer que c'est ma méthode préférée. Pour Rouler les deux éditions 1 image vers la droite, maintenez la touche K et appuyez sur L une seule fois. Vous pouvez répéter cette frappe aussi souvent et aussi rapidement que vous êtes capable. Utiliser K et J se déplace à la place de la modifier une gauche du cadre.
Si vous êtes plus courageux, essayez d'appuyer sur J ou L ainsi que les clips jouent, quand le temps se sent bien appuyez sur K pour arrêter la lecture, et regardez les points de montage rouleau pour les cadres que vous avez arrêtés suite. Cette technique vous permet de modifier en temps réel pendant que vous regardez, qui est une méthode très habile à utiliser.
Étape 6 - Rouleau selon la durée
Si vous êtes assez chanceux pour savoir exactement combien de cadres le montage doit rouler par, et dans quelle direction avant de commencer à tailler, alors vous pouvez utiliser le pavé numérique pour insérer durées. Type 1 pour déplacer un seconde vers la droite ou -12 pour déplacer 12 trames gauche et ainsi de suite. Comme je l'ai dit, si vous êtes chanceux, il ne se produira pas souvent.
Étape 7 - Ajout d'une transition et d'examen
Cliquez sur le bouton de transition dans la fenêtre d'ajustement dynamique pour ajouter la transition par défaut pour le point de montage.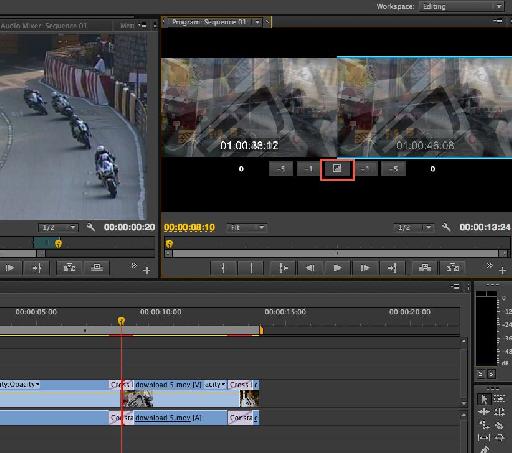 Appuyez sur la barre d'espace à tout moment pour lire un aperçu de l'édition que vous faites.
Étape 8 - passer à la prochaine édition
Maintenant que edit est parfait (vous ne pouvez pas déplacer le jusqu'à ce qu'il soit OK?), Appuyez sur le curseur haut ou vers le bas (Page Up ou Down) pour déplacer la fenêtre d'ajustement dynamique sur le côté, ou revenir à l'édition précédente de la Timeline, et recommencer.
C'est vraiment un ajout bienvenu à Adobe Premiere Pro, et même si la boiserie de la fenêtre est toujours disponible, Ill être coller avec ce à partir de maintenant.